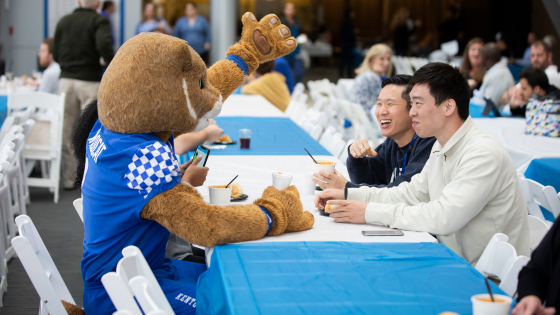 Welcome to the pharm fam!
Recently Accepted
Congratulations on your acceptance to the UK College of Pharmacy and welcome to the Kentucky pharmacy family!
New Student Orientation
UKCOP Launch: June 2, 2023 (in-person)
New Student Orientation: August 14-18, 2023 (in-person)
Complete the tasks below marked required to accept your seat. Read all sections of this page.
REQUIRED: Student Handbook
All recently accepted students are required to read the Student Handbook. 
REQUIRED: Acceptance Agreement
REQUIRED: Tuition Deposit
A non-refundable tuition deposit is required to reserve your admission seat for Fall 2023. Required deposit is $500 for KY residents and $800 for out-of-state/international residents. For residency information, visit the UK University Registrar website, call (859) 257-7157 or email residency@uky.edu. All residency determinations will be approved by UK's residency office. 
REQUIRED: Background Check and Drug Screen
One to two days after the deadline to accept your seat and pay the tuition deposit, you will receive two emails from studentedition@certiphi.com (Certiphi Screening, Inc./Application Station). Both emails will have the same subject line: Conditional Acceptance Background Check Consent. The emails are auto-generated and you will receive both (please check your inbox/spam/junk/filters, etc.) Read both emails carefully. One will have instructions for completing your Criminal Background Check and the other will include instructions for completing your Drug Screen.
The process includes completing the authorization forms and payments for each process separately, locating an acceptable lab facility to complete the urine drug screen, and submitting a urine specimen. Each of these items must be completed by the stated deadline, including submitting the urine sample.
Before urine specimens, do not drink an excessive amount of water, otherwise, your results will be "diluted" and you will have to reschedule, repay, and resubmit your sample. 
All results will be available to UKCOP through the screening vendor. Due to the volume of screenings, UKCOP cannot confirm receipt. If there is an issue or concern, you will be contacted; otherwise, assume your results are received and approved. 
If you have questions about the process, contact Certiphi directly via the phone number they provide (or call 800-803-7859). They will provide assistance, as this procedure is completely independent of UKCOP.
REQUIRED: Fall and Spring PharmCAS Academic Updates
REQUIRED: Fall and Spring PharmCAS Academic Updates
All incoming (accepted) students are required to complete the Fall and Spring PharmCAS Academic Updates. Completion includes entering updated grades (and anticipated coursework, if any), sending transcripts of updated coursework directly to PharmCAS, and monitoring your PharmCAS account to ensure your updated information has been verified.
CPR Training
The College of Pharmacy requires that all pharmacy students be certified in the American Heart Association BLS Provider CPR training program by September 30 of their first professional year. Additional Information will be provided on this topic during Early Orientation. Please wait to receive this information as there are specific requirements to obtain certification for UKCOP purposes. Contact Julianne Kravetz.
Immunization Records
The Class of 2027 Immunization Compliance Form (Letter Details) issued by the UK Healthcare MyChart is due to the Academic & Student Affairs Office by October 1, 2023. Information will be provided on this topic at Early Orientation (UKCOP Launch) on June 2, 2023.  Contact Julianne Kravetz
Intern Card
Students may apply for their intern card through the KY Board of Pharmacy once they have received a conditional acceptance email. This is important if students want to begin obtaining intern hours in the summer before classes start. We encourage students who are working in a pharmacy to begin collecting their intern hours as soon as they become conditionally accepted. Additional information will be provided on this topic during Early Orientation. More information can be found on the KY Board of Pharmacy website. 
A print-out of your acceptance email is proof of your enrollment for internship application purposes.
Summer Prerequisite Course Approval
All students taking pre-pharmacy prerequisite coursework over the summer must receive prior course approval by contacting pharmacyadvising@uky.edu. 
Students are required to submit petitions for summer pre-requisite courses no later than March 15th of each year.