PharmD Program
Pre-Pharmacy Information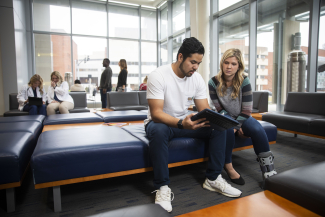 Pre-Pharmacy Advising
Sessions are designed for students seeking guidance on goal development, prerequisite coursework, application guidance, and PharmD admission processes.
PCAT is not required for admission to UKCOP
A minimum of 70 semester credit hours of Pre-Pharmacy coursework is required.
All lab coursework should be completed in person. 
Pre-Pharmacy courses should be completed prior to the desired fall enrollment. 
Applicants may begin to apply 12-13 months prior to the desired fall enrollment date.
Applicants may be enrolled in pre-pharmacy courses during the application process.
Please note that a grade of D or below is NOT acceptable in any required Pre-Pharmacy course. 
Send any questions concerning prerequisite courses to the Pre-Pharmacy Advisor at pharmacyadvising@uky.edu.
​To receive updates on pre-pharmacy events and admissions information connect with us here.
Please note:  The UK College of Pharmacy revised prerequisite requirements for first-time freshmen entering college Fall of 2014.  Students who entered college prior to 2014 and fulfilled the prior UKCOP prerequisite requirements do not need to take additional coursework to satisfy course requirements, but can opt to fulfill the current requirements instead.  If you have questions pertaining to this, contact pharmacyadvising@uky.edu.
REQUIRED SUBJECT
AVAILABLE UK PRE-PHARMACY COURSES
Biology I & Lab (4-5 semester hrs)

BIO 148 & BIO 155; prior to 2014 - BIO 152 & Lab is also acceptable

Microbiology & Lab (4-5 semester hrs)

BIO 208 & 209; BIO 308 & Lab also acceptable

General Chemistry & Labs (8-10 semester hours)

CHE 105 & CHE 111, CHE 107 & CHE 113

Organic Chemistry & Labs (8-10 semester hrs)

CHE 230 & CHE 231, CHE 232 & CHE 233

Human Anatomy (3 semester hrs)
ANA 209
Physiology (3 semester hrs) 

PGY 206 or BIO 350

Statistics (3 semester hrs)
STA 291, STA 296, or BST 230

Mathematics

Option 1: College Algebra & Elementary Calculus (6-7 semester hrs)

Option 2: Calculus I (4 semester hrs)

Option 1: MA 109 & MA 123

Option 2: MA 113 (A score of 4 or 5 is needed to satisfy the calculus requirement through Advanced Placement. MA 137 is accepted at UK)

Business (3 semester hrs)
ECO 201, ECO 202, ACC 201, or FIN 300
English (6-7 semester hrs) A completed Bachelor's degree fulfills the requirement for English

WRD/CIS 110 & 111 or WRD/CIS 112 (Non-UK students may complete ENG 101 & 102 or two equivalent semesters of writing-intensive courses)

Oral Communications (3 semester hrs)
Basic Public Speaking (WRD/CIS courses meet this requirement at UK)
Electives (Enough to bring total to 70 hrs minimum including prerequisites)
Recommended electives include Biochemistry (BCH 401G), Chemistry (CHE 550), Genetics (BIO 304), and Physics (PHY 211), UK core courses, dual degree prerequisites (if needed), and healthcare-related courses. UK healthcare-related courses include CLA 131, PHR 222, PHA 200, COM 311, CPH 201, CLM courses, HHS courses.
As a way to engage students and applicants in strong preparation for pharmacy school, UKCOP utilizes a student development plan to enhance student success in pre-pharmacy preparation. Students and applicants are encouraged to fill out and continually update their student development plan as a way to keep track of their goals toward becoming future pharmacists.
Transfer Equivalency - Prerequisite Courses
To determine if prerequisite courses are accepted at UKCOP please review these resources.
Courses Equivalencies
Course equivalencies were taken directly from each college/university catalog or bulletin in consultation with the UK Transfer Equivalency Office, professors, department heads, and advisors at each respective school. Some of these courses may be discontinued or changed by your college/university at any time. If that occurs, please email pharmacyadvising@uky.edu.
Compare your coursework with the list of UKCOP prereqs using  UK Course Descriptions.
If you believe a course is equivalent, you may use the Master UK Transfer Equivalency Guide to confirm. 
After following these steps, feel free to send any courses you have questions or concerns about to the UK pre-pharmacy advisor. Include the course name, #, and course description of each course you would like reviewed.
If you believe a course meets the requirement and would like course approval, please submit a contact your UK pre-pharmacy advisor.
AP/IB Credit
AP and IB coursework must meet UK standards. Please check the UK AP/IB Transfer Guide to ensure that your AP credit is accepted.
 *Please Note - UK COP requires an AP Calculus score of 4. (higher than UK main campus)
Course Approval Request
Please review the resources above and reach out to your pharmacy advisor prior to submitting your request.
Pre-Pharmacy Club
The Pre-Pharmacy Club at UK is a student-run organization supported by the UK College of Pharmacy that aims to educate and connect students with interests in pharmacy. The club meets once a month each semester featuring guest speakers in the field of pharmacy.