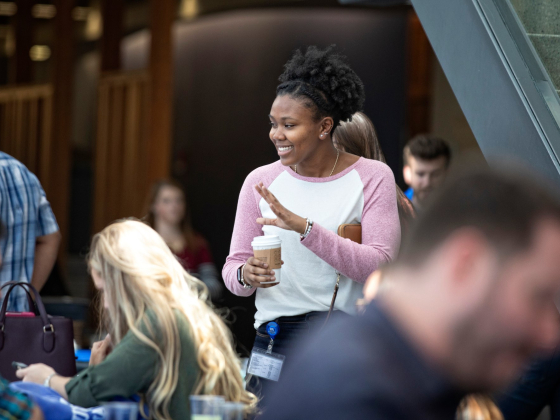 PharmD Program
Dual Degrees
Earn two degrees in the same amount of time it takes to earn your PharmD.
Eligibility
While the dual degree programs are administered separately by the partner college or program, pharmacy students undergo an internal degree screening process prior to applying to a dual degree program.  The process is completed at the conclusion of the Spring PY1 semester, with the exception of the MSPS program, which has a separate program design and timeline.
Pre-pharmacy students are eligible to complete a dual degree program's prerequisites prior to entering pharmacy school. PharmD students without a bachelor's degree are eligible to participate in these programs, as their prerequisite and pharmacy course credit hours meet the graduate school requirements.
I chose the MBA program because I wanted to enhance my leadership skills along with my management skills.
We wish to remember and honor those who inhabited this Commonwealth before the arrival of the Europeans. Briefly occupying these lands were the Osage, Wyndott tribe, and Miami peoples. The Adena and Hopewell peoples, who are recognized by the naming of the time period in which they resided here, were here more permanently. Some of their mounds remain in the Lexington area, including at UK's Adena Park.
In more recent years, the Cherokee occupied southeast Kentucky, the Yuchi southwest Kentucky, the Chickasaw extreme western Kentucky and the Shawnee central Kentucky including what is now the city of Lexington. The Shawnee left when colonization pushed through the Appalachian Mountains. Lower Shawnee Town ceremonial grounds are still visible in Greenup County.
We honor the first inhabitants who were here, respect their culture, and acknowledge the presence of their descendants who are here today in all walks of life including fellow pharmacists and healthcare professionals.