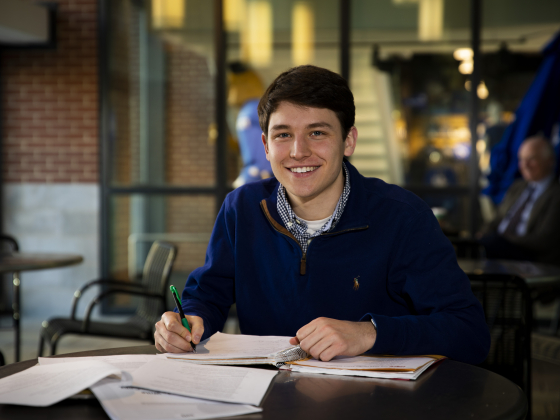 current students
Academic & Student Services
We're here to help! At the University of Kentucky College of Pharmacy, we provide resources for all areas of student wellbeing, including career counseling, wellness check-ins and support, personality assessments, health and wellness initiatives, and one-on-one consulting.
The Office of Academic & Student Services manages everything from personal development and academic support to financial aid questions. If you can't find something, reach out to one of our team members and we'll do our best to get you what you need.
16 Personalities Test
Discover the 16 personalities created by Myers & Briggs, to see your personality type, and find your strengths. The assessment is free.
PharmD LinkedIn
Join over 1,000 members in our official PharmD LinkedIn Group. Its purpose is to connect students, faculty, staff, and alumni & friends.
PhD LinkedIn
Connect with our graduate students, faculty, staff, and alumni. This group allows students to connect with alumni who will be attending conference and promotes professional development.
Whether we're working on your resume or walking through a Strength-Finders assessment, we're here to guide and support you. We believe in the wellness of the whole person: emotional, mental, physical, financial, social, and career. This involves meeting you where you're at and helping you discover your potential. We ensure you're supported in the way that works best for you.
Since a lot of our work involves the human connection and developing better self-awareness, vulnerability plays a role in what we do. Here is a talk by Brené Brown at TEDxHouston on vulnerability. Brown studies human connection, our ability to empathize, belong, love. We hope you'll enjoy her words as much as we do.
Testing Accommodations
If you need testing accommodations, UKCOP will work with the Disability Resource Center to ensure you get the resources you need.
Immunization & CPR Renewal
All pharmacy students must be certified in an approved CPR training program during their first professional year. 
Graduation
Graduation is always a special day at the UK College of Pharmacy, and we are excited about conferring degrees for our PharmD and PhD graduates each May. Find out more on what to expect.