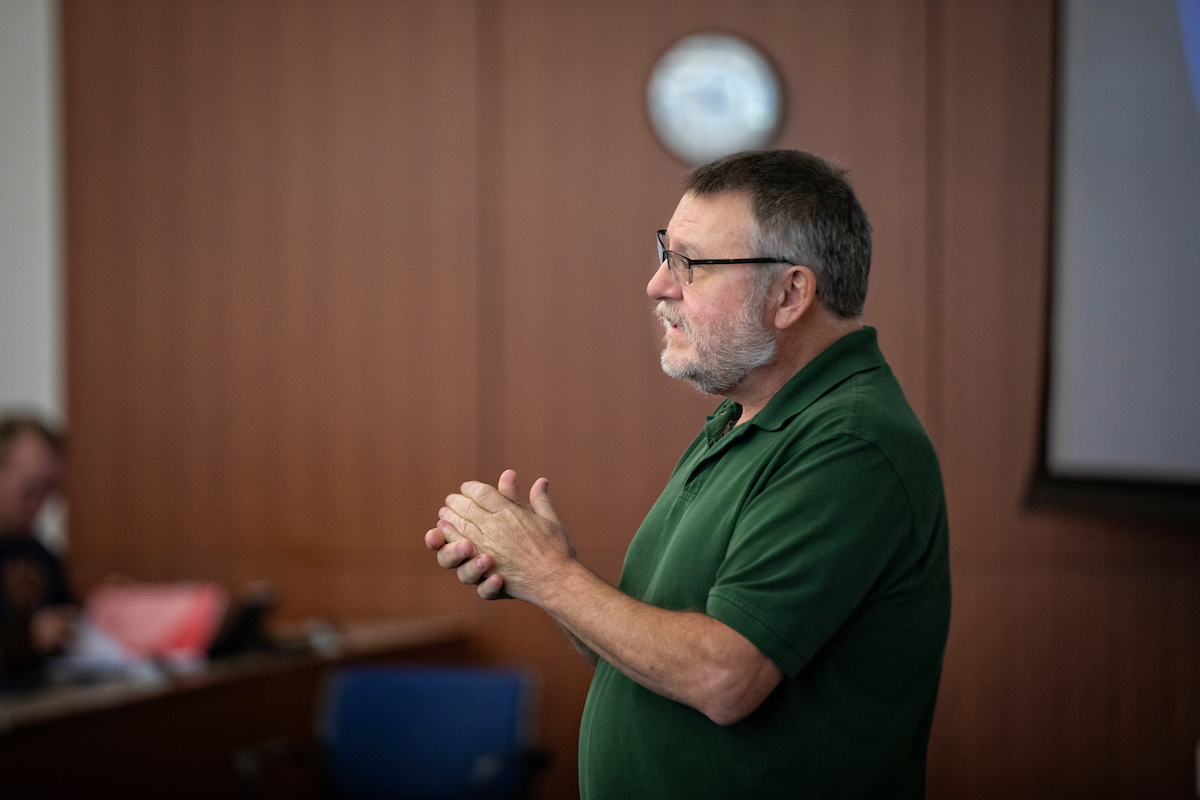 Pharmaceutical Sciences Faculty Jim Pauly Retires After 27 Years of Service
LEXINGTON, Ky. (July 28, 2023) — After a distinguished career spanning several decades, Jim Pauly, Ph.D., a professor at the University of Kentucky College of Pharmacy (UKCOP) and an associate member of the UK Spinal Cord and Brain Injury Research Center (SCoBIRC), has announced his retirement. Pauly will be stepping down from his role at the end of July 2023.
In 1996, Pauly joined UKCOP as an assistant professor in the Department of Pharmaceutical Sciences. Throughout his career, he has been a highly esteemed researcher and educator, making significant contributions to the field of pharmacology, particularly focusing on the neurobiological actions of nicotine. His work has been instrumental in advancing the understanding of the role of the CNS nicotinic cholinergic system in brain development, response to traumatic brain injury, and neurodegenerative conditions like Alzheimer's and Parkinson's disease.
In addition to his research efforts, Pauly has been a respected educator and mentor to numerous undergraduate, graduate, and professional students throughout his career, leaving an indelible impact on generations of pharmaceutical scientists.
"Jim served as my graduate school advisor, and as a first-generation college graduate, he served as so much more," said S. Leigh Verbois, Ph.D., director of the Office of Drug Security, Integrity and Response at the U.S. Food and Drug Administration. "In his first meeting with me, he showcased the value of approachability and building strong, diverse teams. He emphasized balancing caring for oneself and others while not taking yourself too seriously during graduate school. He highlighted the role I must play in continuous improvement in his lab, at the University of Kentucky College of Pharmacy, and in the pharmaceutical industry. I have continued to cultivate these principles while serving the U. S. Food and Drug Administration around the world to secure a more resilient drug supply chain."
From 2002 to 2006 and again from 2010 to 2016, Pauly held the director of graduate studies position for the Ph.D. in Pharmaceutical Sciences program. He holds the distinction of being one of the few faculty members who have worked under four different deans and several interim deans at the College. Notably, his son, Nathan Pauly, Ph.D., is the only graduate of the Pharmaceutical Sciences program whose parent also served as faculty in the department.
Matt Kelso, Ph.D., genomics account manager at Agilent Technologies, shared his gratitude for Pauly's guidance, saying, "I cannot overstate Jim's influence on my career. While I was preparing to defend my work, he provided me with a piece of advice that completely changed how I view opportunities. When discussing a job opportunity I was unsure about, he told me, 'Do not turn down a job you haven't even been offered.' It was a simple yet profound piece of wisdom that led me to explore different industries and experiences, eventually leading me to a career I truly enjoy."
Throughout his career, Pauly's commitment to academic excellence has been recognized through numerous awards and honors, including multiple Outstanding Teacher Awards at various levels of the pharmacy curriculum and the Faculty Achievement Award from the College of Pharmacy. Pauly was also a diligent supporter of the Bluegrass Chapter of the Society of Neuroscience (BGSFN), where he served various roles on the Executive Committee for over 20 years and performed an abundance of neuroscience outreach at local elementary schools and science fairs.
"We are immensely grateful for Jim's profound contributions to the field of pharmaceutical sciences and his exceptional dedication to our students' education," said Dean R. Kip Guy, Ph.D. "His work has enriched our understanding of nicotine's impact on the brain and inspired countless students to pursue careers in pharmacological research. He will be greatly missed."
"It was a great honor to be a member of the Department of Pharmaceutical Sciences at the UK College of Pharmacy. As a pharmacologist, I was very fortunate to have joined one of the top Colleges of Pharmacy in the world. I have had the privilege of working with an incredibly talented group of students and colleagues throughout my career," Pauly said. "My time at UK has been a lot of fun and very rewarding, and I am proud of my teaching, service, and research contributions." Pauly and his wife, Carol, are in the process of moving to Portage, Michigan, to be closer to their children and two-year-old grandson.
The University of Kentucky College of Pharmacy extends its heartfelt appreciation to Professor Pauly for his outstanding contributions to the University and the field of pharmacology.