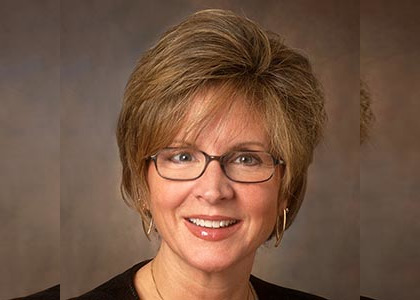 Pharmacy's Hatton Kolpek Retires After 33 Years of Service
LEXINGTON, Ky. (October 5, 2022). Celebrated University of Kentucky College of Pharmacy (UKCOP) faculty member Jimmi Hatton Kolpek, Pharm.D., R151, retires following an exemplary career as tenured professor and former chair of the Department of Pharmacy Practice, and professor of neurosurgery in the College of Medicine. She will step down from her role on October 31, 2022, after devoting 33 years to teaching, research, and mentorship at the University.
Hatton Kolpek first arrived at UKCOP as an undergraduate student from Lexington, Kentucky, and received a Bachelor of Science in Pharmacy, followed by a Doctor of Pharmacy degree in 1984. Upon graduation, she became resident number 151 under the direction of famed pharmacy pioneer Paul F. Parker at Chandler Medical Center. After completing two years of residency Hatton Kolpek trained as a clinical nutrition fellow via a grant from the American Society of Health-System Pharmacists.
"I certainly realized very early in her fellowship training program what an exceptional individual she was," said Robert Rapp, Pharm.D., professor emeritus of pharmacy and surgery at the University of Kentucky and Hatton Kolpek's fellowship director. "She worked primarily with the Division of Neurosurgery to help define the nutritional needs of the head-injured patient and how best to meet those needs. After finishing her fellowship, her list of accomplishments only grew, and I consider her one of the finest scholars in academic pharmacy."
Hatton Kolpek's remarkable influence extends beyond the walls of UKCOP. In her first teaching role as assistant professor at St. Louis College of Pharmacy, a young Mark Luer sat as one of her students. He later became Hatton Kolpek's first fellow at UKCOP. "As one of the first pharmacists who focused her career primarily on the neurocritical care population, she has been an innovator in the pharmaceutical management of neurotrauma patients," said Luer, Pharm.D., now dean of Southern Illinois Edwardsville School of Pharmacy. "This is reflected in her scholarly record of grants and publications and her service to professional organizations."
In addition to teaching and administrative roles, Hatton Kolpek is a distinguished scholar and fellow of the National Academies of Practice, a fellow of the American College of Critical Care Medicine, served on the editorial board of the Journal of Neurocritical Care, and at one point directed the PGY2 Critical Care Residency Program at UK HealthCare. In 2019, she reached two major career milestones: being elected president of the American College of Clinical Pharmacy and receiving the University of Kentucky Paul Parker Award, a prestigious recognition of lifetime achievement given annually to a past resident of the University of Kentucky Pharmacy Residency Program.
"Anybody who knows Jimmi has experienced what a positive force for change she has been at the College," said dean R. Kip Guy. "She is observant, inquisitive, thoughtful, and intentional in action. Very little slips past her notice, and her input is always targeted and spot on. Our community has been privileged to have her as a colleague and benefited from her tireless work to both raise the level of patient-centered care and transform the lives of our students, one person at a time. I have treasured every opportunity to work with Jimmi and will miss hearing her voice chiming in on our debates."
Despite the many professional accomplishments and accolades, it is perhaps Hatton Kolpek's passion for the education and training of student pharmacists and residents that will be one of her greatest legacies. "The first time I met Jimmi, she filled in for a course I took, and she was not expecting to give that lecture. Still, she delivered an enthusiastic and passionate discourse on choosing the right antibiotic for a patient," said Melody Ryan, Pharm.D., UKCOP professor and assistant provost for global health initiatives. "All of my classmates were talking about how we wanted to be just like her someday – knowledgeable, yes, but also dedicated to delivering high-quality care to every patient."
"The University of Kentucky College of Pharmacy transformed my life—as a first-generation college graduate, I never dreamed of the opportunities pharmacy brings as a career," said Hatton Kolpek. "I will always be grateful to the faculty, residents, fellows, students, and colleagues who shared this journey of a lifetime with me."
A retirement celebration for Hatton Kolpek will be held at 4:00 pm on Thursday, October 27, 2022. Click here for more information and to RSVP.