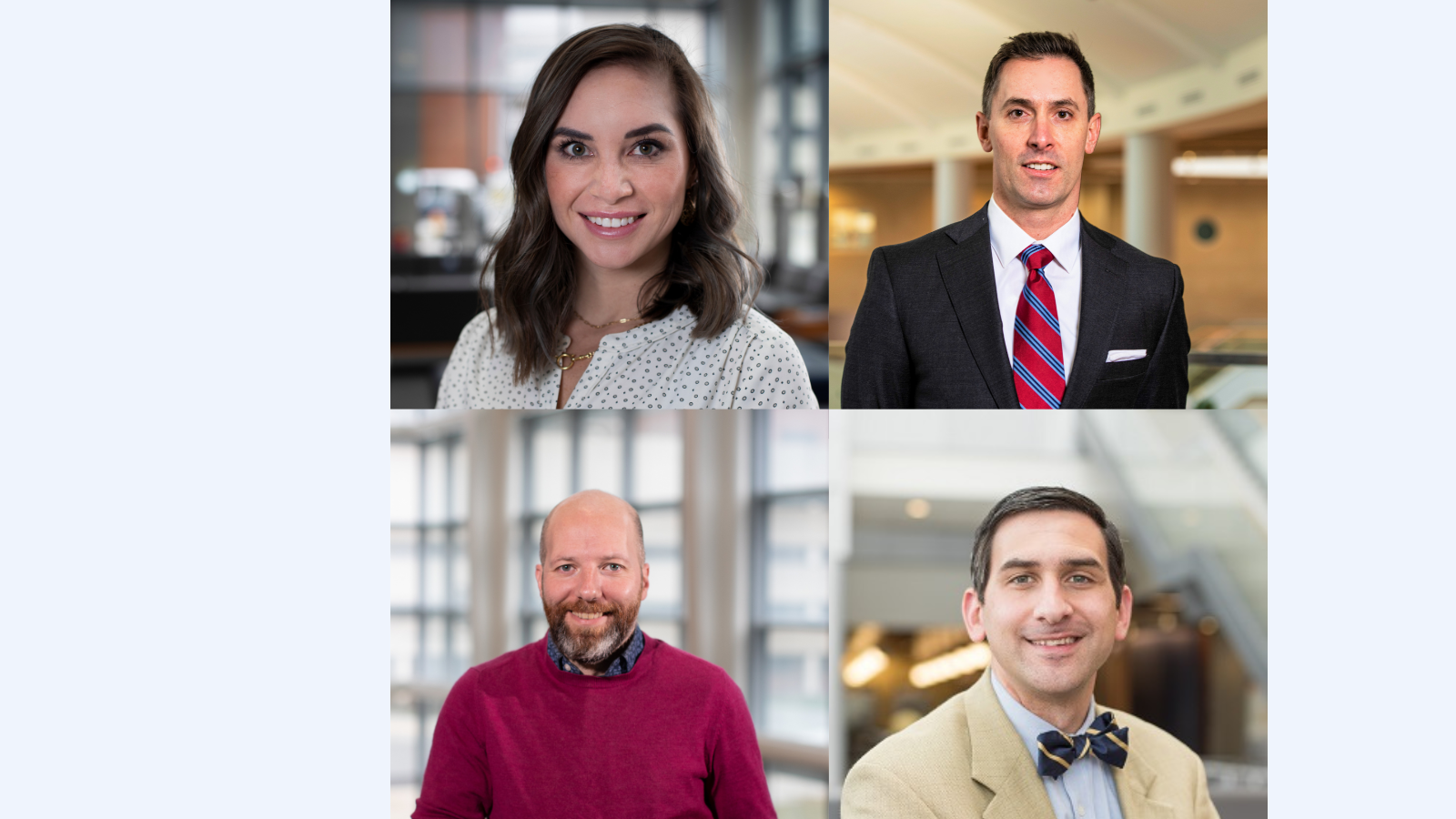 College of Pharmacy Celebrates Faculty Promotions
LEXINGTON, Ky. (July 28, 2023) — The University of Kentucky College of Pharmacy announced the promotion of four exceptional junior faculty members: Eric Johnson, PharmD; Hannah Johnson, PharmD; Vincent Venditto, Ph.D.; and Craig Beavers, PharmD. These promotions, which took effect on July 1, 2023, have been approved by the University of Kentucky Board of Trustees in recognition of their unwavering dedication, expertise, and outstanding contributions to their respective fields.
Eric Johnson has been promoted to the position of associate professor in the Department of Pharmacy Practice & Science. His extensive background in surgical infection prevention, coagulation and hemostasis, and multimodal analgesia has been pivotal in improving patient care in the perioperative area and vascular surgery. Johnson is actively involved in pharmacy student experiential rotations, as well as mentoring pharmacy residents, nurturing and shaping the future generation of pharmacy professionals.
Hannah Johnson has been promoted to associate professor in the Department of Pharmacy Practice & Science. Her wealth of experience in health disparities, psychiatry, substance use disorders, and wellness and mental health makes her an invaluable asset. Johnson plays a crucial role in coordinating the Integrated Drugs and Disease 4 – Psychiatry course for PY3 students. Additionally, she actively provides pharmaceutical care to individuals with mental health and substance use disorders at the UK HealthCare Supportive Mental Health and Addiction Recovery Treatment program (SMART Clinic).
Vincent Venditto's invaluable contributions to the field of pharmaceutical sciences have resulted in his tenure and promotion to associate professor in the Department of Pharmaceutical Sciences. With a strong foundation in organic synthesis and vaccine development, Venditto's research is dedicated to exploring novel methods to modulate the immune system and designing innovative immunotherapies. His lab attracts students and fellows from diverse backgrounds, fostering a collaborative environment that pushes the boundaries of drug delivery and experimental therapeutics. Venditto played a crucial role in the College's educational campaign for COVID-19 vaccine rollouts. He was one of the initial Project PI's on the $11.2M CPRI COBRE, and received a $1.9M grant from the NIH to study the role of inflammatory markers in the progression of cardiovascular disease.
Craig Beavers' exceptional dedication and expertise have earned him the promotion to associate professor in the Department of Pharmacy Practice & Science. With his profound knowledge of cardiovascular pharmacotherapy and patient care, Beavers has played a vital role in improving heart attack care, advancing anticoagulation practices, and addressing health disparities. His extensive experience as the vice president of operations for Baptist Health Paducah and as the cardiovascular clinical pharmacy coordinator at UK Healthcare has further solidified his impact on patient outcomes. Beavers also holds esteemed leadership roles and contributes to advancing cardiovascular care within professional organizations such as the American Heart Association and the American College of Cardiology.
"These promotions are a testament to our faculty's outstanding achievements and contributions," said Kip Guy, Ph.D., dean of the University of Kentucky College of Pharmacy. "Their dedication to excellence in teaching, research, and clinical practice has significantly enhanced the educational experience for our students and the well-being of patients within our community and beyond. We proudly recognize their accomplishments and eagerly anticipate their continued success."
The University of Kentucky College of Pharmacy continually ranks as a top-ten institution of pharmacy education in the nation, and research funding has more than doubled in the last decade.