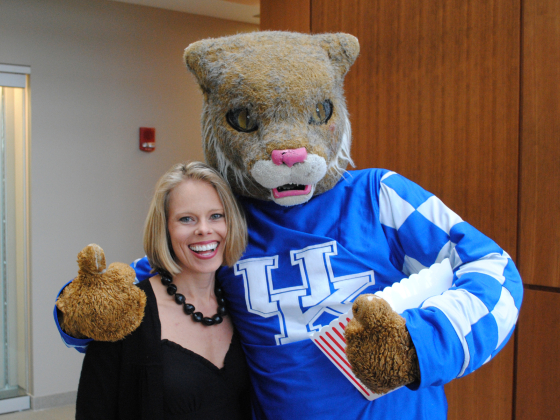 Hall of Distinguished Alumni
The UK College of Pharmacy created the Hall of Distinguished to recognize alumni who have made exceptional contributions to the field of pharmacy during their careers.
The Lifetime Achievement Award and Young Alumni Award will be presented each year to deserving members of the pharmacy family. The Young Alumni Award Recipient will have graduated from UKCOP within the last 10 years from the time of nomination.
Nominations
The College is continually seeking nominations for distinguished alumni. Click here for the nomination form. Self-nominations are accepted. Nominations are reviewed as they are received and nominees are selected on an annual basis.
Joshua Brown (2021)
Dr. Joshua Brown, PharmD, Ph.D., graduated from the UKCOP doctoral program in December 2016 and accepted a tenure-track faculty position at the University of Florida College of Pharmacy. Focused on real-world evidence for medication safety and effectiveness, Brown's research program is funded by the Food and Drug Administration, the National Institute on Aging, the Bill and Melinda Gates Foundation, and the state of Florida. As a PI, his total funding includes $3 million in the last five years, and he has contributed to projects with over $12 million in total funding. His publication record includes over 130 published works, with 91 being first or senior/lead author and 23 trainees featured as first authors.
Brown is a dedicated mentor and advisor. He has graduated 5 MS students and 3 Ph.D. students as thesis chair and nine other Ph.D. graduates as a committee member. He has engaged pharmacy students in team-based research and has mentored over 40 PharmD students in research projects. He serves as the Associate Director of the Department of Pharmaceutical Outcomes & Policy graduate program, leading initiatives for graduate student awards and recruitment of underrepresented and first-generation student populations. He is the faculty advisor of a 200-student strong Academy of Managed Care Pharmacy (AMCP) student chapter. He gives annual talks to student organizations focused on first-generation students and non-traditional pharmacy careers. In 2021, Brown was awarded a Teacher Service Award by the UFCOP for his teaching excellence, teaching innovations, and service to the College and profession and was the AMCP Foundation's New Practitioner of the Year in 2019. 
Eiichi Akaho (2021)
Dr. Eiichi Akaho completed Pre-Medicine coursework at the University of California at Santa Barbara and graduated with a B.S. in Pharmacy from the University of Wisconsin-Madison (1975). He obtained a Ph.D. in Pharmaceutical Sciences under the supervision of Dr. Anwar Hussain at the University of Kentucky College of Pharmacy (1979), where he also served as a Teaching Assistant. Akaho's dissertation Dosage form design for the continuous release of 4-hexylresorcinol was the first dissertation overseen by Hussain. After completing his Ph.D., Akaho began a distinguished academic career at Kobe Gakuin University in Japan, where he rose through the ranks to his current status as Professor Emeritus.
Akaho has delivered numerous invited talks at national and international scientific meetings, including the Japan Medical Association Conference and the International Pharmaceutical Federation (FIP), the global body representing over four million pharmacists and pharmaceutical scientists. Throughout his career, Akaho received generous funding from the International Corporation Research Grant in Japan (¥3.9 million), the Canadian Ambassador Research Grant ($15 million Canadian), Fundamental Research Grant C from the Ministry of Education, Culture, Sports, Science and Technology in Japan (¥3.1 million), Private University Advancement Grant from Ministry of Education, Culture, Sports, Science and Technology in Japan (¥2.6 million), and the Kobe Gakuin University Corporation Grant (¥2 million), to name a few.                                                        
Akaho has been selected as a nominator for the Japan International Prize, commonly referred to as the Japanese International Nobel Prize. The Japan International Prize is awarded annually to scientists and engineers from around the world who have made significant contributions to the advancement of science and technology, thereby furthering the cause of peace and prosperity for humanity. Nominators are strictly comprised of prominent scientists and researchers invited by the Japan Prize Foundation. Akaho has published 70 articles in international journals, 41 articles in scientific journals, and 12 books.
Stephen Schondelmeyer (2021)
Dr. Schondelmeyer is a professor at the University of Minnesota's College of Pharmacy, where he holds the Century Mortar Club Endowed Chair in Pharmaceutical Management & Economics. He founded and serves as director of the PRIME Institute, which focuses on economic and public policy related to making pharmacists and medicines affordable and accessible to all. Schondelmeyer serves as the co-principal investigator of the Resilient Drug Supply Project. Following a B.S. in Pharmacy (1974) at the University of Missouri and a Doctor of Pharmacy (1977) and clinical residency (1974-1977) at the University of Kentucky, Schondelmeyer completed a Master in Public Administration (1979) and a Ph.D. in Administrative & Social Sciences in Pharmacy (1984) at the Ohio State University. He has served as a professor at the University of Arizona and Purdue University before his more than 30 years at the University of Minnesota.
For over 45 years, Schondelmeyer has conducted economic and policy analyses related to pharmacists, pharmaceuticals, and society. His insightful and credible research has influenced and shaped public policy, including passage of generic substitution laws and the development of drug formularies in the 1970s & 1980s, the emergence of managed care and PBMs in the 1980s, development of the Medicaid Drug Rebate program in the 1990s, the passage of the Medicare Part D program in the 2000s, the role of drug prices in affordability and accessibility of pharmaceuticals in the 2010s, and most recently the need to end drug shortages and to assure a resilient U.S. drug supply. He has testified before state, national, and international governmental bodies more than 150 times over the past few decades, including testimony more than 25 times before the U.S. Congress. He was appointed to serve Congress as a member of the Medicare Prescription Payment Review Commission (1988) and to serve as an advisor to several state Attorneys General.
Schondelmeyer has conducted more than 160 funded research studies, including projects with NIH, NSF, FDA, AHRQ, AHCPR, CMS, OTA, GAO, OIG, and ASPE. He has also received generous funding from major pharmacy professional associations and private foundations. He has published more than 400 research articles and reports on pharmacy practice, pharmaceutical economics, and public policy. His research has been published in pharmacy and public policy journals such as Health Affairs, Medical Care, Archives of Internal Medicine, New England Journal of Medicine, Health Services Research, American Journal of Public Health, Journal of Managed Care Pharmacy, and others. Schondelmeyer has given more than 900 invited presentations over the past 45 years and is recognized for insightful content and engaging delivery.
He has been a leader his whole career—from 1973-to 74 when he was the national President of the Student American Pharmaceutical Association, as a founding member of the International Society for Pharmaceutical Outcomes & Research (ISPOR), and while serving as Head of the University of Minnesota's Department of Pharmaceutical Care & Health Systems for more than 20 years. Among his numerous awards are the Impact Award (1977) from his Pharm.D. peers at the University of Kentucky, the prestigious Paul F. Parker Lecture Award (2000), the APRS Research Achievement Award (2006), the Humphrey Award from APhA (2012) for public policy impact and service, the Tyler Prize for Stimulation of Research from APhA (2014), and the Leadership in Action Award (2016) from the Minnesota Health Action Coalition.
Schondelmeyer was born and raised in Sedalia, Missouri, is an Eagle Scout, and is a gentleman farmer of the 520 acres of land that have been in his family for more than 150 years. He was one of four children, is father of two, and now has five grandchildren.
Ashlee Mattingly (2020)
Young Alumni Award winner Ashlee Mattingly currently serves as an assistant professor at the University of Maryland School of Pharmacy in the Department of Pharmacy Practice and Science. She leads training in sterile and non-sterile compounding, and is the director for PharmTechX, an advanced pharmacy technician training program, and teaches pharmaceutical calculations to pharmacy students at all levels.
Mattingly's research focuses on the quality and safety of compounded drug products to ensure the public's health and safety. Her work led to a 2018 Food and Drug Administration (FDA) grant for a three-month, $148,000 pilot program. The grant was later expanded to a full three-year, $2.1 million endeavor to better understand the clinical need for compounding a product using a bulk drug substance, informing the FDA's list of bulk drug substances used in compounding. Subsequently, the FDA expanded the project, awarding Mattingly and her team an additional $1.3 million grant in 2019. Mattingly now manages a research team of three postdoctoral fellows, two research pharmacists, a research librarian, a project manager, a web developer, and several student pharmacists interested in gaining research experience.
Mattingly is active in both state and national pharmacy associations and was elected to a three-year term on the Maryland Pharmacists Association Board of Trustees in 2018. Mattingly also served as the Education Subcommittee's chair for the Compounding Special Interest Group (SIG) of the American Pharmacists Association (APhA) and was elected as the 2020-2021 Compounding SIG Coordinator-Elect position of APhA and will serve as the Compounding SIG Coordinator the following year.
John Wu (2020)
Major John Wu is the pharmacy flight commander at the 18th Medical Support Squadron at Kadena Air Base, Japan. He directs 13 personnel in managing a $3.2 million annual budget, delivering 90,000 prescriptions to 50,000 beneficiaries. As the 18th Medical Support Squadron Deputy Commander, Wu also provides leadership in establishment and enforcement of policy, supporting seven flights, 168 personnel, and a $15.5 million annual budget.
Wu received a direct commission through the Health Professional Services Program while attending UKCOP. He has been an active-duty officer for ten years, serving in a variety of leadership positions, including the director of the pharmacy phase II program at Keesler Air Force Base, which trained 60 Airmen per year on 69 primary duty tasks, priming them for success at their first duty locations around the globe. Before his current position, Wu was the pharmacy flight commander at Barksdale Air Force Base in Louisiana. He is from Louisville, KY, and has two children, Eden and Oliver, with his wife, Stephanie.
Lynn Harrelson (2020)
Lynn Harrelson has provided senior pharmacy services since receiving her bachelor's degree in Pharmacy from the University of Kentucky College of Pharmacy. As the founder of Senior Pharmacy Solutions® Medication Therapy Management Services, Harrelson's highly specialized consulting services provide assistance to patients in all levels of nursing and assisted living facilities, retirement centers, as well as to those seniors who reside independently in their home. Harrelson's work provides medication therapy management services to seniors and others seeking to prolong their independence, maintain their health, and conserve personal resources. Her extensive experience in providing clinical pharmacy consultation services supports seniors in their desire to remain healthier and more active in their home for a more extended period.
Harrelson has maintained multiple positions on other local and state pharmacy associations and currently serves on the boards of Louisville's All Care Community Center and the Kentucky Renaissance Pharmacy Museum. She is also a member of the Greater Louisville Aging in Place Alliance, Health and Professional Network, TRIAD, and Kentucky Safe Aging Coalition.
Harrelson has served on UK's Alumni Association Board of Directors, representing the College of Pharmacy as an Alumni Ambassador since 1985. She has served as president of KPhA (1991), president of Jefferson County Academy of Pharmacy (1974), and was named the Jefferson County Academy Pharmacist's Pharmacist of the Year (1981). Harrelson's community service efforts have also been recognized both nationally and internationally. Most recently, she was awarded the KPhA Distinguished Service Award (2010) and has also been named one of Kentucky's Outstanding Young Women (1983).
Patricia Rippetoe Freeman (2020)
Patricia "Trish" Rippetoe Freeman is the Earl Platt Slone endowed professor in the Department of Pharmacy Practice and Science at the UK College of Pharmacy and a university research professor at the University of Kentucky. She holds several positions in the College of Pharmacy, including director of the Center for the Advancement of Pharmacy Practice (CAPP), associate professor in Pharmacy Practice and Science, and faculty associate in the Institute for Pharmaceutical Outcomes and Policy. Additionally, Freeman is affiliated with numerous research centers on campus, including the Center for Drug and Alcohol Research, the Center for Health Equity Transformation, and the Rural and Underserved Health Research Center.
As the Director of CAPP, Freeman has worked tirelessly to advance pharmacy practice in Kentucky, establishing the Advancing Pharmacy Practice in Kentucky Coalition, which includes stakeholders from all major pharmacy organizations in the state working together to advance practice goals. For her role in advancing practice through policy change, she has been recognized by the National Academies of Practice as a distinguished public policy fellow.
Freeman's research interests include substance use policy, with a particular emphasis on opioid use disorder and the role of the pharmacist in opioid-related harm reduction. Currently, she serves as a co-investigator of the HEALing Communities Study, a community-engaged intervention to reduce opioid overdose deaths in 67 highly affected communities, including 16 communities in Kentucky.
Freeman is actively engaged in state and national pharmacy associations, including the Kentucky Pharmacist Association (KPhA), the Kentucky Society of Health-System Pharmacists, National Academies of Practice, and APhA. She is a past-president of KPhA and a fellow of the APhA.
She received a Bachelor in Pharmacy degree and a Ph.D. from the University of Kentucky. She completed postdoctoral fellowships at the University of Vermont College of Medicine and the UK College of Medicine.
William Crouthamel (2020)
William "Bill" Crouthamel is a pharmaceutical scientist, teacher, innovator and consultant, and the first PhD graduate from the College of Pharmacy in 1970. He received a bachelor's degree in Pharmacy and a master's degree in Pharmaceutical Sciences from the Philadelphia College of Pharmacy prior to obtaining his graduate degree from UK. Crouthamel was an associate professor at West Virginia University School of Pharmacy and University of Maryland College of Pharmacy before spending over 20 years at Hoffmann LaRoche, where he served as a global vice president and deputy head of the Roche US Research Center.
Later, Crouthamel worked at several innovation-focused companies, developing new therapeutics and, most recently, as a drug development consultant. He was also an adjunct professor at several pharmacy colleges, a course director for the Center for Professor Advancement in the U.S. and E.U., an outside expert for the FDA, and a co-founder of two successful clinical research organizations. Crouthamel was a founding officer and fellow of the American Association of Pharmaceutical Scientists (AAPS) and served on the U.S. Military Infectious Disease Research Program. He is a licensed pharmacist in several states and practiced in both community and hospital settings, crediting his education at UKCOP for much of his success.
Crouthamel has been married to his wife Joanne for over 50 years and has four married children and 16 grandchildren, many of whom live nearby. Always the educator, he is known for holding "Grandpa School" with his grandchildren.
Donald E. Letendre (2020)
Donald E. Letendre is dean and professor at the University of Iowa College of Pharmacy. Following his Doctor of Pharmacy degree and clinical residency at the University of Kentucky, he served as assistant director and assistant professor at the University of Kansas Medical Center. Letendre spent nearly two decades on the staff of the American Society of Health-System Pharmacists (ASHP) serving, for much of that time, as director of accreditation services; and, was dean and professor at the University of Rhode Island and executive secretary of the Rhode Island State Crime Laboratory Commission immediately prior to his responsibilities at Iowa.
As a clinical practitioner, educator, association staff member, and now academic administrator, Letendre has served countless students and postgraduate residents throughout his career and has actively participated in the development and implementation of standards that have helped shape pharmacy practice and residency and technician training programs worldwide.
Among his many awards and special citations, Letendre received designation as an honorary residency graduate by New York's Montefiore Medical Center (1989) and the University of Wisconsin Hospital and Clinics (1993). He was the recipient of the University of Kentucky's prestigious Paul F. Parker Lecture Award (1998) and received the Massachusetts College of Pharmacy's Outstanding Alumni Achievement Award (1999).
Letendre is the eldest of eight children, son of a fifth-generation cabinet maker, first-generation collegiate, husband to his high-school sweetheart, father of four, and grandfather of ten, and a native of Acushnet, Massachusetts.
Gloria H. Doughty (2018)
Gloria H. Doughty ('51) one of the original founders of the Kentucky Pharmacy Museum and one of only two women in her graduating pharmacy class of 80 students. She has been a mentor to many pharmacy students and has continued to push the profession forward within Kentucky and beyond. She received a BS in Pharmaceutical Chemistry ('48), a BS in Pharmacy ('51), as well as her Master's in Social Work ('84). She went on to work at what is now UK HealthCare, impacting patient lives across the Commonwealth, and contributed greatly to the success of the UK College of Pharmacy. Many would be hard-pressed to meet a current pharmacy alumnus who hasn't had the pleasure of hearing one of Doughty's stories or being inspired by her generous spirit. Doughty's passion for pharmacy is palpable, and even in retirement, she is an active member of the Bluegrass Pharmacy Association.
Kevin S. Harrod (2018)
Kevin S. Harrod ('94), PhD is a professor, and Benjamin Monroe Carraway Endowed chair of Anesthesiology and Perioperative Medicine at the University of Alabama in Birmingham School of Medicine. He has emerged as an international leader in the respiratory infectious disease field, widely regarded for his work across a spectrum of basic, translational, and clinical research in pulmonary and infectious disease.  He is the author of over 70 peer-reviewed publications and 100 technical reports, with an impressive track record of extramural research funding during a very competitive period in American science. 
Harrod pioneered the development of preclinical models of respiratory disease for drug development and validation now widely used in academic and biopharmaceutical laboratories across the world. He has trained over 30 academic, government, and private industry professionals, faculty, and career scientists.  Many of his trainees note his humility and willingness to "give more than he takes." He encourages creativity and has an infectious enthusiasm for research.
Joseph DiPiro (2017)
Joseph DiPiro is dean, professor, and Archie O. McCalley Chair at the Virginia Commonwealth University School of Pharmacy. DiPiro published over 200 journal papers, books, book chapters, and editorials in academic and professional journals, mainly related to antibiotics, drug use in surgery, and pharmacy education. He also served as editor of The American Journal of Pharmaceutical Education for 12 years. He is the editor for Pharmacotherapy:  A Pathophysiologic Approach, now in its 10th edition, and considered to be one of the most comprehensive books on pharmacology to date. He is president of the American Association of Colleges of Pharmacy and past chair of the Council of Deans. He has served as president of the American College of Clinical Pharmacy, is a fellow of the college, and has served on the Research Institute Board of Trustees.
Dwaine Green (2017)
Dwaine Green is professor emeritus and retired assistant to the dean for Student and Alumni Affairs at the University of Kentucky College of Pharmacy. Green graduated from the UK College of Pharmacy in 1971 with his bachelor's degree in pharmacy and was a long-time community pharmacist. He practiced at two iconic independent pharmacies in Lexington, first at Hubbard & Curry Pharmacy, and later Sageser Drug, Inc. of which he was a co-owner. His practice included an extensive consultant component, including caring for patients at Shriners Hospital and Mayfair Nursing Home. Green was a longtime preceptor for UK pharmacy students.
Many of the graduates of the UK College of Pharmacy first came to know Green through his role as assistant to the dean for Student and Alumni Affairs. Under Green's leadership, the number of applications for admission grew annually from 169 in his first year to 1,300 at the conclusion of his tenure. Green became a touchstone for students and alumni alike, as he directly interacted with them from their pre-pharmacy studies, through their time as pharmacy students, and well into their careers.
Takako Komiyama (2017)
Komiyama was born in Yokohama, Japan, and is the first professor with a PharmD degree in her country. She received a bachelor's degree in pharmacy and master's of science in clinical pharmacy at the Kitasato University School of Pharmaceutical Sciences in Tokyo. In 1987, She received her PharmD from UK College of Pharmacy. Komiyama received several awards throughout her career, including the "Kentucky Colonel," the highest honor awarded by the Commonwealth of Kentucky.
For the past 27 years, Komiyama has devoted herself to the profession and worked to develop international academic exchange activities between Kentucky and Japan. In 1989, University of Kentucky and Kitasato University formally established an academic exchange agreement, and Kitasato students started visiting Lexington in 1991, followed by University of Kentucky faculty lecturing in Tokyo in 1998, and UK College of Pharmacy students visiting Tokyo in 2015. In collaboration with two UK faculty members, Komiyama also published Practical English Conversation for Pharmacist, 2nd Edition in 2010. Komiyama currently serves as vice president on the Japan Women's Pharmaceutical Association to help provide advanced continuing education for Japanese pharmacists.
Duane Kirking (2016)
Duane M. Kirking was recognized for his dedication to improving the quality and cost-effectiveness of medications and pharmacy services throughout his four decades of leadership in research, teaching, and professional organizations.  Dr. Kirking was nominated by Stephen W. Schondelmeyer, Professor and Director at the University of Minnesota College of Pharmacy.
Gary Martin (2016)
Gary Martin was recognized for his extraordinary achievements and innovation in the area of NMR spectroscopy.  Dr. Martin's work has led to the development of new analysis methods and detection capabilities that make discoveries not only possible but expeditious.  Dr. Martin was nominated by Antony J. Williams, Ph.D. at the National Center for Computational Toxicology (U.S. Environmental Protection Agency).
John Piecoro (2016)
John Piecoro, Professor Emeritus of the College of Pharmacy, was recognized for his dedication to pediatric clinical pharmacy and his contributions to research in the areas of antibiotics for pediatric infections, intravenous nutrition formulae for infants, and medical-surgical supplies and devices.  Dr. Piecoro was nominated by William G. Byrd, PharmD.
Salomon A. Stavchansky (2015)
Mike Jay (2014)
Michael Jay, a UK College of Pharmacy alumnus and former faculty member, has been named the 2014 University of Kentucky Outstanding Graduate Program Alumnus for the Pharmaceutical Sciences.
Dr. Jay, who received his PhD in pharmaceutical sciences at the College of Pharmacy, received his award as part of the College's annual Graduate Program Recruitment event on January 30.
Dr. Jay is the Fred Eshelman Distinguished Professor and Chair of the Division of Molecular Pharmaceutics at the UNC Eshelman School of Pharmacy.
Prior to coming to UK to enroll in the graduate program, Dr. Jay received his bachelor's degree in pharmacy from the State University of New York at Buffalo. He was an Assistant Professor of Nuclear Medicine at the University of Connecticut Health Center from 1980 to 1981 and then returned to the University of Kentucky as an Assistant Professor of Medicinal Chemistry in 1981 and rose through the academic ranks. By the end of his 27 years at the University of Kentucky, he was Professor of Pharmaceutics and Professor of Radiology for the UK College of Medicine. He also served as the Director of Graduate Studies from 1992 to 1998 and Director of the Center for Pharmaceutical Science & Technology from 1998 to 2007.
Dr. Jay has received a number of awards, including the Berson-Yalow Award from the Society of Nuclear Medicine, the Mendell Award for Scientific Excellence in Pharmaceutical Sciences, the Excellence in Pharmaceutical Graduate Education Award from the Department of Pharmaceutical Sciences at the University of Kentucky. He was also named a Fellow of the American Association of Pharmaceutical Scientists. He is also the cofounder of Arcato Laboratories, Inc. and Capture Pharmaceuticals, Inc.
David D. Allen (2012)
David D. Allen is dean of the University of Mississippi School of Pharmacy, professor of pharmacology and executive director and research professor of UM's Research Institute of Pharmaceutical Sciences. Allen received his bachelor's degree in pharmacy and Ph.D. in pharmaceutical sciences at the University of Kentucky. He has been licensed to practice pharmacy in five states and has been a visiting scientist in Chile, France and Switzerland, as well as at the Laboratory of Neurosciences' Neurochemistry and Brain Transport Section of the National Institute of Health's National Institute on Aging, where he also was an Intramural Research Training Award Fellow.
He serves as the 2018-2019 president of the American Association of Colleges of Pharmacy. He was designated a Fellow of the American Society of Health-System Pharmacists in 2004, the National Academies of Practice in 2009 and the American Pharmacists Association in 2011. He is a member of the American Association of Pharmaceutical Scientists, the Society for Neuroscience and the American Association of Colleges of Pharmacy's Council of Deans, which he chaired. He also chaired AACP's Biological Sciences Section and Student Services Special Interest Group.
Kim Brouwer (2006)
Kim L.R. Brouwer, Pharm.D., Ph.D., is the William R. Kenan Jr. Distinguished Professor in the Division of Pharmacotherapy and Experimental Therapeutics at the UNC Eshelman School of Pharmacy, associate dean for research and graduate education, and a professor in the curriculum in toxicology.
Brouwer received her B.S. in pharmacy from Oregon State University. She completed her Pharm.D. at the University of Kentucky (UK) College of Pharmacy in conjunction with a pharmacy residency at the UK Medical Center and a PhD in pharmaceutical sciences/pharmacokinetics. After postdoctoral training (pharmacology/drug metabolism) in the UK College of Medicine, she joined the faculty at the University of North Carolina in 1986, where she served as director of graduate studies for the UNC Eshelman School of Pharmacy from 1996 to 2004, and Chair of the Division of Pharmacotherapy and Experimental Therapeutics from 2004-2015.
Brouwer directs an NIH-funded research program focused on hepatobiliary drug disposition and development and refinement of in vitro model systems to predict in vivo hepatobiliary disposition, drug interactions, and hepatotoxicity. She has mentored more than 104 undergraduate, professional, graduate and postdoctoral students and published more than 230 research papers, reviews and book chapters in addition to more than 240 published abstracts.
Brouwer is also a co-inventor of B-CLEAR® (U.S. Patent No. 6,780,580), an in vitro method to assess hepatic uptake, excretion, and biliary clearance that correlates with in vivo data. This technology has been exclusively licensed from the University of North Carolina at Chapel Hill to Qualyst, Inc. Brouwer is a Qualystco-founder and former chair of the company's scientific advisory board. Qualyst Transporter Solutions was acquired by BioIVT in August 2017.
She served as a member of the NIH Pharmacology Study Section from 1998 to 2002, and is a member of the editorial advisory boards for Clinical Pharmacology and Therapeutics, CPT Pharmacometrics & Systems Pharmacology, Clinical and Translational Science, and the AAPS Journal. She was elected an AAPS Fellow in 1998, was recipient of the PHRMA Foundation Award in Excellence in Pharmaceutics in 2001, received the inaugural Pharmaceutical Sciences Outstanding Graduate Program Alumni Award and the Paul F. Parker Award from the University of Kentucky, and was the recipient of the 2018 ASCPT-FDA Abrams Award.