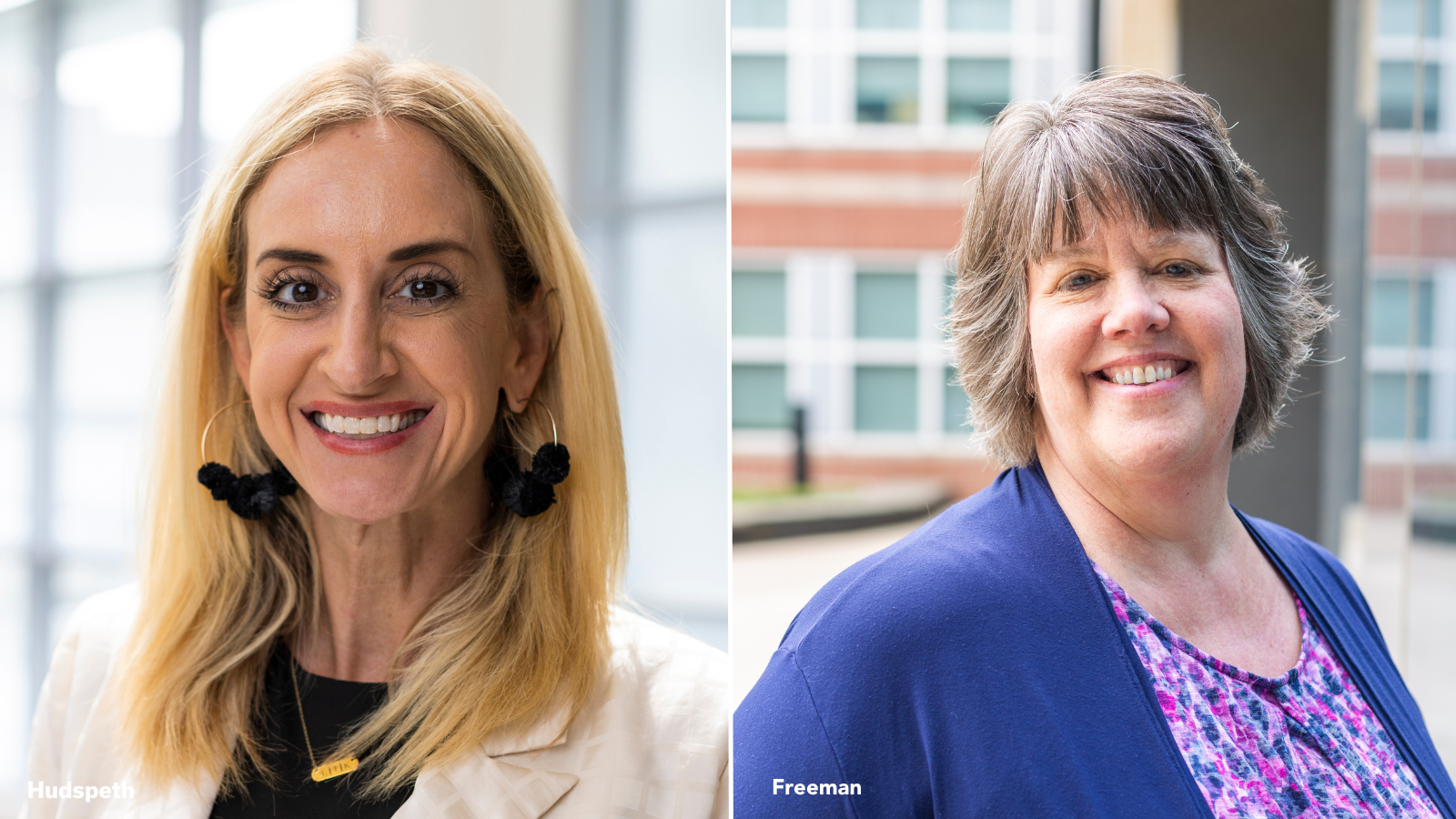 Transforming Pharmacy Practice for a Healthier Kentucky
LEXINGTON, Ky. (September 21, 2023) – The University of Kentucky College of Pharmacy announces the expansion and restructure of the Center for the Advancement of Pharmacy Practice (CAPP), under the leadership of its new director Brooke Hudspeth, PharmD, chief practice officer.  
The revamped CAPP is poised to build upon a 12-year history of transforming pharmacy practice and education under the strategic leadership of previous director Trish Freeman, Ph.D. This legacy includes helping pass Kentucky's first law to allow pharmacists to initiate naloxone dispensing, helping to implement Board Authorized Protocols across the state, and supporting the enactment of legislation mandating commercial insurance payment for pharmacy services.
Freeman stated, "With the hiring of Dr. Hudspeth as Chief Practice Officer in support of the College's strategic plan, it was an auspicious moment for us to expand CAPP with renewed focus on meeting the Center's three primary goals: engagement, education and practice transformation." 
Advocacy for changes within pharmacy practice that amplify the role of pharmacists is central to CAPP's mission. This includes strengthening alumni and preceptor relationships and fostering alliances with professional organizations, health systems, and community organizations. Freeman will continue serving as the director of professional advocacy, with the aim of advancing this goal. 
CAPP will increase ongoing efforts to identify the educational needs of pharmacists, develop tailored educational programs, and provide training opportunities that empower pharmacists to enhance their practice standards through the establishment of the Continuing Professional Development Office (CPDO), directed by Adrienne Matson, PharmD. The CPDO will provide evidence-based educational activities supporting the advancement of pharmacy practice and lifelong professional development. 
CPDO programs will extend to external partners, furthering the deployment of innovative practice initiatives. The overarching goal is to cultivate collaborative relationships, enhance faculty and preceptor development, refine experiential education sites, and ultimately advance pharmacy practice on a regional and national scale. 
CAPP also transforms practice through scholarship related to innovative practice models, facilitating their development, implementation, and evaluation. In his role as practice implementation pharmacist, Kyle Bryan, PharmD, is focused on supporting pharmacists in all areas of practice advancement through implementation of novel practice models and medical billing for services. 
"CAPP's relaunch initiative comes at an opportune time, synergizing with existing efforts at the College to engage in new partnerships and further our strategic objectives," said Hudspeth. "Together, we are poised to identify and address the evolving educational and practice needs of pharmacists, fostering a new era of excellence in pharmacy practice." 
Under this dynamic team, CAPP is committed to establishing partnerships focused on innovative and sustainable practice models. As director of practice advancement partnerships, Stacy Taylor, PharmD, leads these efforts through the development of strategic partnerships and engagement for practice advancement, as well as providing residency advancement leadership for the Center.  
With a recharged leadership team, an expanded focus, and a commitment to innovation, the University of Kentucky College of Pharmacy is positioned to lead the way in transformative changes, ultimately contributing to a healthier Commonwealth for all. 
*****
The University of Kentucky College of Pharmacy continually ranks as a top-ten institution of pharmacy education in the nation, and research funding has more than doubled in the last decade.
We wish to remember and honor those who inhabited this Commonwealth before the arrival of the Europeans. Briefly occupying these lands were the Osage, Wyndott tribe, and Miami peoples. The Adena and Hopewell peoples, who are recognized by the naming of the time period in which they resided here, were here more permanently. Some of their mounds remain in the Lexington area, including at UK's Adena Park.
In more recent years, the Cherokee occupied southeast Kentucky, the Yuchi southwest Kentucky, the Chickasaw extreme western Kentucky and the Shawnee central Kentucky including what is now the city of Lexington. The Shawnee left when colonization pushed through the Appalachian Mountains. Lower Shawnee Town ceremonial grounds are still visible in Greenup County.
We honor the first inhabitants who were here, respect their culture, and acknowledge the presence of their descendants who are here today in all walks of life including fellow pharmacists and healthcare professionals.