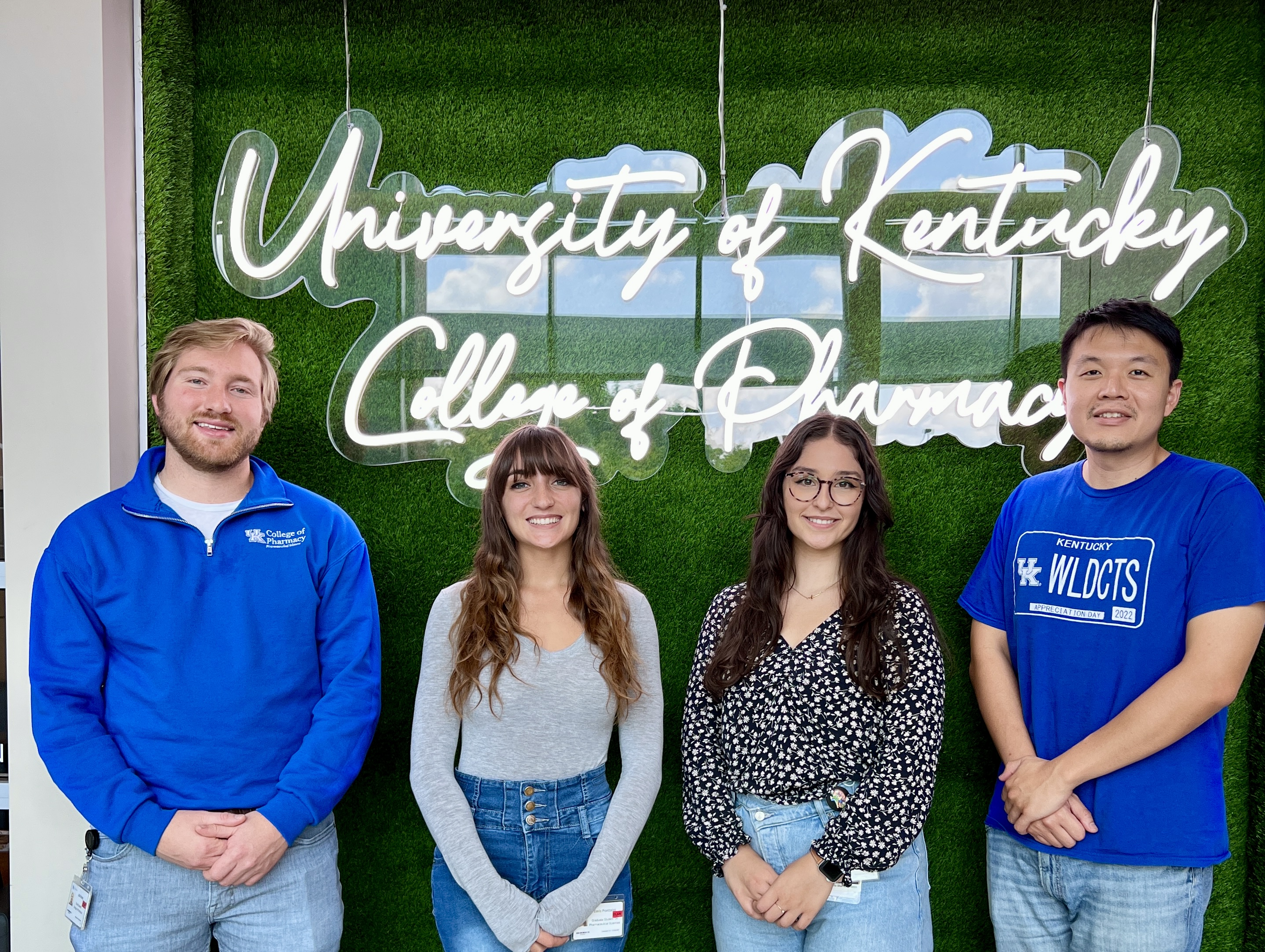 Four UKCOP Students Receive Awards from the American Foundation for Pharmaceutical Education
LEXINGTON, Ky. (August 10, 2023)—The University of Kentucky College of Pharmacy (UKCOP) is proud to announce three Ph.D. students in Pharmaceutical Sciences and one PharmD student have been awarded competitive funding from the American Foundation for Pharmaceutical Education (AFPE) during the 2023-2024 academic year. Among all pharmacy schools, UKCOP received the most AFPE funding this year, with a total of four awards. The award recipients are Spencer Peh, PharmD; Jack Keady; Emily Prantzalos; and fourth year PharmD/MPSP dual-degree student Clare Johnson. 
The AFPE awards recognize and support talented graduate and professional students, enabling them to pursue advanced pharmaceutical sciences education. These students acquire cutting-edge knowledge, skills, and techniques that are highly valuable to industry and academia. The goal is to prepare them to contribute effectively to pharmaceutical research, manufacturing, and pharmaceutical sciences education. 
"We are extremely proud to see four of our exceptional students recognized for their potential to positively impact patient and public health," said David Feola, PharmD, Ph.D., director of graduate studies at UKCOP. "They are all high-performing trainees with the skills and aptitude to become outstanding leaders in the pharmaceutical industry, academia, and government sectors. I look forward to seeing them grow as scientists in the upcoming year, thanks to the support of AFPE." 
Spencer Peh, Jack Keady, and Emily Prantzalos are recipients of AFPE Pre-Doctoral Fellowships in Pharmaceutical Sciences, each receiving a $10,000 stipend during the 2023-2024 academic year to support their advanced research. 
The AFPE Pre-Doctoral Research Fellowship program aims to support the most exceptional Ph.D. students during the advanced research phase of their pharmaceutical sciences course of study. It enables them to focus intensively on industry-oriented subjects such as drug development, drug delivery, clinical trial design and management, pharmacoeconomics, and manufacturing quality control. Throughout their graduate studies, AFPE Fellows receive drug-focused training, in-depth introductions to industry processes, and experience in teamwork and cross-functional collaboration to achieve industry research, development, evaluation, and manufacturing goals. 
Peh's research, conducted under the mentorship of Jill Kolesar, PharmD, aims to test the effectiveness and safety of combining two drugs, artesunate and telaglenastat (CB-839), in treating hard-to-treat non-small cell lung cancer. The study has two main goals: understanding how these drugs work together and identifying new markers that can predict patient response to the treatment or development of resistance. Additionally, the study will evaluate the effectiveness of the artesunate and telaglenastat combination in a preclinical mouse model with KEAP1 loss, a condition associated with non-small cell lung cancer. 
Jack Keady, a student mentored by Jill Turner, Ph.D., is researching the sex and cell-specific impacts of nicotine withdrawal in the murine hippocampus. Keady aims to understand how nicotine withdrawal affects cognitive deficits and affective dysfunction in male and female mice. The study will explore sex-specific transcriptomic changes using single-cell sequencing in the mouse hippocampus, a critical brain region involved in withdrawal symptoms. The study aims to identify new targets for developing sex-specific smoking cessation medications. 
Emily Prantzalos, also part of the Turner research group, aims to investigate the relationship between nicotine dependence and co-morbid schizophrenia, a global health concern. Her study will focus on the gene Neuregulin-3 (NRG3) and its receptor ErbB4, both linked to nicotine dependence and schizophrenia. She will explore the role of the NRG3-ErbB4 signaling pathway in nicotine withdrawal and assess the effectiveness of the antipsychotic aripiprazole in mitigating withdrawal symptoms. By studying the expression patterns of NRG3-ErbB4 in the prefrontal cortex during chronic nicotine use and withdrawal, the research aims to identify potential novel drug targets for smoking cessation therapies. 
Clare Johnson, a recipient of the AFPE Gateway Award, will receive a $5,000 stipend for research-related expenses. Johnson's project, led by Daniela Moga, MD, Ph.D., focuses on studying the prevalence of substance use disorder (SUD) in transgender adults over the last decade. The rate of SUD diagnosis in transgender adults suggests an increase due to greater visibility and awareness of transgender issues. Johnson's study aims to shed light on the burden of SUD in transgender adults and emphasize the need for tailored interventions and treatment programs to address their specific needs. Johnson will use data from an administrative healthcare claims database to conduct the study and employ an algorithm to identify transgender adults. The analysis will compare SUD prevalence in transgender and cisgender adults from 2010 to 2020, investigate prevalent abuse substances, and explore rates of related diseases like HIV and hepatitis C in those with SUD. 
*****
The University of Kentucky College of Pharmacy continually ranks as a top-ten institution of pharmacy education in the nation, and research funding has more than doubled in the last decade.