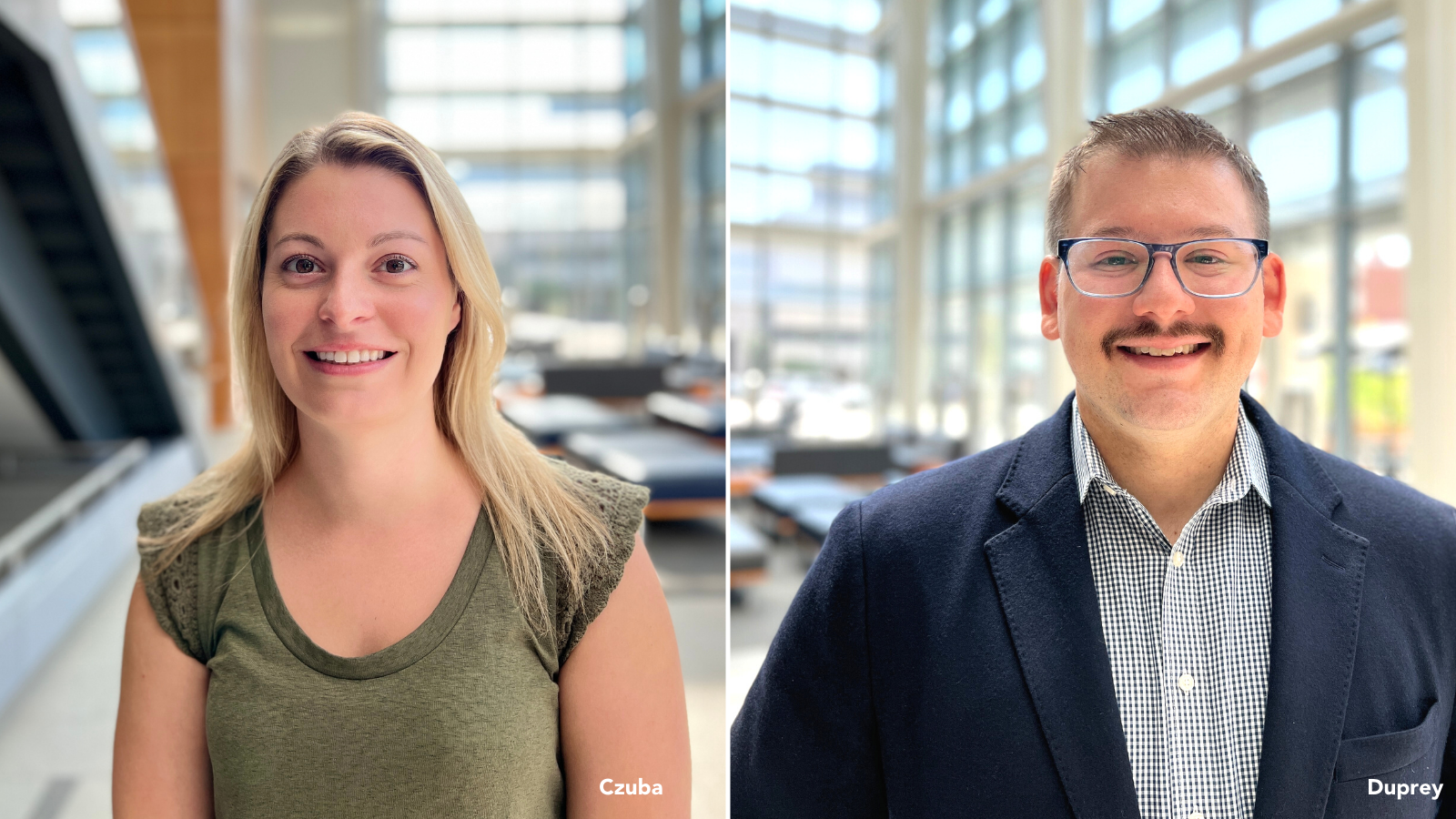 College of Pharmacy Welcomes New Faculty
LEXINGTON, Ky. (September 12, 2022). The University of Kentucky College of Pharmacy (UKCOP) welcomed two junior faculty at the start of the 2022-2023 academic year, adding to its cadre of world-class health professionals, scientists, and educators. 
Lindsay Czuba, Ph.D., joined the College as an assistant professor in the Pharmaceutical Sciences Department. Most recently, she served as a postdoctoral fellow in the University of Washington's Department of Pharmaceutics, where her work focused on studying the changes to vitamin A metabolism in human obesity and pregnancy. Czuba's faculty expertise is broadly in drug transport and metabolism and the impact of these processes in maintaining homeostatic pathways. 
"I wanted to join a College of Pharmacy with research across a range of disciplines within the pharmaceutical sciences," said Czuba. "UKCOP stood out to me because of its emphasis on translational pharmaceutical research. I also appreciate that programs are in place in the College and the greater UK research community to support junior faculty." 
Czuba received an undergraduate degree in Biology from Syracuse University and a Ph.D. in Pharmaceutical Sciences from the University of Maryland, Baltimore. She received the President's Entrepreneurial Fellowship through the UM Ventures initiative to commercialize discoveries and create economic impact in the state of Maryland. As a postdoctoral fellow at the University of Washington, Czuba was awarded fellow of the year at the annual Diabetes Day, which celebrates trainees undertaking diabetes, obesity, nutrition, and metabolism research.  
***** 
Matthew Duprey, Pharm.D., Ph.D., accepted a position as an assistant professor in the Pharmacy Practice and Science Department. A native of Michigan, Duprey attended Wayne State University in Detroit for undergraduate work and pharmacy school, graduating as valedictorian of his class and receiving the Outstanding Achievement Award. He completed a PGY-1 residency at the University of Illinois Chicago College of Pharmacy and a PGY-2 program in critical care/nutrition support at Regional One Health/University of Tennessee Health Science Center.  
Following residency, Duprey relocated to Boston, MA, to complete a research fellowship at Tufts Medical Center and obtained a Ph.D. in Population Health from Northeastern University. He then transitioned into a postdoctoral fellow position, later becoming an investigator in the Center for Gerontology and Healthcare Research at Brown University's School of Public Health.  
Duprey's research focuses on improving the medication use process throughout the continuum of care. Most of his work centers on medication use among critically ill adults, specifically the role of medications as potential risk factors and treatments for delirium. More recently, Duprey has focused on adapting research methodologies to better estimate the impact of deprescribing medications. 
"Coming to UKCOP allows me to continue to conduct research with the benefit of world-class infrastructure at the University and cutting-edge clinical practice both at UK HealthCare and throughout the state," said Duprey. "I will be able to teach future generations of pharmacists in ways that will improve clinical care." 
"I am delighted that Drs. Czuba and Duprey have joined the faculty as we continue to strive towards delivering exceptional education and conduct pioneering research," said R. Kip Guy, dean of the College. "They are both dynamic and energetic scholars who will expand the impact of the College in improving health at the individual and population levels. We are happy and honored to welcome them into our community." 
Czuba and Duprey began their faculty appointments on August 1, 2022.  
***** 
The University of Kentucky College of Pharmacy continually ranks as a top-ten institution of pharmacy education in the nation, and research funding has more than doubled in the last decade.