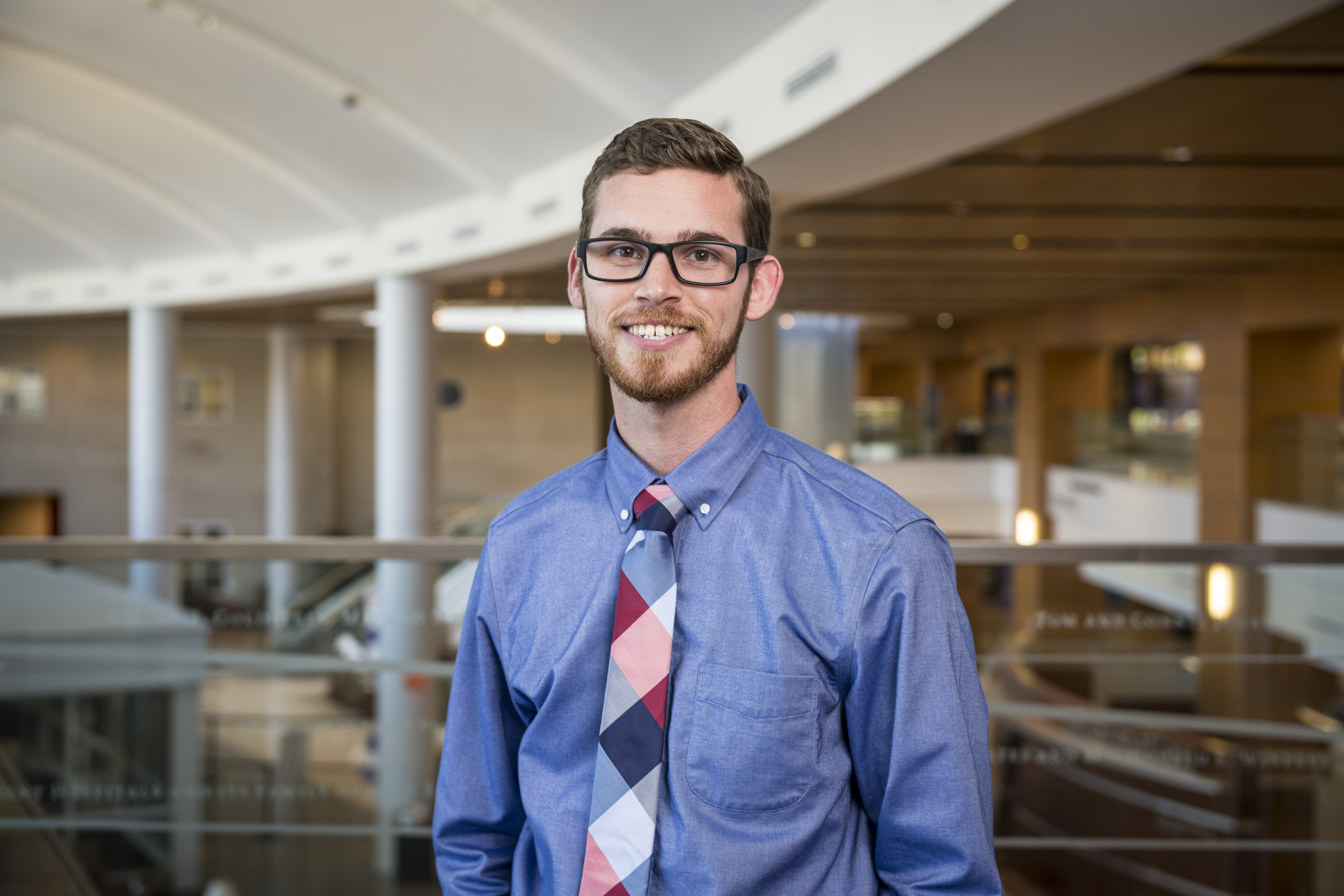 Behal Appointed as Post-Doctoral Academic Fellow
LEXINGTON, Ky. (September 25, 2022). The University of Kentucky College of Pharmacy (UKCOP) is pleased to announce the appointment of Michael Behal, PharmD, R537, as a post-doctoral academic fellow. The College is reestablishing the Academic Fellow position, and Behal will be the first to hold this revitalized role. The work was specifically designed to help early-career scholars grow into an academic role while providing additional training in scholarship, service, and pharmacy practice.
Behal obtained a PharmD from the University of Tennessee Health Science Center before completing a PGY1 Pharmacy Residency and PGY2 Critical Care Pharmacy Residency at UK HealthCare. "I was initially drawn to UK HealthCare's residency program because of the highly integrated and innovative pharmacy practice, a significant degree of autonomy provided to pharmacy residents, and high patient acuity," said Behal. "As someone who sought a path in academia following residency, I also valued the close relationship between UK HealthCare and the College of Pharmacy."
Behal's responsibilities now include teaching, conducting research projects, committee work, and Patient-centered Care Experience (PaCE) Lab facilitation and coordination. "My overall goal for the fellowship is to expand my teaching portfolio, gain exposure to UKCOP's operations, and explore my interest areas within pharmacy education research to obtain a full-time clinical track faculty position," said Behal. "I look forward to gaining additional experience with teaching across a spectrum of courses and environments such as small groups, flipped classrooms, and traditional lectures and am grateful to be surrounded by amazing mentors."
"We feel that preparing future faculty meshes well with how we prepare future leaders for careers conducting cutting-edge research and innovative clinical practice," said Jeff Cain, associate professor and Behal's fellowship director. "As a fellow, Michael will have the opportunity to train under award-winning faculty and observe various teaching styles and approaches. This will become beneficial as he develops his personal approach to teaching."
"While most of my time is spent at the College, I am still on service in the medical ICU roughly one week per month, where I round with the multidisciplinary team," said Behal. "Additionally, I am still involved in the PGY1 and PGY2 Critical Care Residency programs through recruitment efforts and the Residency Research Committee, where I help coordinate and facilitate the Resident Research Series." He is also highly involved in the American College of Clinical Pharmacy through Critical Care PRN, the Society of Critical Care Medicine through the Clinical Pharmacy and Pharmacology Section, and the American Association of Colleges of Pharmacy.
Behal, whose fellowship committee consists of Jeff Cain, Penni Black, Aaron Cook, and Clark Kebodeaux, began his position in the summer of 2022.
***** 
The University of Kentucky College of Pharmacy continually ranks as a top-ten institution of pharmacy education in the nation, and research funding has more than doubled in the last decade.