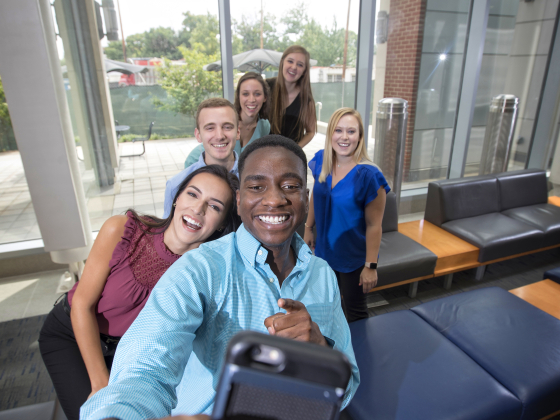 Diversity & Inclusion Task Force
In 2017, we created a Diversity and Inclusion Task Force, which was charged with developing specific initiatives that would enhance diversity and strengthen the culture of inclusion within the College
Our commitment to diversity draws on strategic partnerships with many campus organizations specifically tasked with creating a supportive environment that fosters collaboration with and commitment to students from diverse backgrounds. Each of these partnerships ensures that our students are well connected to a host of resources and people who like them seek to contribute to establishing a culture where diversity encouraged and supported.
The Office for Institutional Diversity (OID) empowers all to be their best selves and strives to create a sustainable climate where all can benefit from the highest quality education, care, and work environment. 
One Parent Scholar House
If you're a single parent, One Parent Scholar House can assist with navigating higher education while balancing a family.
BBNvolved
BBNvolved is the online hub for campus involvement.  You can search and browse for student organizations to get involved in, connect with student leaders, request an involvement advising appointment, and more.
Student Orgs
Find your fit within one of our many College student orgs. You'll learn more about your profession while deepening connections with your classmates.
Recent College Initiatives
Below is a list of our recent initiatives and the year they were implemented.
Inclusive and accessible facilities and signage (2016)

Mandatory unconscious bias training for all faculty and staff (2016)
Quarterly all-college lunches/programming to help foster an inclusive community and sense of belonging (2016)
Cook-Ross facilitated all-faculty retreat on D&I (2017)
Development of Diversity & Inclusion Task Force (2017)
Implicit association testing & discussion sessions for second-year professional students (2017)
Mandatory cultural competency training for incoming professional students (2017) and graduate students (2019)
Individual Development Plan (IDP) implemented for graduate students (2017)
Special Populations Class integrated into the professional curriculum (2017)
Everything is Science festival to increase science literacy within the community (2018)
Created Assistant Dean of Diversity & Inclusion (Chief Inclusion Officer) position who is a member of the College's Executive Council (2018)
Case writing workshop provided to faculty to assist in developing more culturally inclusive and diverse patient cases (2018)
Mandatory unconscious bias training for all incoming students (2018)
Development of The Commonwealth Experience Day to increase student exposure to all areas of Kentucky for professional students (2018)
One paid marketing internship per year for women and/or students of color (2018)
Mapping diversity and inclusion topics within the curriculum (2019)
Diversity and inclusion statement now required on faculty applications to assist search committees with applicant commitment to diversity and inclusion (2019)
Dean and COO participation in White Men as Full Diversity Partners training (2019)
Chief Inclusion Officer meeting with student groups to determine areas College can improve (2019-2020)
Added cultural competency component to professional student interview process (2020)
College participation and assistance in the organization of the Time for Action:  Health Colleges and Partners United Against Racial Injustice event (2020)
Sponsorship of Lyman T. Johnson Awards Dinner and nomination of UKCOP student and alumnus - net proceeds from sponsorship goes toward student scholarships for historically underrepresented students (ongoing)
Global Health Initiative in Partnership with Shoulder to Shoulder (ongoing) 
Devoted substantial proportion of scholarship funding specifically to enable historically underrepresented students to attend the College of Pharmacy (ongoing)
Sponsorship of the UK LGBTQ* Resource Center's Feast for Equality (ongoing)
Participation in MLK Freedom March and sponsorship of Lexington's Unity Breakfast (ongoing)
Select faculty participation in UK's LSAMP program (ongoing)
Inclusive and relational student recruitment, including eliminating PCAT requirement (ongoing)
Select participation in UK's Center for Appalachian Research in Environmental Studies (CARES) science communication (ongoing)
College-wide seminars on health disparities and cultural competency using the UKCOP Professional Series (ongoing)
Area Health Education Center (AHEC) partnership for pharmacy exposure within elementary & high school students (ongoing)
Development of SciCats, where faculty and graduate students help bring science to local grade schools (ongoing)
Safe Zone training for select faculty and staff (in progress)