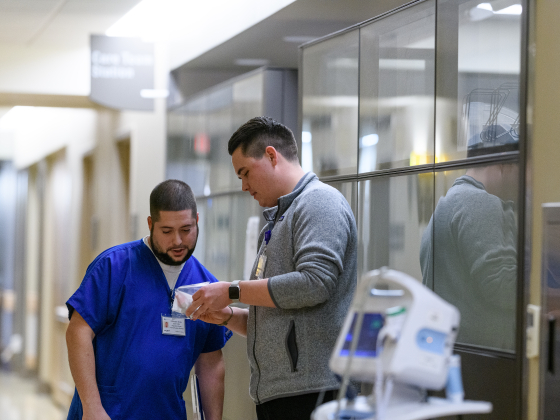 UK HEALTHCARE
PGY1: UK Medical Center
About the Program
The PGY1 program was the recipient of the 2007 ASHP Foundation Pharmacy Residency Excellence Award. The ambulatory care version of the PGY1 program includes core learning experiences such as ambulatory care, medical critical care, internal medicine, oncology, pediatrics and practice leadership. Electives are primarily focused in the ambulatory care and specialty pharmacy clinic areas including anticoagulation, cardiology, endocrinology, infectious disease, nephrology, and many others. Residents participate in 24-hour clinical services through an in-house on-call program. While the program focuses on enhancing patient care skills, residents are encouraged to develop their teaching and precepting skills by teaching PharmD students in classroom lectures, pharmacotherapy breakout groups, and clinical clerkships. An AACP award-winning certificate program in scholarship and teaching exposes residents to teaching philosophies, innovative teaching techniques, and accreditation standards. Research projects are required and selected based on the resident's interest and availability. The program encourages residents to pursue their professional interests while becoming well-rounded clinicians by providing them with the flexibility to directly design their residency year schedule. Upon completion of the pharmacy practice residency, ASHP-accredited PGY2 residencies are available in Ambulatory Care, Cardiology, Critical Care, Emergency Medicine, Infectious Diseases, Internal Medicine, Medication-Use Safety and Policy, Oncology, Pediatrics, and Solid-Organ Transplant.
Quick Facts
Deadline: Tuesday, December 21, 2021
Starting Date: June 22, 2022
Number of Positions: 9 (7 - Pharmacy Practice PGY1 and 1 - PGY1 HSPAL resident and 1 - PGY1 SPAL resident)
Application Requirements
Doctor of Pharmacy degree
Licensure (or eligibility for licensure) in the state of Kentucky
See Application Steps below regarding required supplemental materials to be submitted
The program encourages residents to pursue their personal interests while becoming well-rounded clinicians by providing them with the flexibility to directly design their residency year schedule.  All residents must take the Core rotations, and then select one from each of the other categories listed below.
Core/Required Rotations
Administration
Internal Medicine
Pediatrics
Selective (Required/one from each category)
Ambulatory Care (various subspecialties such as cardiology, transplant, hematology/oncology, infectious disease, endocrine, and more)
Hematology/Oncology

Bone Marrow Transplant
Hematology
Hematology/Oncology Clinic
Inpatient medical oncology

Medical Critical Care

Cardiology Critical Care
Pulmonary/Critical Care

Surgical Critical Care

Cardiothoracic Surgery
Emergency general surgery
Mechanical support/Heart-Lung Transplant
Neurosurgery
Trauma Surgery
Longitudinal Rotations
Institutional committees
Overnight on-call
Pharmacy operations
Research
Teaching certificate program
Electives
Academia
Adult Nutrition Support
Cardiology Acute Care
Emergency Medicine
Infectious Diseases
Kidney/Liver Transplant
Lung Transplant
Pediatric Subspecialties
Perioperative/Operating Room
Stroke Neurology
Vascular surgery
Others as available and requested
Thank you for expressing interest in the University of Kentucky pharmacy residency programs! All applicants are invited to browse the materials listed on the Scholarship page for a preview of items discussed during interviews. Please direct any application-related questions to either Aaron Cook (UK Chandler Medical Center) or Dustin Thomas (UK Good Samaritan Hospital).
STEP 1 - Complete Application
Applicants should complete the standard PGY1 application on PhORCAS. (https://portal.phorcas.org/). Please note this includes three (3) recommendations provided through PhORCAS: one from a faculty member, one from a preceptor, and one from an employer/supervisor. Formal letters are not required.
STEP 2 - Upload Essay Responses
UK Chandler PGY1 applicants must upload responses to both essay questions below. Responses to each question should be limited to one page or less. Not required for Good Samaritan Hospital Residency program applicants.
Question 1: Describe a specific situation during the past year in which you enhanced the provision of patient-centered care.
Question 2: Describe a specific situation where you encountered an ethical dilemma with peers in pharmacy school or during the provision of patient care. What factors did you consider when making your decision? How do you approach resolving ethical dilemmas in general?
STEP 3 - Participate in Match Process
STEP 4 - Submit by Deadline
Applicants should have all application materials submitted by the application deadline date, Tuesday, December 21st, 2021, 11:59 PM EST (UK Chandler).