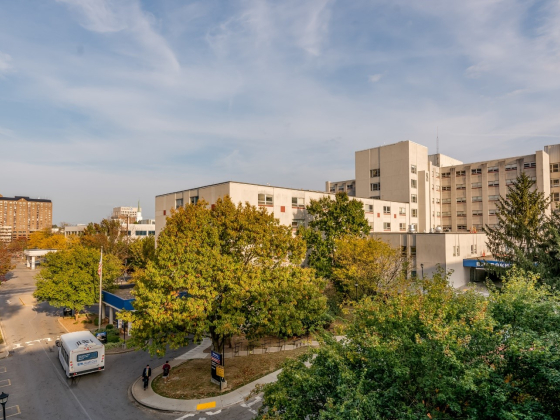 UK HealthCare
Good Samaritan Hospital
PGY1
Program Overview
The University of Kentucky Healthcare – Good Samaritan Hospital Post Graduate Year One (PGY1) Pharmacy Residency Program offers a unique opportunity to learn in an acute-care community hospital situated within a large academic medical center. The department of pharmacy at UK Good Samaritan Hospital is administratively linked to the Albert B. Chandler Medical Center, resulting in ongoing collaboration which benefits pharmacy resident experiences.
Our program is designed to build on the resident's pharmacy education to contribute to the development of clinical pharmacists capable of providing high-level patient care across a wide range of practice sites and specialties. Upon completion of the program residents will be eligible for board certification and postgraduate year two pharmacy residency training. ASHP-accredited PGY2 residencies are available in Cardiology, Critical Care, Emergency Medicine, Infectious Diseases, Internal Medicine, Medication-Use Safety and Policy, Oncology, Pediatrics, Ambulatory Care, and Solid-Organ Transplant.
UK Good Samaritan Hospital
UK Good Samaritan Hospital is an acute-care facility and community teaching hospital with 221beds. Founded in 1888, the hospital has a long tradition of providing exceptional patient care in a community-hospital atmosphere. Its acquisition in July 2007 by UK HealthCare added the resources of a major health care system. Ongoing collaboration with UK's Albert B. Chandler Medical Center as well as the UK College of Pharmacy creates an environment infused with the latest in teaching, research and practice.
Fast Facts
Number of Positions: 3
Application deadline: January 2, 2023 at 11:59 pm EST
Starting Date: June 19, 2023
Ability to early commit to PGY2 programs at UK Healthcare
Residents will spend a minimum of eleven months successfully completing one month experiences from the opportunities listed below.  
Required Experiences
Required (5 months)
Internal Medicine (2 months)
Ambulatory Care
Medical ICU 
Infectious Diseases
Selective Experiences
Required (2 months)
Hematology/Oncology*
Emergency Medicine
Cardiology*
*Located at UK Chandler Medical Center
Elective Experiences
Elective (4 months)
Ambulatory Care - Family and Community Medicine, Transplant, Cardiology, Renal, Endocrine, Anticoagulation, HIV
Critical Care* - Surgical, Trauma, Cardiac, Neurosurgical, Stroke, Cardiothoracic 
Transplant* 
Family and Community Medicine
Inpatient Psychiatry – Adult and Adolescent
Pediatrics*
Surgery - General, Orthopedic, Nutrition*, Perioperative Care*
Medication Use Safety and Policy
Academia
*Located at UK Chandler Medical Center
Additional learning experiences are available. 
Research
Each resident will complete a research project as part of their residency experience. It is expected that the results of the research project will be presented at a national meeting and a manuscript be prepared that is suitable for publication.
Staffing
Residents routinely support central pharmacy operations and clinical pharmacy services at Good Samaritan Hospital via staffing. Residents staff one night per week with every third week off in the Good Samaritan Central Pharmacy with a typical shift being between 1700 and 2100. Residents provide clinical team coverage every third weekend. Residents also staff 2 weeks during the month of December. During the December staffing block residents may staff in the Good Samaritan Central Pharmacy and/or on a Good Samaritan Clinical pharmacy team.
UK ASHP Teaching Certificate for Pharmacists
UK Healthcare's AACP award-winning teaching program provides residents opportunities to give didactic lectures, facilitate small group activities, and precept fourth year pharmacy students through the University of Kentucky College of Pharmacy.
Longitudinal Experiential Education in Pharmacy (LEEP)
This program provides residents the opportunity to design and precept an introductory learning experience for second and third year pharmacy students. 
Committee Leadership
Residents will have the opportunity to participate as a core member of a multidisciplinary committee for the duration of the residency year. 
Pharmacy Practice and Science Seminar (Grand Rounds)
Residents are required to present a one-hour Grand Rounds continuing education session for pharmacists. Topics are chosen by the resident and are typically contemporary updates on pharmacy practice.
Thank you for expressing interest in the University of Kentucky pharmacy residency programs! All applicants must be a graduate of an ACPE accredited college of pharmacy and be eligible for licensure in the state of Kentucky. Please direct any application-related questions to: Ben Scott (UK Good Samaritan Hospital) or Dina Ali (UK Chandler Medical Center).
STEP 1 - Register for the Match
STEP 2 - Complete PhORCAS Application
Applicants should complete the standard PGY1 application on PhORCAS. (https://portal.phorcas.org/). Please note this includes three (3) recommendations from individuals who can comment on the applicant's clinical abilities. It is preferred that at least two recommendations come from preceptors. Formal letters are not required.
STEP 3 - Submit by Deadline
Applicants should have all PhORCAS application materials submitted by  January 2, 2023, 11:59 PM EST. Applicants must submit a rank order list through the National Matching Service, Inc. by  March 3, 2023, 11:59 PM EST.