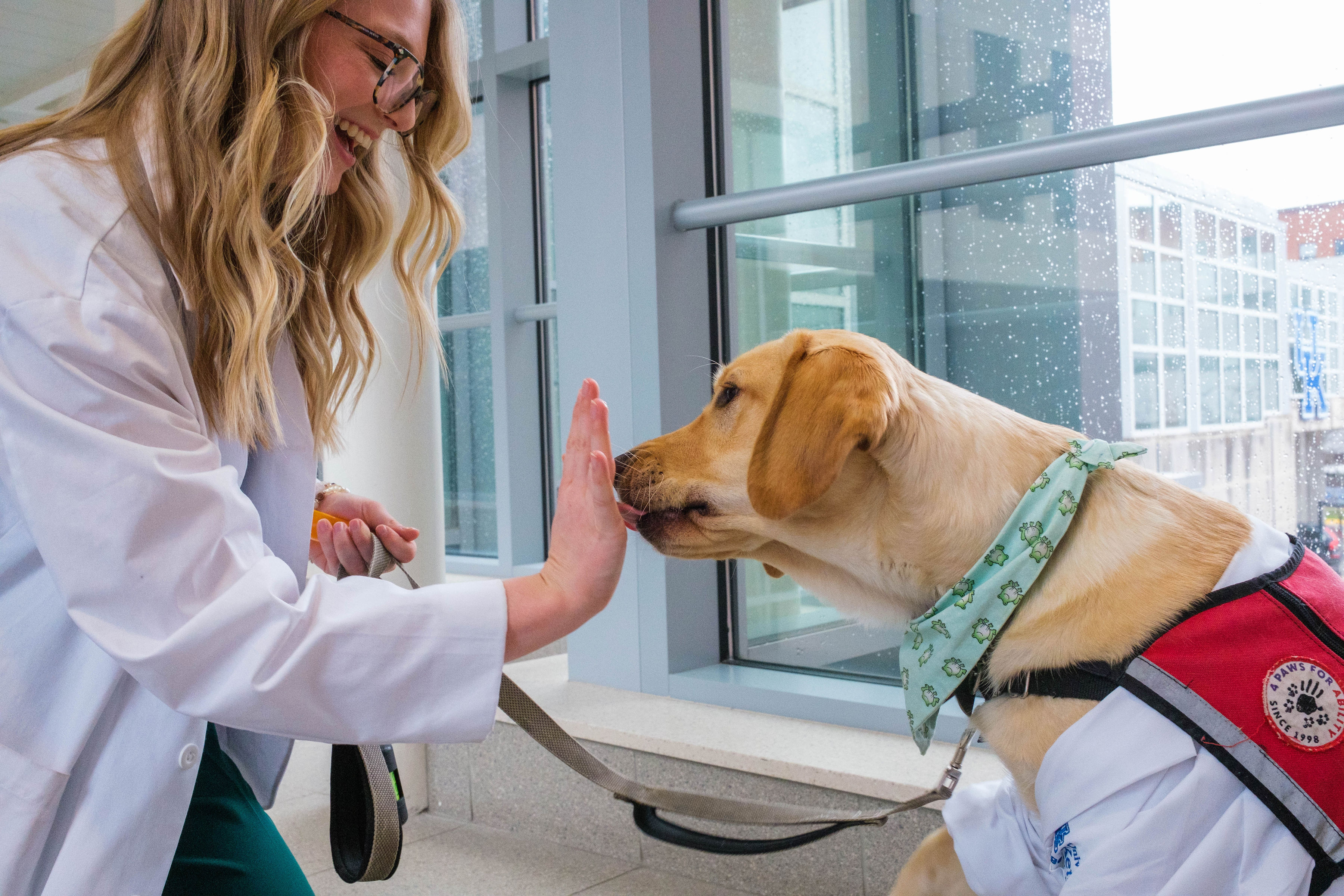 College of Pharmacy Unleashes New Drug Delivery Program
LEXINGTON, Ky. (April 1, 2023) — The University of Kentucky College of Pharmacy (UKCOP) is introducing a groundbreaking new program: PharmaDogs. This innovative partnership with 4 Paws at UK, the on-campus branch of 4 Paws for Ability, will once again position the College at the forefront of cutting-edge patient care and modern education.
The PharmaDogs program will allow students and 4 Paws at UK to collaborate in training dogs to deliver potentially life-saving medications. Following four years of training, the PharmaDogs will graduate with a newly accredited PharmD.og degree and be equipped to practice at the top of their license in various healthcare settings. At the start of the 2023-2024 academic year, select PY1 students will partner with a PharmaDog-in-training and graduate together upon completing the four-year curriculum.
The PharmaDogs will be trained to fetch prescriptions from pharmacy services and deliver bedside medication to patients within minutes. They will also learn to communicate with student pharmacists to ensure patients receive the correct dosage. The College has completed multiple trials with a uniquely talented group of 4 Paws at UK dogs to ensure the program's viability. UKCOP is committed to transforming patient-centered care, and this program exemplifies interprofessional collaboration.
"I look forward to seeing enrollment grow in the PharmD.og degree," said R. Kip Guy, dean of the College. "They have certainly proven their dogged determination to become excellent healthcare providers, and I'm pleased to see our tradition of innovation continue with this program. We are once again ahead of the pack."
In addition to delivering medications, the first cohort of PharmaDogs will attend pharmacy school classes in hopes that they will one day learn to prescribe drugs and take a paws-on approach to pharmacy management.  
The program will officially launch during the fall 2023 semester, and discussions are already underway for dual-degree offerings, including Master of Paw-blic Administration (MPA).
***** 
The University of Kentucky College of Pharmacy continually ranks as a top-ten institution of pharmacy education in the nation, and research funding has more than doubled in the last decade. 
April Fools! We hope you enjoyed our annual College tradition. We would like to thank 4 Paws at UK for their collaboration on this fun, cuddly joke. 
4 Paws breeds, trains, and places service dogs with children and veterans with disabilities. We applaud their mission to provide this life-changing service in our community. Learn more about 4 Paws at UK.
We wish to remember and honor those who inhabited this Commonwealth before the arrival of the Europeans. Briefly occupying these lands were the Osage, Wyndott tribe, and Miami peoples. The Adena and Hopewell peoples, who are recognized by the naming of the time period in which they resided here, were here more permanently. Some of their mounds remain in the Lexington area, including at UK's Adena Park.
In more recent years, the Cherokee occupied southeast Kentucky, the Yuchi southwest Kentucky, the Chickasaw extreme western Kentucky and the Shawnee central Kentucky including what is now the city of Lexington. The Shawnee left when colonization pushed through the Appalachian Mountains. Lower Shawnee Town ceremonial grounds are still visible in Greenup County.
We honor the first inhabitants who were here, respect their culture, and acknowledge the presence of their descendants who are here today in all walks of life including fellow pharmacists and healthcare professionals.