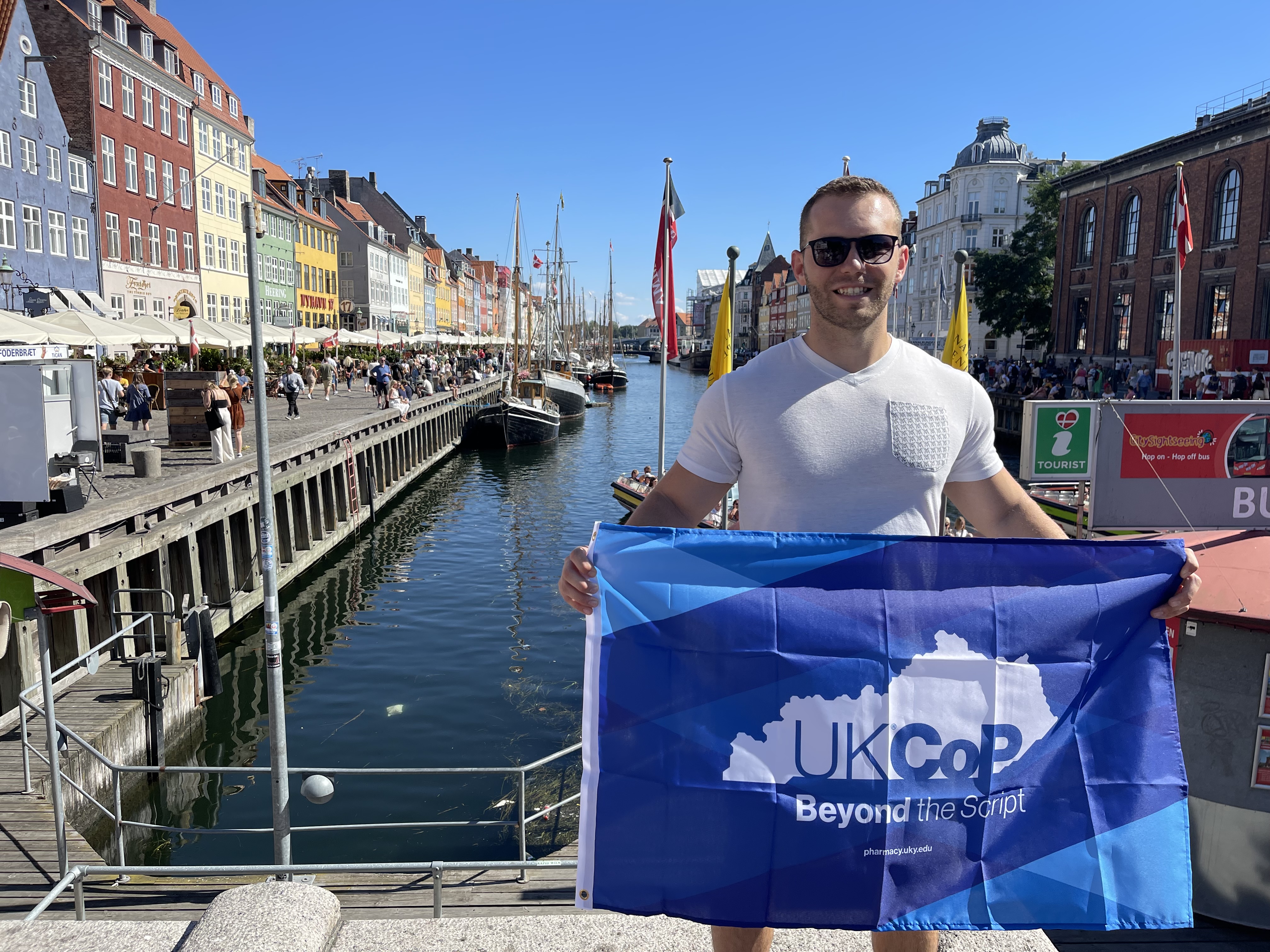 Pharmacy Student Presents Opioid Research in Denmark
LEXINGTON, Ky. (September 12, 2022) — Pursuing a Ph.D. was not part of the original plan for Dustin Miracle, Pharm.D., M.S. While enrolled in the Pharm.D. program at the University of Kentucky College of Pharmacy (UKCOP), Miracle was accepted to the dual Master of Science in Pharmaceutical Sciences program. The master's program steered his interest in pharmaceutical outcomes and policy, complementing his passion for community pharmacy. With a dual degree under his belt, Miracle now studies health policy processes to improve patient care, including opinions and outcomes regarding community-based pharmacy service provision. 
"Community pharmacy was always my goal going into the PharmD program," said Miracle. "I fell in love with the community-based setting while working at an independent pharmacy during my time as an undergraduate student. I have tremendous respect for community pharmacists; they are often the most accessible healthcare professionals in many rural areas. The Ph.D. program now allows me to research the population-level outcomes of expansion of pharmacy services and interventions where previously one would require a clinic appointment." 
Part of the expansion of pharmacy services includes protocol-driven contraceptive care for patients. A survey by Miracle showed that community-based pharmacists across the Commonwealth are overwhelmingly supportive of providing prescription hormonal contraception, as well as over-the-counter emergency contraception, to adult patients. Upon publication of the survey, a protocol, drafted with support from UKCOP's Center for the Advancement of Pharmacy Practice (CAPP), was approved by the Kentucky Board of Pharmacy in September 2020. The CAPP team then developed a continuing education program that allows pharmacists to meet the requirements necessary to initiate the dispensing of self-care contraception to adults.  
Now a second-year trainee, Miracle received a competitive travel scholarship from the International Society for Pharmacoepidemiology to present his research at the annual meeting in Denmark. "The College has extended incredible opportunities for me to grow as a professional," said Miracle, "and I knew immediately upon visiting UK that this was the best place for collaboration while remaining focused on serving the community."  
Opioid research took Miracle across the Commonwealth to thirteen independent pharmacies to validate the accuracy of reported opioid prescription days' supply (the number of days for which a prescription is intended to be used). Some of the more up-to-date national guidelines for chronic pain management currently do not show a preference between as-needed or fixed-dose medication. The research findings showed that the accuracy of the submitted day supply is much lower for any as-needed prescription, which calls into question the quality of the evidence available on as-needed prescriptions. Miracle's findings may impact the public by affecting future national guidelines for prescribing opioids for chronic pain, as opioid use disorder continues to affect the nation.  
Miracle presented his project in August 2022 at the ICPE Annual Meeting in Copenhagen, Denmark.