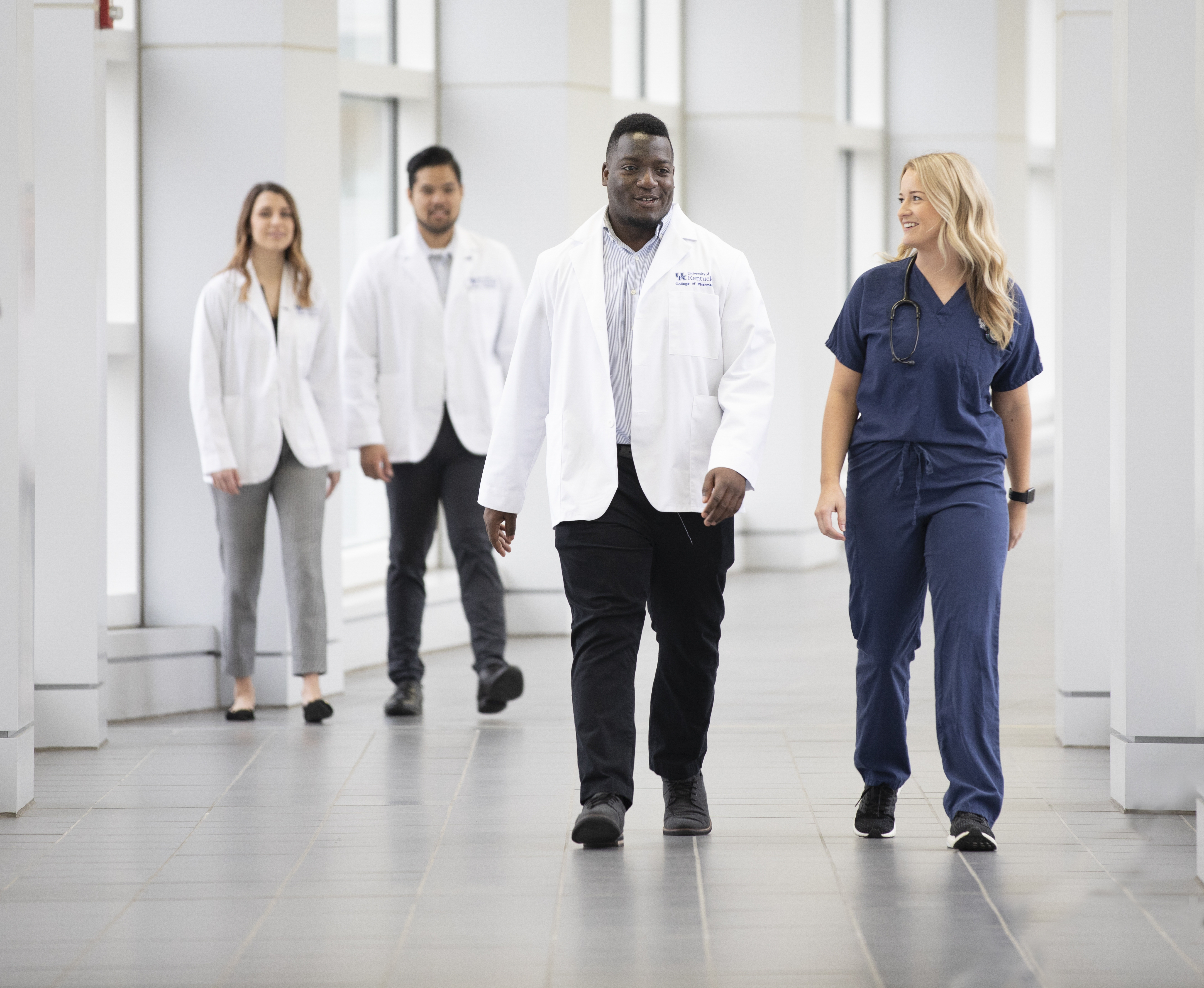 Pharmacists on the frontlines: what does it mean to be essential?
While COVID-19 has forced many Americans from the workplace and into their homes, a select group of people is still on the front lines. We celebrate essential workers like physicians, nurses, paramedics, firefighters, and other hospital staff. However, we often overlook one key player: the pharmacist.
Whether in a hospital, working in a long-term care facility, or behind a counter at your local pharmacy, pharmacists and pharmacy technicians are essential front lines workers. Pharmacists are the go-to medication experts at a time when misinformation can prove lethal.
We sat down with pharmacists from UK HealthCare who are working with coronavirus patients, as well as the new Chief Practice Officer (CPO) for the UK College of Pharmacy (UKCOP). We wanted to get their unique perceptive on the pandemic and the pharmacist's role within our hospitals and the communities.
We spoke with Regan Baum, PharmD, an emergency medicine clinical specialist at UK HealthCare and UKCOP adjunct professor; Brittany Bissell, PharmD, Ph.D., a UK HealthCare medical ICU clinical pharmacist and UK's Colleges of Medicine and Pharmacy assistant professor; as well as Brooke Hudspeth, PharmD, CPO and faculty member at UKCOP.
Often pharmacists can seem like the unsung heroes of the healthcare field, playing a vital role but not as readily visible. What do you think people should know about pharmacists and their position right now?
Baum: We are essential health care providers and are working alongside the doctors, nurses, and other healthcare professionals. I think most people hear the word "pharmacist" and tend to think of the equally critical retail pharmacists. However, the field is so diverse, and there are many of us in hospitals right now working to deliver patient bedside care.
Bissell: We are the voice of reason. This pandemic has created a unique situation, one very different from what medical professionals are used to. A lot of data is being published quickly and misinforming the general public. The anxiety of the unknown, public scrutiny and the desire to treat can be overwhelming for physicians. Pharmacists have been essential in evaluating these data, educating physicians at the bedside, and being the constant advocate of primum non-nocere or "first, do no harm."
Hudspeth: Pharmacists have long-been known as the most accessible healthcare providers. During this time, pharmacists are caring for their patients and living out the Oath of A Pharmacist in extraordinary ways. Pharmacists are positioned to help in unique ways. They are working diligently to continue to be a trusted source for their patients. They are working each day on the frontlines and play a key role in helping to contain the pandemic.
COVID-19 is easily transmitted, especially with its asymptomatic nature. To that end, what extra steps have you all taken to protect those in your household from exposure?
Baum: I have a routine when I go to and leave the hospital. Nothing from the hospital gets worn in my car or goes into my house until it goes straight into the washer. I disinfect personal items before leaving the hospital, shower before I sit down, or touch anything or anyone in my home. I also make sure I maintain stringent hand hygiene and regularly clean and disinfect surfaces I come into contact with. 
Bissell: Most of my family lives a few hours away, so I don't run the risk of exposing anyone else once I return to my home. However, the first case at UK HealthCare was diagnosed right before I planned on returning home. I canceled that trip, and ever since then, I have stopped traveling to prevent any potential spread.
Hudspeth: I make sure that I limit my outside contact as much as possible. Aside from work and essential needs, I'm staying inside my home. I also make sure that I follow all of the CDC's guidelines such as washing hands frequently, cleaning and disinfecting regularly, etc.
Americans everywhere have had to make all kinds of personal sacrifices, whether it is personally or professionally, what has that looked like for you as an essential worker?
Baum: I miss hugs. I am a hugger and an extrovert, and I miss being able to have personal contact with those in my life. I haven't taken my son to the daycare that was established for healthcare providers because I worry  I'll put other providers at risk by exposing their child through my own. This means more isolation for my only child and more screen time than I would like. While I am grateful for those who appreciate what we do, we (in Kentucky) have not done anything heroic yet. Maybe with our strong social distancing, we won't have to. I don't want to be a hero; I want enough PPE to do my job safely. Right now, we are fortunate to have enough [at UK Healthcare], and I hope it continues. 
Bissell: My inability to see my family and the change of my work-life balance has been an adjustment. On a professional level, I have been unable to dedicate myself to anything outside of COVID-19/patient care. I am not able to focus on research and scholarship, which, by far, has been the most significant sacrifice. Learning to stop feeling guilty about being unable to dedicate the same amount of time to teaching or research was a difficult necessity. My professional trajectory for the year has changed, and that's okay.
Hudspeth: When stay-at-home orders were announced, we knew that we would need to continue to work, although our children weren't able to attend school. Given our increased risk of exposure, we had to send our children to stay with our parents for several weeks to ensure their safety.
COVID-19 has put the training of all of our nation's healthcare providers to the test. How has your training at the University of Kentucky College of Pharmacy (UKCOP) helped to prepare you for this kind of situation?
Baum: We trained to be proactive, looking forward to anticipating patient care needs. Our team has extensive training for disaster preparedness and the potential for mass casualties. We evaluate therapies, patient management strategies, and the science generated. We can dispel some of the circulating myths and combat misinformation.
Bissell:  When it comes to patient care, I feel like this is what those of us who went into critical care at UKCOP trained for specifically – a PGY2 residency trains you to take care of high acuity patients in high numbers. This is the environment I feel most comfortable in. Plus, I have always felt that pharmacy residency is unique in contrast to other disciplines in its consistent undertones of evidence-based medicine and literature evaluation. Knowing how to critique literature is vital right now.
Hudspeth: Pharmacists are highly trusted, clinically knowledgeable healthcare providers with the capacity to improve public health in the communities they serve. There are many examples of pharmacist-delivered care to result in improved clinical and economic outcomes.  Many pharmacists train to provide flu and strep testing and are already becoming a valuable resource in ordering and administering COVID-19 testing. 
Lastly, in a time of such uncertainty and doubt, it is easy for one to become frustrated or discouraged. What offers you hope as you navigate this turbulent period?
Baum: The kindness in others is humbling. The outpouring of support—texts of love and appreciation mean a lot to me. Things like people making sure children, restaurant workers, and the unemployed have food and necessities give me hope. I notice all the people and companies around me that are working to take care of other people. The innovation is incredible. Distilleries working with our pharmacy students to make sanitizers and companies working to crank out PPE are amazing to see.
Bissell: Seeing patients get "better." It's a long course for a lot of the ICU folks. So, sometimes it's hard to see the victories in the day-to-day. But finally seeing them tolerate breathing trials and come off the ventilator, it gives me hope. I also think this has taught the healthcare profession a lot about each other and brought us all closer. We are reconnecting with and learning about other disciplines, our management, colleagues from across the country in ways we never have.
Hudspeth: Seeing how our pharmacists and pharmacy teams have stepped up in this time of need has been so incredible to watch. Pharmacists should be--and finally are being--recognized for their service to their communities. I am hopeful that due to their response and role in this crisis, it will only further validate the critical role of pharmacists on the healthcare team.