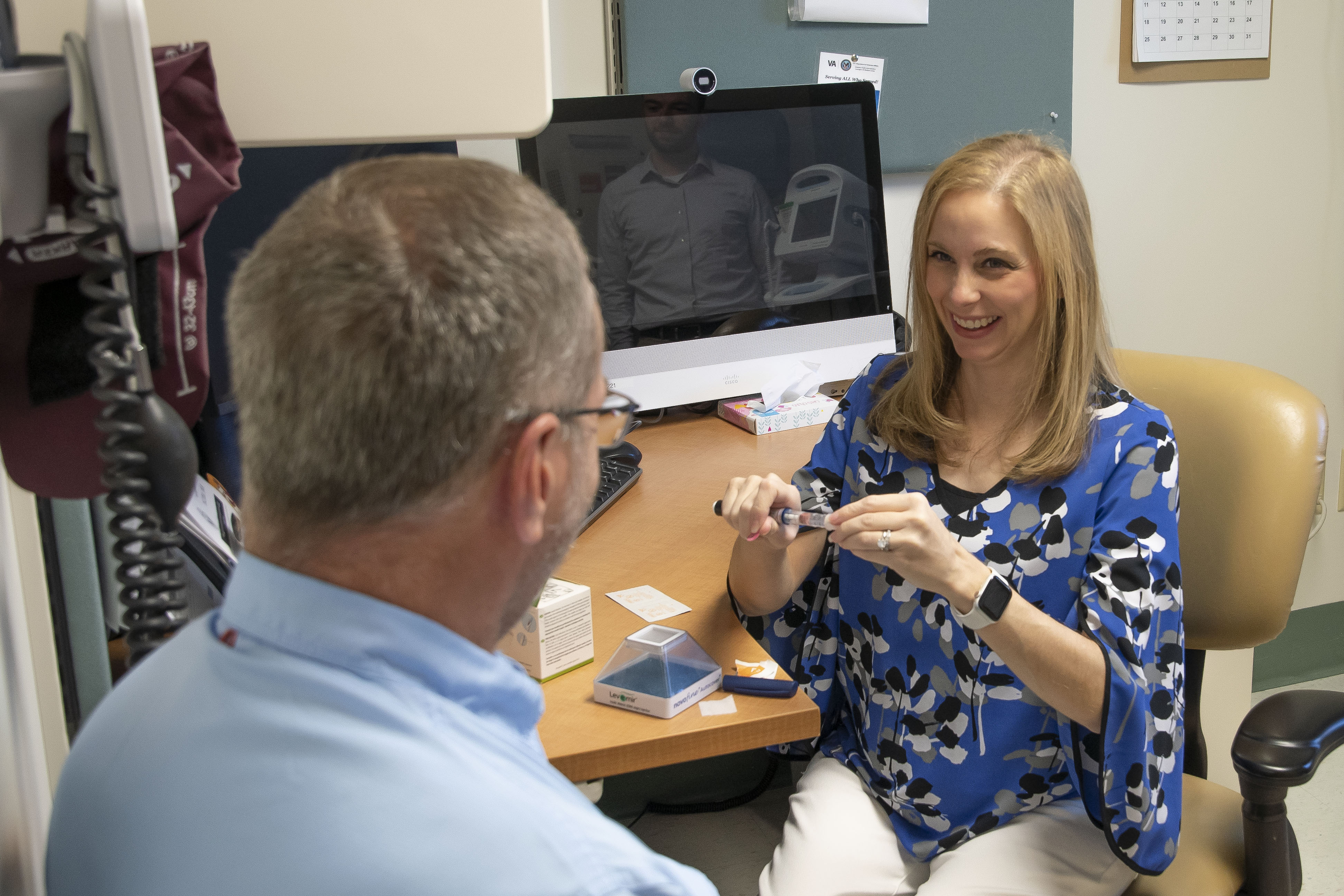 An Encourager: The Extra Boost Students Need Over the Wall
Continuing our highlights for Preceptor Appreciation Month, we spoke with Bridger Bright (PharmD 2006) about her experience as a preceptor at the University of Kentucky College of Pharmacy. Bright has been a preceptor for UKCOP over the last 10 years and currently works as a Clinical Pharmacy Specialist in Primary Care at the Lexington VA Health Care System. She specializes in working with patients who have diabetes, hypertension and hyperlipidemia and adjusting their medication doses.
1. What made you want to precept students?
BRIGHT: I find it rewarding to pour into the next generation of pharmacists. Students definitely keep me on my toes and help me stay up to date with the latest guidelines and research, so I wanted to give back to them.
2. What is the most rewarding aspect of being a preceptor?
BRIGHT: The most rewarding aspect of being a preceptor is seeing your students move on to residency and succeed in their careers. It is so rewarding to know that I may have played a small part in helping them get to that point. I see my role as an encourager. If my student and I were going through an obstacle course and we got to a big wall, I am the person who would say "Put your foot in my hands so I can give you a boost over the wall."
3. What would you say to others who are considering precepting, but reluctant to take the next step?
BRIGHT: It is absolutely worth the time and effort to precept students. I would encourage pharmacists who are interested to reach out to other preceptors or the UK College of Pharmacy to get ideas on how to incorporate precepting into your normal workflow.
4. What is one of the biggest challenges pharmacy students face? What advice would you give them?
BRIGHT: I think each student faces a different challenge, but my advice to any student is almost always the same. Keep striving to be better every day. Pharmacy is a small world. Network and always pretend you are at a job interview, because you never know who could be connected.
5. What is your overall impression of UKCOP students?
BRIGHT: I may be a little bit biased, but UKCOP students are the best! Typically, they come in with a great attitude and are ready to learn. They also really enjoy working with our patients.
In honor of the hard work and dedication of its preceptors, the UK College of Pharmacy is recognizing preceptors throughout the month of June. A virtual appreciation event is scheduled for June 24, 2021, at 7:00 p.m. EDT. For more information about the event or information on becoming a College of Pharmacy preceptor, email copexperiential@uky.edu.