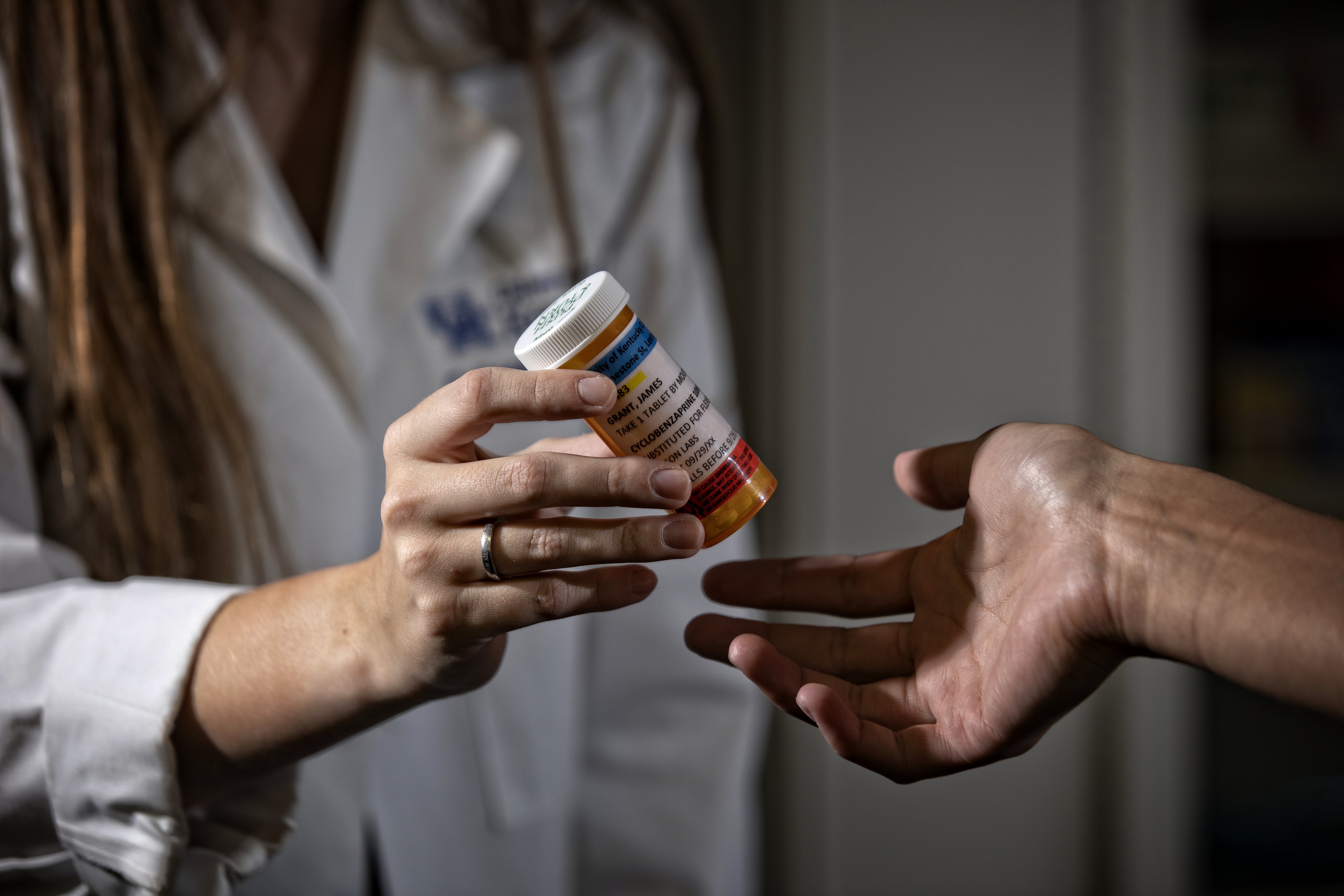 College of Pharmacy Hires New Practice Implementation Pharmacist
LEXINGTON, KY, (July 19, 2021) — Dr. Kyle Bryan (PharmD 2019) recently accepted a new role as a Practice Implementation Pharmacist at the University of Kentucky College of Pharmacy after completing his formal education and post-graduate training. His new position focuses on assisting pharmacists in all areas of practice with the implementation of the recently approved House Bill 48.
Through this role, and in collaboration with the Center for the Advancement of Pharmacy Practice (CAPP) and other pharmacy stakeholder members of the Advancing Pharmacy Practice in Kentucky Coalition, Bryan will provide support to pharmacists looking to implement Kentucky board approved protocols in their practices, as well as help encourage health systems to increase utilization of clinical services provided by pharmacists.
HB 48 allows Kentucky pharmacists to claim reimbursement for the same services for which other care providers are compensated. Thus, commercial insurance companies can no longer deny reimbursement to a pharmacist practicing within the scope of their license. A portion of Bryan's time will also be spent assisting pharmacists in implementing patient care services for persons with opioid use disorder (OUD). In partnership with the Kentucky Opioid Response Effort (KORE), CAPP has started a pilot program to establish a community pharmacy practice model for OUD treatment with long-acting naltrexone.
As a member of the Kentucky Pharmacists Association (KPhA) Government Affairs Committee, Bryan's advocacy contributed to the passing of HB 48. "It's a game changing legislative achievement that will allow Kentucky pharmacists to be compensated for the services they have been providing to patients for years," said Bryan.
Before returning to UKCOP, Bryan held a position as an Executive Fellow at the National Association of Chain Drug Stores Foundation (NACDSF). Despite facing the challenges of working remotely throughout the COVID-19 pandemic, he collaborated with many different professionals across the country and had the opportunity to work on a national level to develop and maintain new projects aimed at improving public health. Bryan also gained unique insight into how chain drug stores work to improve patient care and their perspectives on healthcare and other public health initiatives.
"As a professional, I was able to see how truly amazing my fellow pharmacists and other healthcare providers are," said Bryan. "I feel like I have a lot to be proud of since graduating from UK. I published a paper in the AMA Journal of Ethics. I had the honor of serving as a Co-Chair of the Policy Committee for the Pain, Palliative Care and Addiction Special Interest Group for the American Pharmacists Association (APhA). I was also nominated to receive the KPhA Young Pharmacist of the Year award at their fall 2020 meeting."
Bryan expressed nothing but gratitude for everyone who has helped him throughout his pharmacy education and career and is excited about this new opportunity. "I would not be where I am without some truly incredible people who have helped me along the way," said Bryan. "I am incredibly thankful for all of the support and guidance I have been given throughout pharmacy school and my post-graduate training through the college's Community Residency Pharmacy Program. I am excited to see what the future will hold, both for myself and for the amazing things that pharmacists in Kentucky, and across the nation, are doing for their patients. Through implementation of HB 48 and the resulting increase in access to pharmacist-provided care, we will improve patient and public health in Kentucky."
Bryan's position is effective July 6, 2021, and he reports directly to Chief Practice Officer, Brooke Hudspeth.
The Center for the Advancement of Pharmacy Practice (CAPP) was established by the University of Kentucky College of Pharmacy to transform pharmacy practice within Kentucky and the nation. Through research, education, engagement and scholarship, CAPP facilitates the creation and translation of novel care delivery models within pharmacy practice that improve medication use and health outcomes.