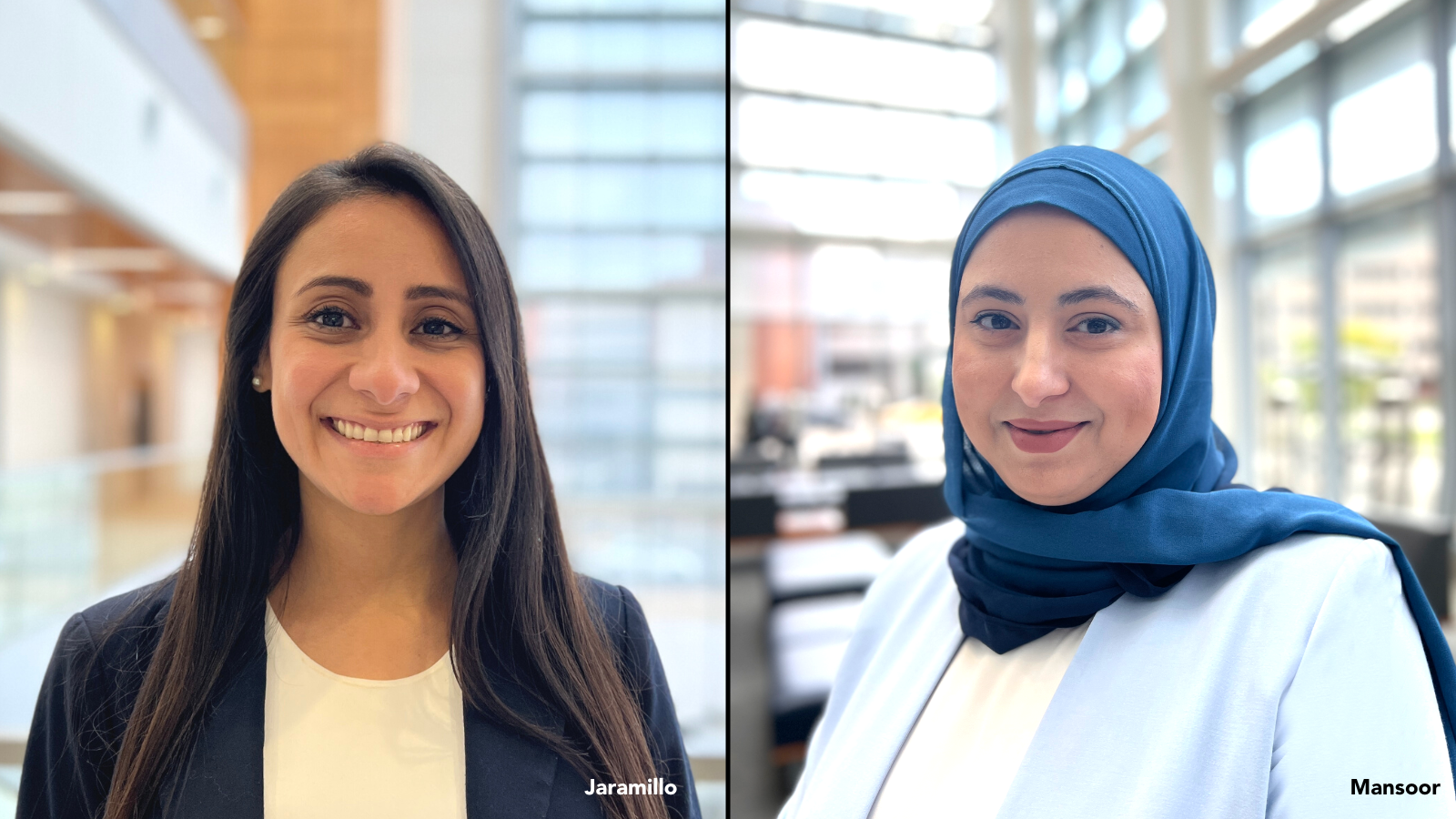 College of Pharmacy Adds New Faculty During 2022-2023 Academic Year
LEXINGTON, Ky. The University of Kentucky College of Pharmacy (UKCOP) welcomed two additional junior faculty to the Pharmacy Science and Practice, and Pharmaceutical Sciences departments, during the 2022-2023 academic year.
Hend Mansoor, PharmD, Ph.D., has joined the College as an assistant professor in the Pharmacy Practice and Science Department. Most recently, she served as an assistant professor of epidemiology at Hamad Bin Khalifa University in Doha, Qatar. Mansoor's research focuses on discovering the sex and racial differences in medication adherence and prescription patterns among patients with cardiovascular diseases. At UKCOP, she will further her research in the development and validation of predictive analytics tools used to help identify patients with cardiovascular diseases that might be at a higher risk of medication non-adherence and adverse clinical outcomes.
"I was attracted to UKCOP because of the infrastructure and numerous opportunities available to support early career faculty to conduct high-quality research which would impact clinical practice," said Mansoor.
Mansoor received a bachelor's in pharmacy and a Doctor of Pharmacy degree from Qatar University in Doha, Qatar. She completed a master's degree from the University of Florida (UF), where she focused on pharmaceutical outcomes and policy, followed by a graduate certificate in biomedical informatics from the UF College of Medicine. Mansoor subsequently pursued a Ph.D. in Health Services, Research, Management, and Policy from the College of Public Health at the University of Florida. She is the author of more than twenty-five peer-reviewed manuscripts in multiple prestigious journals. She has presented research at the American Heart Association and American Managed Care Pharmacy Association's national meetings. Mansoor currently holds the role of associate editor for American Heart Journal: Cardiology Research and Practice and Frontiers in Medicine: Family Medicine and Primary Care.
Anel Jaramillo, Ph.D., joined the faculty as an assistant professor in UKCOP's Pharmaceutical Sciences Department. In her previous position, Jaramillo was a postdoctoral research scholar in the Winder Lab at Vanderbilt University. Jaramillo's research expertise focuses on neurobiological mechanisms, their emotional driving effects, and dysregulation in psychiatric diseases, specifically alcohol use and mood disorders.
"The University of Kentucky is world-renowned for substance abuse research and a strong emphasis on bench-to-bedside treatment," said Jaramillo. "I'm excited to join the faculty in the College of Pharmacy and work on a project investigating how neurocircuits integrate stress and negative affective states in alcohol abstinence."
Jaramillo received a bachelor's degree in neuroscience from the University of Texas at Austin. She researched the role of GABA-B receptors on cue-induced changes in ultrasonic vocalizations in rodents with alcohol and cocaine self-administration histories. She continued her education at the University of North Carolina at Chapel Hill, receiving her Ph.D. in Neuroscience, where she focused her research on the functional role of the insula to the striatal circuit in modulating internal cues that can directly impact alcohol self-administration. She is a member of the Society for Neuroscience, The Research Society on Alcoholism, the International Society for Biomedical Research on Alcoholism, the National Hispanic Science Network, and the Society for Advancement of Chicanos/Hispanics and Native Americans in Science.
"The College of Pharmacy is thrilled to have added such promising early-career talent to the faculty body," said Dean R. Kip Guy. "Drs. Mansoor and Jaramillo join a vibrant and growing community of researchers making significant contributions to healthcare solutions through UKCOP's unique approach to collaboration. We are honored and excited to have them join us in our mission of improving health in the Commonwealth and beyond."
Mansoor and Jaramillo began their appointments in September and November 2022, respectively.
*****
The University of Kentucky College of Pharmacy continually ranks as a top-ten institution of pharmacy education in the nation, and research funding has more than doubled in the last decade.