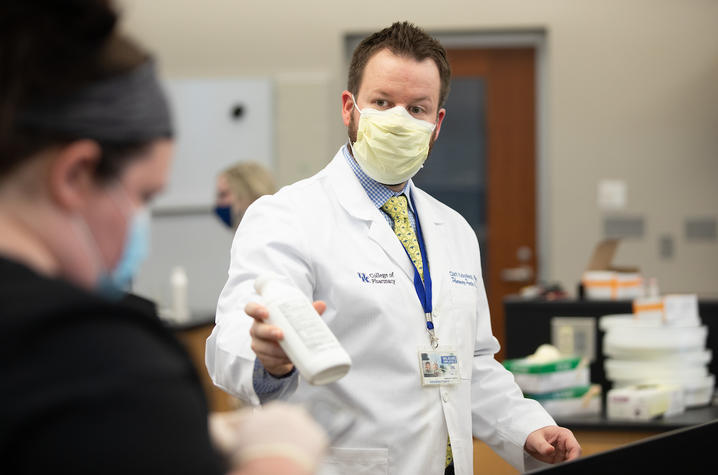 Clark Kebodeaux Joins AACP's Prestigious Leadership Development Program
Clark Kebodeaux, PharmD, BCACP, has been selected to participate in AACP's 2021-2022 Academic Leadership Fellows Program. Kebodeaux joins the 18th cohort of 30 individuals who represent some of academic pharmacy's brightest future leaders from around the country. 
The Academic Leadership Fellows Program supports and contributes to the development of leaders in academic pharmacy and higher education. The program provides an opportunity for Fellows to expand relationships with peers and colleagues at other institutions, as well as within their own college and university. 
Kebodeaux received his degree from the University of Kansas in 2010 and currently works as a Clinical Associate Professor and the Director of the Community-Based Pharmacy Residency Program (CPRP) at the University of Kentucky College of Pharmacy. He also practices in an interprofessional ambulatory clinic at the Bluegrass Community Health Center, which helps care for underserved populations and patients struggling with diabetes and substance use disorders. Kebodeaux also specializes in many different areas of expertise, including innovative teaching, OTC medication, immunizations, influenza, point-of-care testing and health literacy. 
During the year-long program, Fellows explore historical perspectives of leadership, learn about conflict and the road to resolution, practice self-reflection and examine current issues in higher education utilizing a formal debate setting. Sessions held in-person will address critical and timely topics, such as relationship management, diversity, equity and inclusion in higher education and well-being. More than 400 Fellows have graduated from the program to date. 
"When AACP embarked upon the development of this program in 2004, we dreamed that it could have a transformational impact on participants and our Academy. Little did we know how much impact the program could actually have," said Lucinda L. Maine, R.Ph., Ph.D. "It would be impossible to accurately assess the number of lives that have already been touched by the leaders who have completed this program. And the impact will go on indefinitely!" 
R. Kip Guy, Kebodeaux's mentor, had nothing but positive things to say about him. "Clark is an outstanding practitioner and educator and has been serving in leadership positions in our state pharmacy association," said Guy. "Participating in the ALFP will further develop his leadership skills and provide opportunity for new collaborations. I am excited to see the impact that Clark can have as a future leader in academic pharmacy." 
To learn more about AACP's Academic Leadership Fellows Program, visit https://www.aacp.org/resource/academic-leadership-fellows-program. 
We wish to remember and honor those who inhabited this Commonwealth before the arrival of the Europeans. Briefly occupying these lands were the Osage, Wyndott tribe, and Miami peoples. The Adena and Hopewell peoples, who are recognized by the naming of the time period in which they resided here, were here more permanently. Some of their mounds remain in the Lexington area, including at UK's Adena Park.
In more recent years, the Cherokee occupied southeast Kentucky, the Yuchi southwest Kentucky, the Chickasaw extreme western Kentucky and the Shawnee central Kentucky including what is now the city of Lexington. The Shawnee left when colonization pushed through the Appalachian Mountains. Lower Shawnee Town ceremonial grounds are still visible in Greenup County.
We honor the first inhabitants who were here, respect their culture, and acknowledge the presence of their descendants who are here today in all walks of life including fellow pharmacists and healthcare professionals.