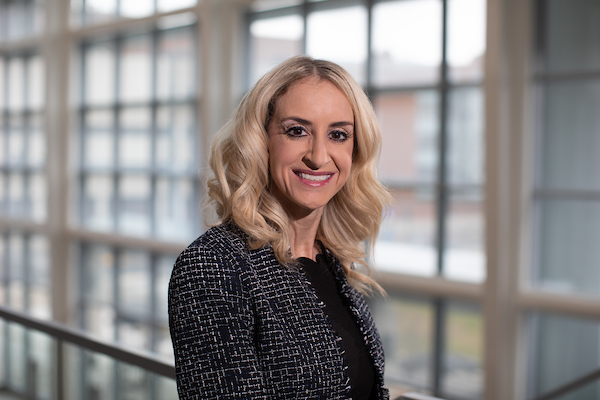 Brooke Hudspeth Helps Secure $7.5 Million Grant from CDC
UK College of Pharmacy alumnus Dr. Brooke Hudspeth was integral in the grant application on behalf of The Kroger Company for the expansion of the Diabetes Prevention Program (DPP). Kroger Pharmacy began providing diabetes prevention services at their community pharmacy residency site in Lexington, KY in 2015 and quickly expanded to their Louisville residency site and other locations throughout the state. This $7.5 million CDC expansion grant will allow the delivery of DPP to underserved areas throughout the country through a unique pharmacy delivery model, utilizing a multi-disciplinary, multi-modality approach, and capitalizing on the optimal involvement of pharmacy technicians. 
Dr. Hudspeth will serve as the Director of the DPP with the responsibility of managing all aspects of implementation of this CDC project with The Kroger Company nationwide.
Diabetes Prevention, a collaborative effort of the APhA Foundation, The Kroger Co., and Solera Health in cooperation with the CDC, will capitalize on the strengths of each partner to build infrastructure that will optimize delivery of the National DPP's lifestyle change program. Pharmacists, dietitians, and technicians within highly accessible Kroger pharmacy locations will be trained to deliver the CDC recognized National DPP lifestyle change program curriculum to at-risk adults. Solera Health will support community outreach efforts and provide digital technology solutions that will help facilitate delivery of the program. The innovative, hybrid model of care that will be delivered through Project IMPACT: Diabetes Prevention will include a combination of face-to-face, telehealth, and digital technology solutions that will allow providers to tailor the program to meet the needs of the participants and help them successfully complete the diabetes prevention program.
The APhA Foundation, in partnership with The Kroger Co. and Solera Health, was selected by the CDC to implement Project IMPACT: Diabetes Prevention, an innovative program that will deliver the National DPP curriculum to at least 7,500 at-risk adults in underserved communities in the United States over the next five years.
Dr. Hudspeth is part of the UKCOP faculty, a preceptor for our PGY1 Community-based Residency Program and APPE, a College of Pharmacy alumnus, and a UKCOP Community-based Residency alumnus.