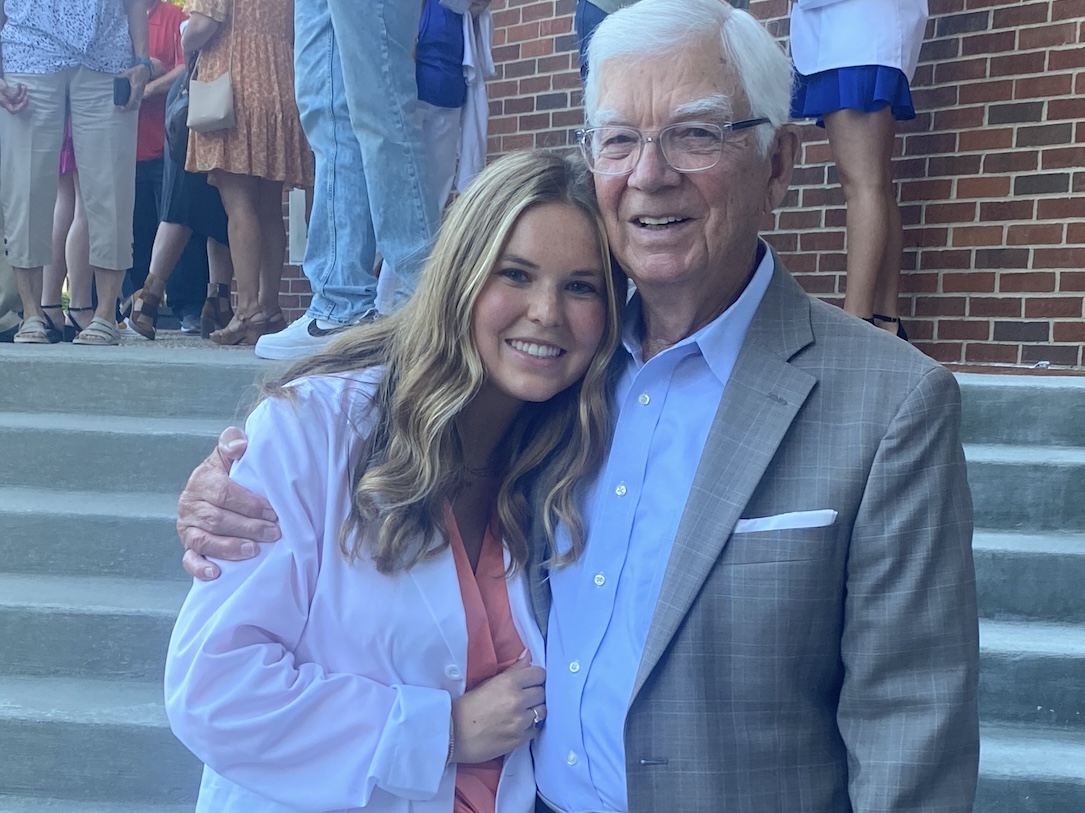 All in the family: pharmacy alumni celebrate National Pharmacist Day
L to R: Mary Lee Snodgrass, Anne Marie Megibben, Catie Hance, Bland Hance, Cathy Hance, Bill Borders, Raegan Borders
LEXINGTON, Ky. (Jan. 12, 2023) — While working the old-fashioned soda fountain at his local pharmacy, a teenage Bill Borders pondered how it would feel to be the professional behind the medication counter. Borders admired the pharmacist's ability to build relationships with each patient and their influence on keeping the community healthy. This curiosity resulted in a chain of events that would inspire six of his family members to pursue pharmacy at the University of Kentucky.
Borders graduated from the University of Kentucky College of Pharmacy (UKCOP) with a Bachelor of Pharmacy degree in 1959 and achieved his dream of owning a pharmacy soon after. His daughters, Mary Lee Snodgrass ('83), Cathy Hance ('89), and Anne Marie Megibben ('92), grew up in the pharmacy environment, watching their father become a community pillar through pharmacy practice.
"We grew up in our dad's drugstore," said Snodgrass, "and that's all I've ever known. I was only ever going to go to the University of Kentucky. I didn't even think about going anywhere else."
Cathy Hance recalls spending her days working at the front of the pharmacy with her siblings. "Our parents had seven children, so, at any given time, between two and five kids were working at the pharmacy simultaneously," said Hance. "I started working when I was five years old, dusting shelves when I could barely reach and worked there until I was nearly thirty years old." She later became co-owner of a compounding pharmacy with her younger sister Anne Marie Megibben, whom she calls "pharma-sis."
Hance's daughter, Catie Hance, Pharm.D., ('21), recalls a similar experience working in her mother's pharmacy as a 12-year-old and being equally inspired.
"I just knew that the UK College of Pharmacy was where I wanted to go and follow in my mother's and brother Bland's footsteps. I loved when I finally reached the point in school where I could converse about pharmacy with them. I knew more and could talk shop on a different level with them."
"As a kid growing up a diehard Kentucky basketball fan, you dream about playing for the school. I always wanted to attend UKCOP because I knew about its incredible history and reputation," said Hance's son, Bland Hance, Pharm.D. ('16). "It was an honor to be admitted to a top-ranked pharmacy school and the first time I wore my white coat, I felt like I was suiting up for Coach Calipari," he joked. Bill Borders has attended the white coat ceremonies of three grandchildren: Bland Hance, Catie Hance, and current first-year pharmacy student Raegan Borders.
Mary Lee Snodgrass credits her father's outstanding reputation as a primary influence in choosing the profession.
"Through owning that pharmacy, he was, and still is, so respected in our community," she said. "He touched many lives, and that desire continued through my sisters and me."
The biggest surprise for everyone has been comparing the evolution of pharmacy practice and the UKCOP curriculum. For Bill Borders, being a pharmacist primarily involved filling prescriptions and counseling patients, and he recognizes how much the role has expanded since his time at UKCOP.
"I'm so proud of my family," said Borders. "They practice pharmacy the way it should be practiced – at the top of their license. They are very dedicated, and this was so unexpected. You don't realize as you're going through your job every day how much you influence others. I am proud they thought so much of my profession to carry on this wonderful tradition."
Mary Lee Snodgrass, Cathy Hance, and Anne Marie Megibben now work together through Snodgrass's wellness practice at Sheldon's Pharmacy in Bowling Green, Kentucky. Their focus is one-on-one patient care through wellness, preventative health, and bio-identical hormone therapy. They share 1,100 patients and help each other provide quality care via telehealth.
"It's lovely getting to work with your siblings and sharing this life experience with them," said Snodgrass. "We often take over at family gatherings and love to talk pharmacy, even if the rest of our family roll their eyes a little bit."
National Pharmacist Day is observed each year on Jan. 12 to celebrate pharmacists' exceptional work in patient-centered care.
*****
The University of Kentucky College of Pharmacy continually ranks as a top-ten institution of pharmacy education in the nation, and research funding has more than doubled in the last decade.
We wish to remember and honor those who inhabited this Commonwealth before the arrival of the Europeans. Briefly occupying these lands were the Osage, Wyndott tribe, and Miami peoples. The Adena and Hopewell peoples, who are recognized by the naming of the time period in which they resided here, were here more permanently. Some of their mounds remain in the Lexington area, including at UK's Adena Park.
In more recent years, the Cherokee occupied southeast Kentucky, the Yuchi southwest Kentucky, the Chickasaw extreme western Kentucky and the Shawnee central Kentucky including what is now the city of Lexington. The Shawnee left when colonization pushed through the Appalachian Mountains. Lower Shawnee Town ceremonial grounds are still visible in Greenup County.
We honor the first inhabitants who were here, respect their culture, and acknowledge the presence of their descendants who are here today in all walks of life including fellow pharmacists and healthcare professionals.