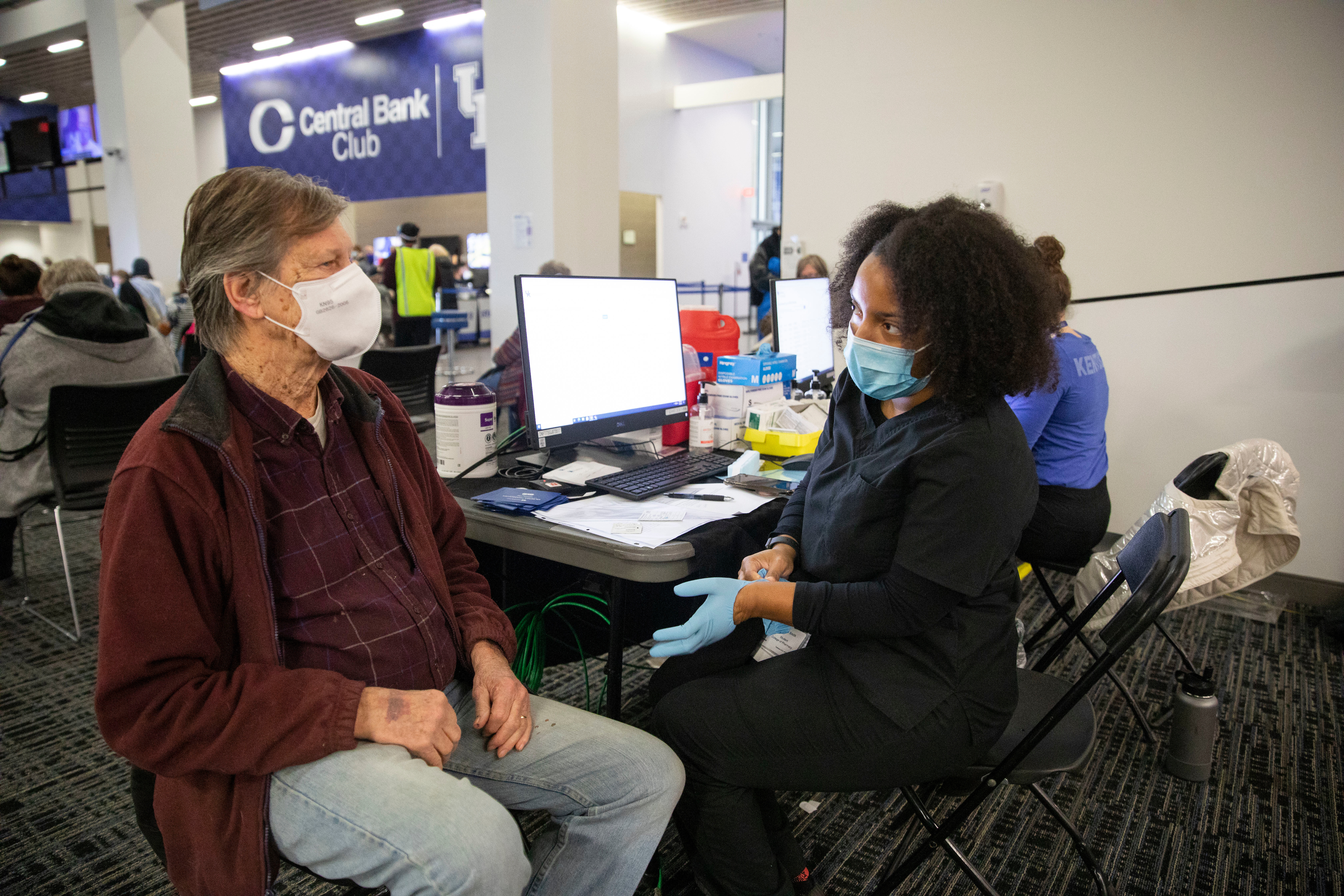 UKCOP Continues to Bring Hope During the Era of COVID-19
With the continued presence of COVID-19 in the United States, vaccination distribution efforts are at an all-time high, especially throughout the state of Kentucky and Fayette County. As of July 4, 2021, the Centers for Disease Control and Prevention reports that over 2 million Kentucky residents, or nearly 50% of the state's population, have received at least one dose of the COVID-19 vaccine.
Throughout the course of the pandemic, the University of Kentucky College of Pharmacy has made a large contribution to vaccination efforts within the county and state. Frank Romanelli, Associate Dean for Academic Programs and Professor at UKCOP, got involved early on. He has been teaching others about how the COVID-19 vaccine works, how mRNA vaccines differentiate from other vaccinations and why mass vaccination is critical.
"Providing vaccines and answering people's questions about them has been the highlight of my year. It feels so impactful," Romanelli said. "At the College of Pharmacy, we have been able to mentor students and watch them walk into the pandemic ready to make a difference. What has been particularly rewarding is getting to see people's faces when they come in to be vaccinated. There have been so many tears and sighs of relief. You can really feel people's spirits shifting. The oldest person I was able to vaccinate was 101 years old and I told her that she didn't need to come back to Kroger Field unless it was to see the Wildcats play football."
Emily Wilkerson, a fourth-year pharmacy student, became involved with vaccine distribution efforts through her job at UK HealthCare Retail Pharmacies. Wilkerson worked in vaccine clinics before the pandemic and was selected as one of the interns to participate in the vaccine task force to provide the first doses at UK.
"I was very thankful, honored and proud to be a part of this historical effort," Wilkerson said. "I was one of the first pharmacy staff members to give vaccines to front-line healthcare workers. Getting to vaccinate and personally thank all the people that have seen the worst of the pandemic was so impactful. You can now visibly see the hope and relief on faces of people as they receive the vaccine."
Wilkerson stressed the importance of volunteering as well. "I personally feel that it is important to volunteer and contribute to the vaccination efforts across Kentucky because all areas need and deserve distribution of the vaccine," she stated. "For every clinic I volunteer at, I gain a little more hope that our current situation will not last forever."
Tamyah Pipkin, another fourth-year pharmacy student, also decided to get involved in vaccine distribution efforts. "Volunteering has been a very emotionally fulfilling experience for me," said Pipkin. "I have had the opportunity to dispel myths about the vaccines, disseminate credible information on prevention and immunization and physically vaccinate our most vulnerable populations. Getting the chance to talk to members of the community and hear their concerns allowed me to provide a new level of individualized patient care. Whether you have PharmD, RN or MD behind your name, we all have a duty to serve and care for the patients in our community."
Abbigail Collins, a 2021 UKCOP graduate, got involved in vaccine distribution efforts as a fourth-year pharmacy student as well. Her first volunteering experience made her want to help continue vaccinating other communities.
"The vaccine is of no use if we can't get it to the people who need it," Collins said. "It has been painful to watch how COVID-19 has affected patients, families and our healthcare team. When I was offered the opportunity to vaccinate others, it was a very easy yes. It has been great seeing everyone come together like this and it makes me hopeful that normalcy is on the horizon."
With the COVID-19 vaccine now readily available to those who want it, the University of Kentucky is proud to offer vaccinations at some of their UK HealthCare locations. Please visit https://ukhealthcare.uky.edu/covid-19/vaccine for more information on where you can get your COVID-19 vaccination in Fayette County. For more information on where you can get vaccinated throughout the state, please visit https://www.vaccines.gov/search.