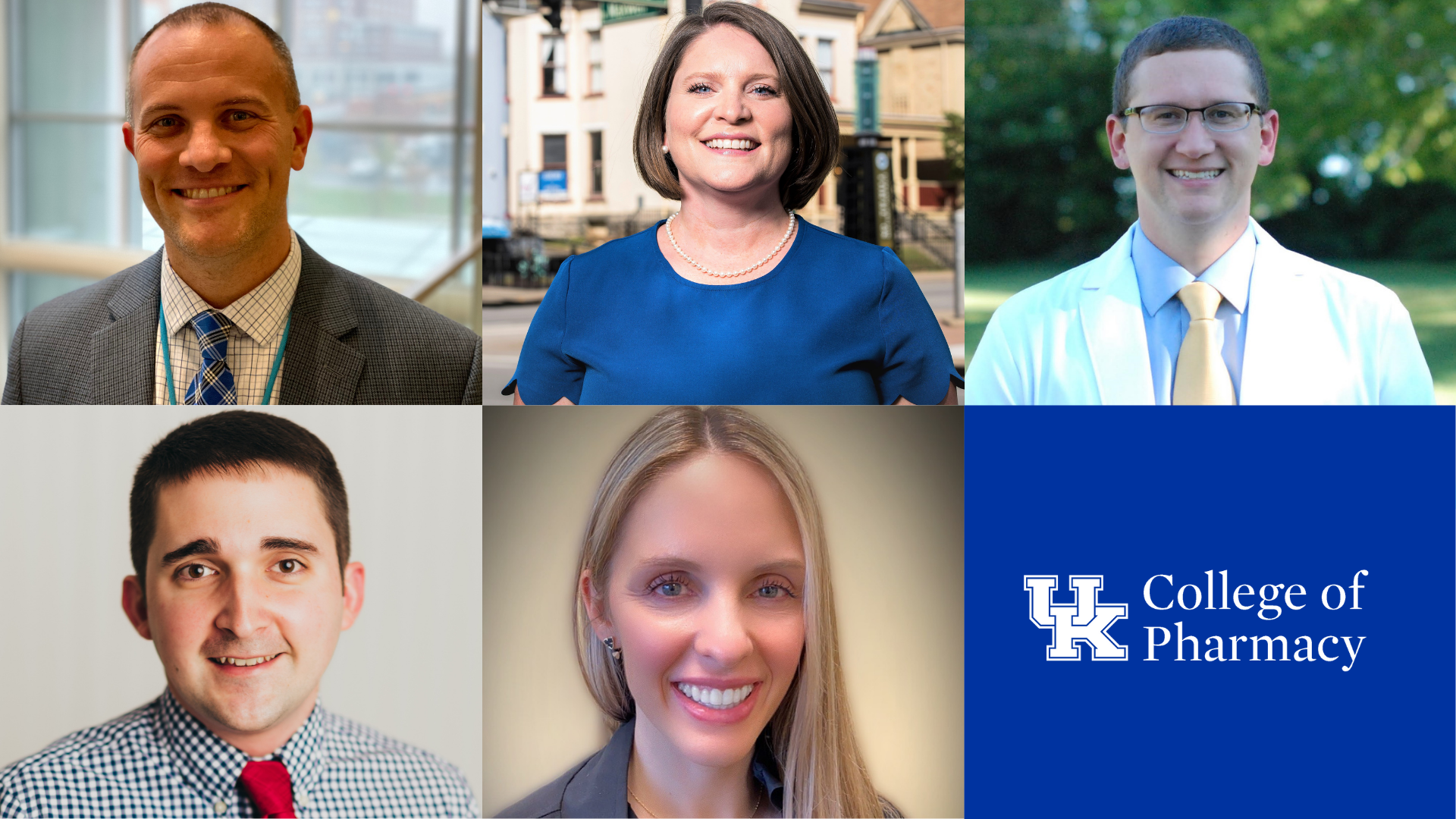 Preceptors Recognized at College of Pharmacy Ceremony
The University of Kentucky College of Pharmacy (UKCOP) will induct five preceptors into the newly formed Hall of Distinguished Preceptors (HODP). The awards ceremony will take place Friday, April 29, 2022, at 6:00 p.m. EDT. The College will also stream the celebration on its YouTube channel. 
These awards are given to individuals with Voluntary or Adjunct Faculty status who precept student pharmacists. UKCOP recognizes preceptor excellence and dedication to educating future pharmacists through experiential learning. Within the HODP, there are five Preceptor of the Year award designations: APPE, IPPE, Commonwealth Experience Rotation, New Preceptor, and Louisville Clinical Education Center.  
"Preceptors help guide and mentor the next generation of pharmacy leaders," said Dr. Holly Divine, Director of Experiential Education. "We are proud to partner with over 600 preceptors who support the experiential education program and contribute to the education of our students. Quite simply, we could not do it without them, and we are honored to recognize these five outstanding preceptors for their service." 
APPE PRECEPTOR OF THE YEAR  
Aaron Cook, PharmD 
Dr. Aaron Cook grew up in Hamilton, Ohio, and came to Kentucky to pursue his Doctor of Pharmacy degree, which he earned in 2000. He subsequently completed two years of residency training at UK Chandler Medical Center, where he was the 275th resident. Dr. Cook is a fellow of the Kentucky Society of Health-System Pharmacists, the American College of Clinical Pharmacy, and the Neurocritical Care Society. He has served in leadership positions both locally and nationally. He has over 110 publications and over 50 regional or national platform presentations.  
Cook has always had a heart for training the next generation of pharmacists. He created the critical care elective course, the Pre-Residency pathway, and the Pre-residency elective course at the College of Pharmacy. He was co-founder of the UK Pharmacy Intern Program. He currently serves as the PGY1 residency program at UK HealthCare, where he has mentored over 100 pharmacy residents. 
 "To receive this award is incredibly humbling for me. I feel as though I started precepting merely by emulating my mentors, to whom I owe so much. My co-preceptors over the years, notably Drs. Jimmi Hatton, Melissa Nestor, & Rachael Scott merit recognition as well. I hope that the students I have taught over the years saw how fun it is to practice pharmacy, but also how to impact the profession through research and scholarship, how to live a life outside of work, and how to give your time, talent, & treasure to causes you care about." 
IPPE PRECEPTOR OF THE YEAR 
Jessica Tackett, PharmD 
Dr. Jessica Tackett grew up in Georgetown, KY spending her afternoons at the local independent community pharmacy. There, she discovered her love for patient care and a pharmacy career. She was the first in her family to graduate with a college degree, earning a doctorate from UKCOP in 2007. Following graduation, she continued her career with Kroger Pharmacy until her former APPE preceptor offered her a position as a clinical pharmacist at UK Good Samaritan Hospital. Because of that preceptor, Lanny Adkins, and his faith in her abilities, she continues to develop a career at that same institution 14 years later. 
Tackett has worked in various roles, including her current position in Internal Medicine, and served on more than ten different multi-disciplinary committees to advance the pharmacy profession and improve patient safety. Tackett was selected as American Association of Colleges of Pharmacy (AACP) Preceptor of Year for 2021 by the UK College of Pharmacy. 
Tackett attributes precepting students to her continued career passion. She opens availability for 24 LEEP students and 10 IPPE students each year, precepting students when they are still molding their career goals and finding their path. "I enjoy working with students who do not know what kind of pharmacist they want to be yet and showing them all the opportunities a community hospital offers. Working with the students to find their way to a career path that they love, that leaves them fulfilled, is my greatest blessing and renews my love for pharmacy practice!" 
COMMONWEALTH EXPERIENCE PRECEPTOR OF THE YEAR
Jason Underwood, PharmD 
Dr. Jason Underwood grew up on a dairy farm in Tollesboro, Kentucky. Born with a fascination for the sciences, he obtained a BS in Chemistry from Morehead State University in 1998. He started his professional life as a polymer synthesis chemist in Louisville, Kentucky. There, Underwood began to formulate what he truly desired in a lifelong career: applying the sciences for service to, and improvement of, people's lives in his community. This desire led him to receive a PharmD from the University of Kentucky College of Pharmacy in 2009. 
Underwood began his pharmacy career in an independent community pharmacy and quickly fell in love with the flexibility to "meet patients where they are" and assist them in overcoming barriers to effective pharmaceutical care. He began precepting student pharmacists and quickly realized the value of patient care in the synergy of the student-preceptor relationship. Underwood continues to be fondly involved in experiential education by precepting future pharmacy professionals at Shelbyville Pharmacy, the independent pharmacy practice he established in Shelbyville, Kentucky, in 2015. 
Underwood focuses his rotation experiences on demonstrating to student pharmacists that a community pharmacy can be patient-centered and clinically driven. He also concentrates on relaying his core values of relationship, responsibility, empathy, and leadership. After 13 years of pharmacy practice, he wants to show his future colleagues it is possible to truly find joy in one's career—especially when a pharmacist embraces an attitude of service and continually devotes oneself to honoring the value of human life.
NEW PRECEPTOR OF THE YEAR 
Josh Pruitt, PharmD 
Dr. Josh Pruitt is from Madisonville, Kentucky. He completed his undergraduate studies at Western Kentucky University, and he spent two years as the lovable hall of fame mascot, Big Red. Pruitt then attended UKCOP and received his Doctor of Pharmacy degree in 2014. After graduation, he completed a pharmacy practice residency at St. Thomas West in Nashville, Tennessee. Upon completing her residency, he moved back to Kentucky and worked as a clinical pharmacist at Owensboro Health Regional Hospital. In December 2017, he returned to his hometown hospital, Baptist Health Deaconess Madisonville, as the pharmacy clinical coordinator and residency program director.  
Pruitt is actively involved with the Kentucky Society of Health-System Pharmacists and is currently a House of Delegates Member representing the West region. He also serves on the Kentucky Pharmacy Residency Network leadership committee and sits on the UKCOP Preceptor Advisory Council. 
Pruitt has been officially precepting students and residents since 2018. He feels blessed to have had several mentors who pushed and inspired him along his pharmacy journey. Pruitt also acknowledges the work of his pharmacist and technician colleagues. They work to make students feel welcomed and assist in making the experience an enjoyable one.  
He shares his passion for providing high-quality care to underserved populations in rural communities with the students. He hopes others will see the widening care gap that impacts many of our fellow Kentuckians. He wants students to be inspired and see the difference they can make through pharmacy while shaping the health outcomes of rural patients.  
LOUISVILLE CEC PRECEPTOR OF THE YEAR 
Janna Kaufman, PharmD, BCPS 
Dr. Janna Kaufman grew up in Louisville, Kentucky. She attended Centre College in Danville, Kentucky, for undergraduate studies and received a Bachelor of Arts degree in Spanish. Following her father's example, Kaufman pursued a career in pharmacy. She received her Doctor of Pharmacy degree from the University of Kentucky's College of Pharmacy in 2015. Kaufman then completed a post-graduate community residency program at Norton Healthcare in Louisville, Kentucky. During residency, Kaufman took a particular interest in specialty pharmacy and interacting with patients on oral oncolytic drugs. After completing her residency, she began her career in specialty pharmacy, primarily serving oncology and solid organ transplant patients.  
Kaufman earned her Board Certification in Pharmacotherapy in 2019. In 2020, she took a clinical pharmacist position at Baptist Health Consultants in Blood disorders and Cancer (CBC). She is deeply passionate about providing care to oncology patients, and she enjoys sharing this passion with pharmacy students. She has been precepting students on their Advanced Pharmacy Practice Experience and those on their Longitudinal Experiential Education in Pharmacy (LEEP). Kaufman has been fortunate to work with dedicated preceptors and mentors throughout her career, so it is a pleasure to return the favor to the next generation of pharmacists.