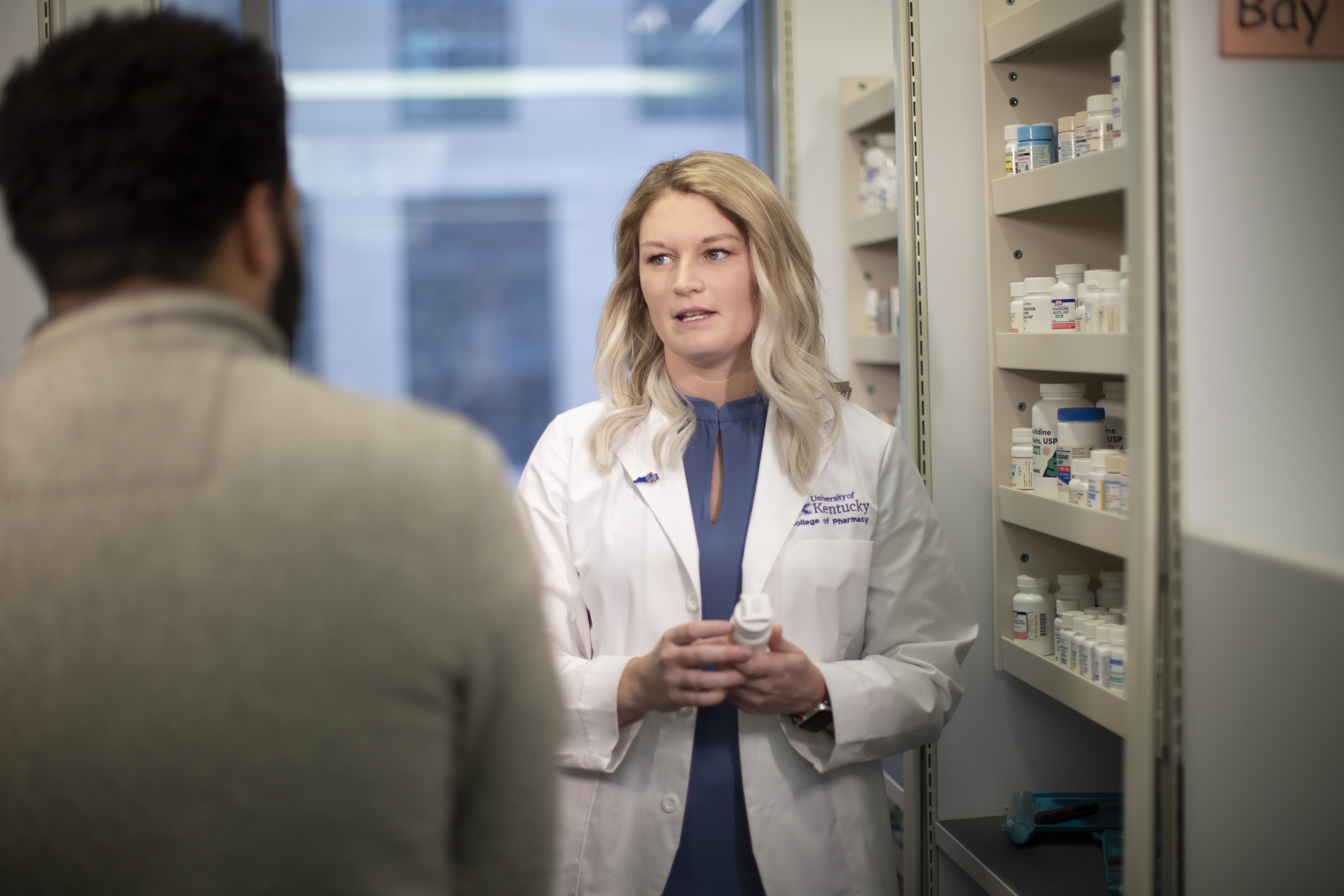 Pharmacists Come Together to Ensure the Health of Kentuckians
LEXINGTON, Ky, (August 24, 2020) — Pharmacists from the UK College of Pharmacy (UKCOP), Sullivan University's College of Pharmacy & Health Sciences (SU COPHS), and the Kentucky Pharmacists Association (KPhA) recently banded together to create a COVID-19 best practices guide for pharmacists statewide.
With so many unknowns, Kentucky's premier pharmacy schools and the leadership at KPhA recognized the immediate need for an up-to-date reference tool for Kentucky's medication experts. The ad-hoc group envisioned an easily accessible, all-inclusive document with the latest evidence-based information that would be a guidebook for pharmacists reimagining their practices.
Real-Time Evidenced-Based Information
The initiative was co-led by two practicing pharmacists, UKCOP's Chief Practice Officer Brooke Hudspeth and SU COPHS faculty member Daniel Malcom. Hudspeth and Malcom ensured the two schools worked in tandem to produce an 18-page document quickly ready for dissemination.
"With minimal data and continued questions about how best to respond in a pandemic, we wanted to make sure Kentucky pharmacists—many of whom are alumni—had the tools they needed," says Hudspeth. "It's imperative that Kentucky's pharmacy schools provide resources for and communicate with our independent and community pharmacists."
Misty Stutz, dean of Sullivan's College of Pharmacy and Health Sciences and 2002 UKCOP grad, agrees. "If you'll remember, everyone was concerned about not only how to care for patients, but how to keep community pharmacies a safe environment for both patients and employees. Our state's pharmacists are some of the best in the nation, and it was important for us to come together to make sure we had the latest data in the hands of those caring for patients across the Commonwealth."
This newly developed guiding document covers everything from patient care and important regulatory concerns to infection prevention, social distancing practice, and employee health and safety. In addition, the document outlines Kentucky's emergency pharmacy laws and regulations, which are coming directly from the Governor's office.
"We all felt that this guide should be presented as a 'living' document so that new information could be provided in this ever-changing climate," says Joel Thornbury, KPhA president and 1992 alum of UKCOP. "It is a testament to the caliber of this state's pharmacy community that both Dean Guy and Dean Stutz jumped in to get this done. This is a monumental time in health care, and it further solidifies the pharmacist's essential role in patient care. We are in a unique position to be in one of the most trusted professions during a time of incredible uncertainty."
Pharmacists Essential to Increasing COVID-19 Testing
As pharmacists around Kentucky implement the ever-evolving best practices around the novel coronavirus, they are also referencing these guidelines in their proactive approach in offering COVID-19 testing to patients.
Community-based pharmacists, including Tera McIntosh of Capital Pharmacy and Medical Equiment; Cathy Hanna, vice president of American Pharmacy Services Corporation; and Kim Croley Director of Pharmacy Services and Clinical Pharmacist Kyle Harris at Laurel Senior Living Communities in London, Ky. have made testing accessible to patients in Kentucky, with many other pharmacies following suite. These pharmacists (and KPhA members) provide testing at Bluegrass Community Health Center, a federally qualified health center; Wesley Village Senior Living, a facility for which Hanna provides consulting services; and Laurel Senior Living, where Croley has worked for 25 years, and Harris for five.
"Pharmacies are an integral part of their communities," says Hanna. "With a pharmacy in all but one county in Kentucky, we are one of the most accessible providers during a time when access is paramount. It's important we're able to offer testing to everyone that needs it."
As soon as the pandemic hit, Kentucky pharmacists knew they would need to play an essential role in ensuring the health of Kentuckians. They are not only a trusted source of public health information, but they know medications and their side-effects; many specialize in infectious disease.
These pharmacists are often an untapped resource, but an obvious choice when looking for testing hubs in rural areas. While some people may only see pharmacists as people behind a counter who dispense pills, they are trained for much more.
In Kentucky, pharmacists are able to administer vaccines, help with diabetes management, screen for strep and flu, treat urinary tract infections, test for TB, manage travel health, and now test for COVID-19.
"It was important to me to step up to help ensure that our vulnerable patients had access to COVID-19 testing in our clinic with people they trust," says Tera McIntosh.
McIntosh, who co-owns Capital Pharmacy with her husband Aaron, says, "There is a lot we don't know right now, so having the ability to advocate for and contribute to the well-being of our patients and community is crucial." Currently, McIntosh's testing efforts aren't directly associated with Capital Pharmacy, but her experience will prove helpful when her team there eventually implements testing in the community pharmacy.  
While people in Kentucky may want to get tested, not everyone has the time or resources to make their way to a large healthcare center or hospital. However, they can take a trip to their local pharmacist, someone familiar with their family's health and medication history.
Pharmacies can process the COVID-19 test directly in-house through point-of-care testing, where results can be reviewed immediately. Some pharmacies also have a system for transporting the tests to labs and reporting back out to patients and public health officials. Moreover, due to the ability to increase testing capabilities nationwide, many believe pharmacists will be vital to reopening the USA.
It should come as no surprise then that Kentucky pharmacists and student pharmacists have been assisting in everything from Kentucky's COVID-19 hotline to compounding and bottling hand sanitizer, to COVID-19 testing. In fact, UK's College of Pharmacy has also worked to ensure public safety by disseminating close to 10,000 masks to its employees, students, alumni, and independent pharmacists throughout the state.
"If this pandemic has taught us anything," says Hudspeth. "It's that pharmacists' expertise is needed now more than ever."