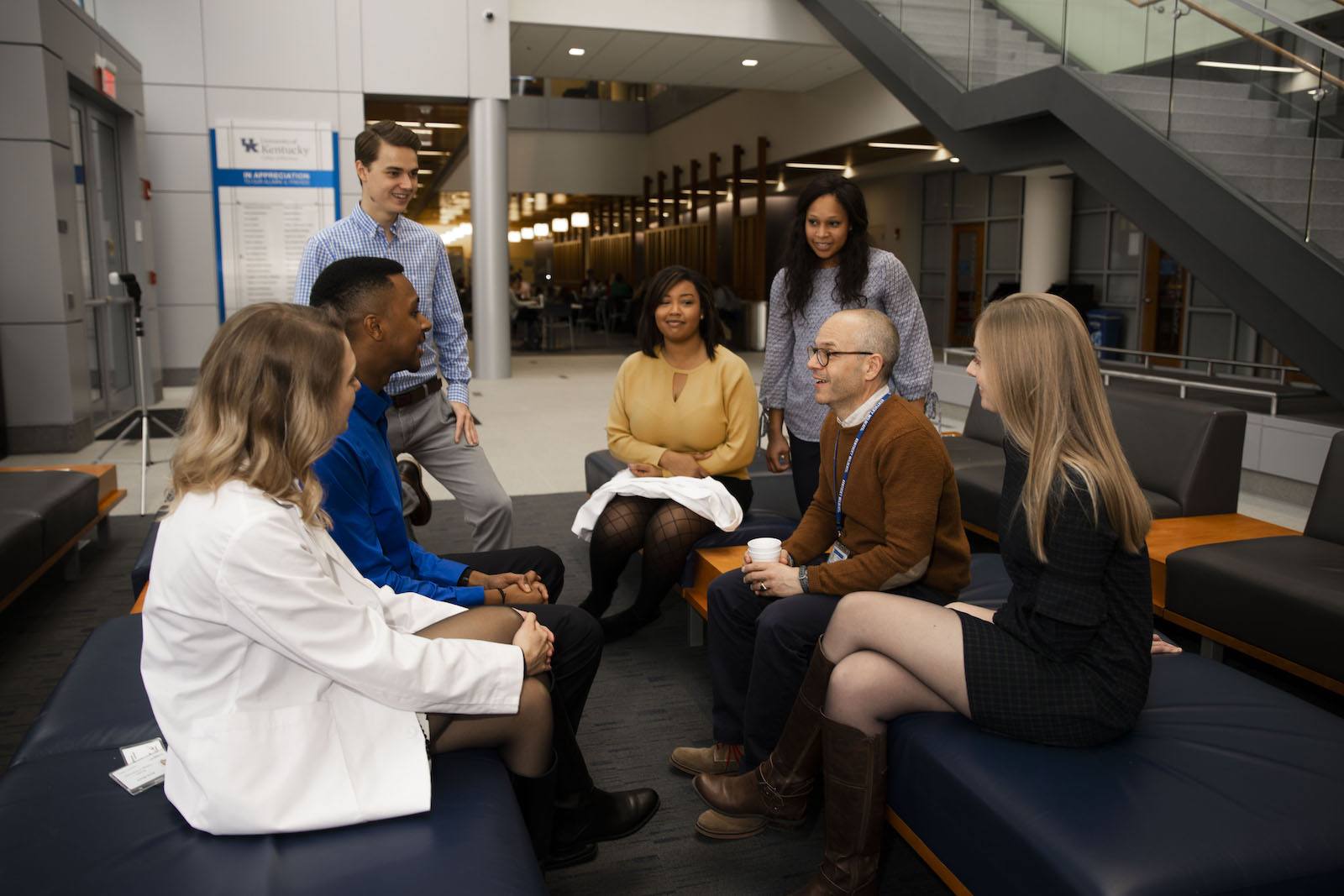 Life-Saving Patient Care Starts with An Inclusive Education
This year, the University of Kentucky reflects on 70 years of integration. Given this significant occasion, we cannot help but examine how segregation and classism have impacted health care outcomes for vulnerable patient populations. It is only when we grapple with the prejudiced legacy of health care and access that we can truly improve a system that has not served us all equally, but one day can.
At UK College of Pharmacy (UKCOP), we believe pharmacy education must reflect the diverse patient populations students will encounter in practice. If academic institutions want to create successful, lifelong learners, they must deliberately include people with diverse backgrounds — in the many ways in which this is defined — throughout the curriculum. Only by building comfort with and joy of the diversity of our community will we enable our students to fully develop and their practice to give the most improved health care outcomes.
"Diversity is being invited to the party; inclusion is being asked to dance," wrote Vernā Myers, Esq. in her book, "Moving Diversity Forward." For the last four years we have worked to figure out how to open the dance floor and partner up — inclusion is necessary, albeit messy, work.
Like many colleges and departments at UK, everyone at UKCOP, from faculty to students, must complete unconscious bias training. During orientation, students are also required to undergo cultural competency training. We understand, however, that inclusion is not a box that is checked, but rather a journey (or dance) navigated. As our students and employees recognize that inclusion is critical to learning, we have seen them embrace intentional incorporation of cultural empathy into everything from admission interviews to class lectures; patient cases and student-led seminars.
Frank Romanelli, professor and dean for academic programs, notes the importance of such an inclusive approach. "The more our curriculum accurately represents the different people our students will encounter in and outside the classroom, the more we all benefit. It is one step in helping address the health disparities we see in places like Kentucky."
Most recently, our teaching faculty have engaged in a process to identify gaps in their courses, and in the overall curriculum, where we can strengthen our understanding of diversity and inclusion. Practically, this approach looks different, depending on the subject matter. For the curriculum's infectious disease course, it means a conversation around the unethical Tuskegee Syphilis Study and how researchers withheld a known cure from Black men, none of whom consented to being in the study. In a rheumatology course, the focus is on the inequitable treatment of pain experienced by women and African Americans.
We have found there is not a one-size-fits-all approach to an inclusive curriculum. Rather, it must be a deliberate effort across the student experience. It is also critical to continue to allow time for understanding and empathy to fully build.
The college's Community Service Learning experience, a required six-semester partnership that pairs students with a local non-profit organizations, helps students challenge their biases, reflect on new experiences and positively impact the city. To date, 413 students have served the community through the program, impacting over 600 people in Lexington this year alone. Students have worked with those who are in recovery, the homeless, children/youth, people with disabilities, veterans, women, seniors, refugee and immigrant populations, the LGBTQ+ population and people who have been incarcerated.
The program is the first of its kind and one students have embraced. In working with their community partners and a faculty mentor, students conduct a needs assessment for their non-profit, develop a health care-related solution, implement the solution and assess the outcomes. Some students have even presented their experiences nationally. This longitudinal engagement with an external group allows students to more deeply understand who their partners are and how they can positively collaborate with others for maximum community impact. It is another small way in which students are able to challenge stereotypes and biases.
We are currently exploring how we can engage with our broad network of pharmacists to leverage this approach across the Commonwealth to deliver medical care to those with the poorest access. We know that a baby born and living in Appalachian Kentucky is expected to live eight fewer years than one born just an hour away in Lexington. This large disparity is driven by poorly treated chronic diseases and a lack of access to prenatal/perinatal healthcare, which is exacerbated by both geography and poor socio-economic conditions.
However, unlike medical clinics, most people live within five miles of a pharmacy, even in rural areas. We are seeking ways to increase access to quality care within these existing pharmacies and in counties with the lowest life expectancy. We are committed to bringing sustainable health care services to these communities that will improve health outcomes and, ultimately, the quality of life.
In order to reach those experiencing inequities in the health care system, academic institutions must ensure people have a seat at the table, or in our case, the classroom. "Living well in a broadly diverse community enriches each of our experiences," said R. Kip Guy, dean and professor. "We seek to be a place of belonging for everyone regardless of race, ethnicity, religion, ability and identity."
Life-saving patient care starts with an innovative and bold education for health care providers — but also an inclusive one. We are committed to rising to the challenge.