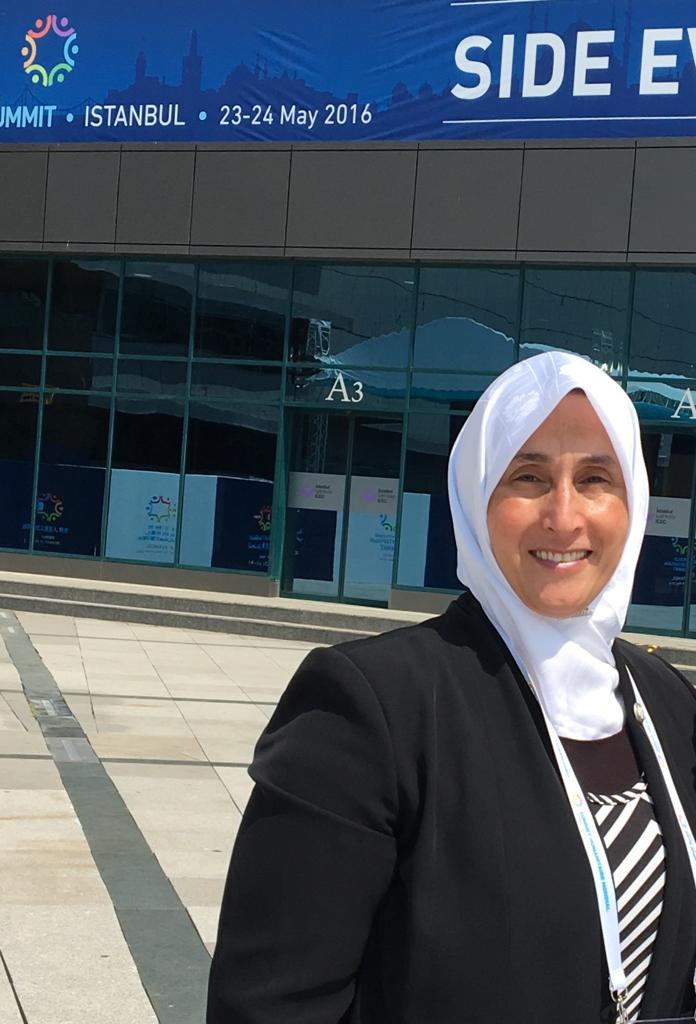 How a UK alumna is helping humanitarian relief operations in Syria
When it comes to displaying global leadership within a pharmacy career, Dr. Khaula Sawah is a powerful example of how much of a difference people can make with a degree from the University of Kentucky College of Pharmacy. Sawah, who earned her Master of Science in pharmaceutical sciences in 1994 and her PharmD in 1999 from UKCOP, is a board-certified pharmacotherapy specialist who has spent most of her career serving others and saving lives.
Since 2011, Sawah has dedicated her pharmacy career and personal life towards aiding those affected by the Syrian war and the resulting humanitarian crisis in Syria and Turkey. She is also the co-founder of the non-profit Union of Medical Care and Relief Organizations-USA (UOSSM USA) and currently serves as president of the organization in the U.S.
In March of 2011, Syrian citizens participated in a series of peaceful demonstrations against their dictatorship in hopes of pushing the country toward democracy. However, the Syrian government did not take these actions lightly, and Syrians received brutal and violent responses, particularly through the detainment and torture of eleven schoolchildren from southern Syria, even discarding one child's remains on his parents' doorstep. After witnessing these horrific events, Sawah felt a calling to leave her home in Ohio to go and use her pharmacy and healthcare expertise in humanitarian efforts.
As the crisis continued, millions of people pleaded for humanitarian action and medical assistance in Syria, where roughly 80% of the population was without access to safe water, food or shelter. Being a pharmacist, Sawah recognized the immediate outcomes of Syrian living conditions; infectious disease outbreaks and communicable diseases were rampant through the region. At the same time, Sawah also understood the risks of being a healthcare professional aiding those who were going against the Syrian government. Many doctors and healthcare professionals who tried to provide medical support were either targeted, injured or killed by the government. However, Sawah refused to allow fear of government retaliation to prevent her from helping others, and she put her patient care expertise to work for the innocent Syrian civilians.
Sawah's personal experience and her own principles have guided her throughout her career and given her the motivation to truly make an impact on the lives of others. Her passion for helping others and taking care of patients naturally led her to a career in pharmacy. However, she was willing to sacrifice her professional career and role as a clinical pharmacist for something bigger – to mobilize efforts and help humanitarian relief operations. After pivoting from a successful pharmacy career to leading humanitarian efforts, Sawah often found herself in stressful and vulnerable situations. Her expertise was constantly questioned as she navigated a largely male-centric leadership environment in both Syria and Turkey. Despite the patriarchal hurdles, Sawah let her work speak for her, serving as the first Executive Director of UOSSM in Turkey.
During her time at UOSSM, Sawah built the entire structure of the organization and managed its staff. She also developed strong strategic relationships with partners and donors. UOSSM became one of the major humanitarian organizations present during the Syrian crisis, providing medical relief, primary and advanced health care, nutrition, specialized mental health and psychosocial support and protection services, and special needs rehabilitation to millions of people there.
As an alumna of the University of Kentucky, Sawah has dedicated herself to supporting vulnerable populations with lifesaving, innovative and quality healthcare services and truly embodies the sentiment of a dedicated pharmacist. When reflecting on her overall career, Sawah stated that seeing how her work affects others pushes her to keep going. "I saw the impact of my work on the people I served in Syria at the time. But later, I saw that the impact of my work was bigger than anything I could dream of – my family, my children, my friends, my boss at work, young men and women were all looking up to me and being inspired by what I was doing. I didn't know that I was a source of inspiration and motivation," said Sawah. "Although I'm no longer doing the groundwork in Syria, my time back in the United States has reminded me that I am not alone in this work, and that every one of us can make a difference."
Sawah's humanitarian efforts are an excellent example of how the simplest of pharmacy passions can make the utmost difference in the lives of others. Her story of hope and resiliency, which she continues to share at UKCOP will inspire many students, faculty and staff members and countless other pharmacy and healthcare professionals to continue making achievements in both pharmacy and humanitarian efforts around the world.
We wish to remember and honor those who inhabited this Commonwealth before the arrival of the Europeans. Briefly occupying these lands were the Osage, Wyndott tribe, and Miami peoples. The Adena and Hopewell peoples, who are recognized by the naming of the time period in which they resided here, were here more permanently. Some of their mounds remain in the Lexington area, including at UK's Adena Park.
In more recent years, the Cherokee occupied southeast Kentucky, the Yuchi southwest Kentucky, the Chickasaw extreme western Kentucky and the Shawnee central Kentucky including what is now the city of Lexington. The Shawnee left when colonization pushed through the Appalachian Mountains. Lower Shawnee Town ceremonial grounds are still visible in Greenup County.
We honor the first inhabitants who were here, respect their culture, and acknowledge the presence of their descendants who are here today in all walks of life including fellow pharmacists and healthcare professionals.