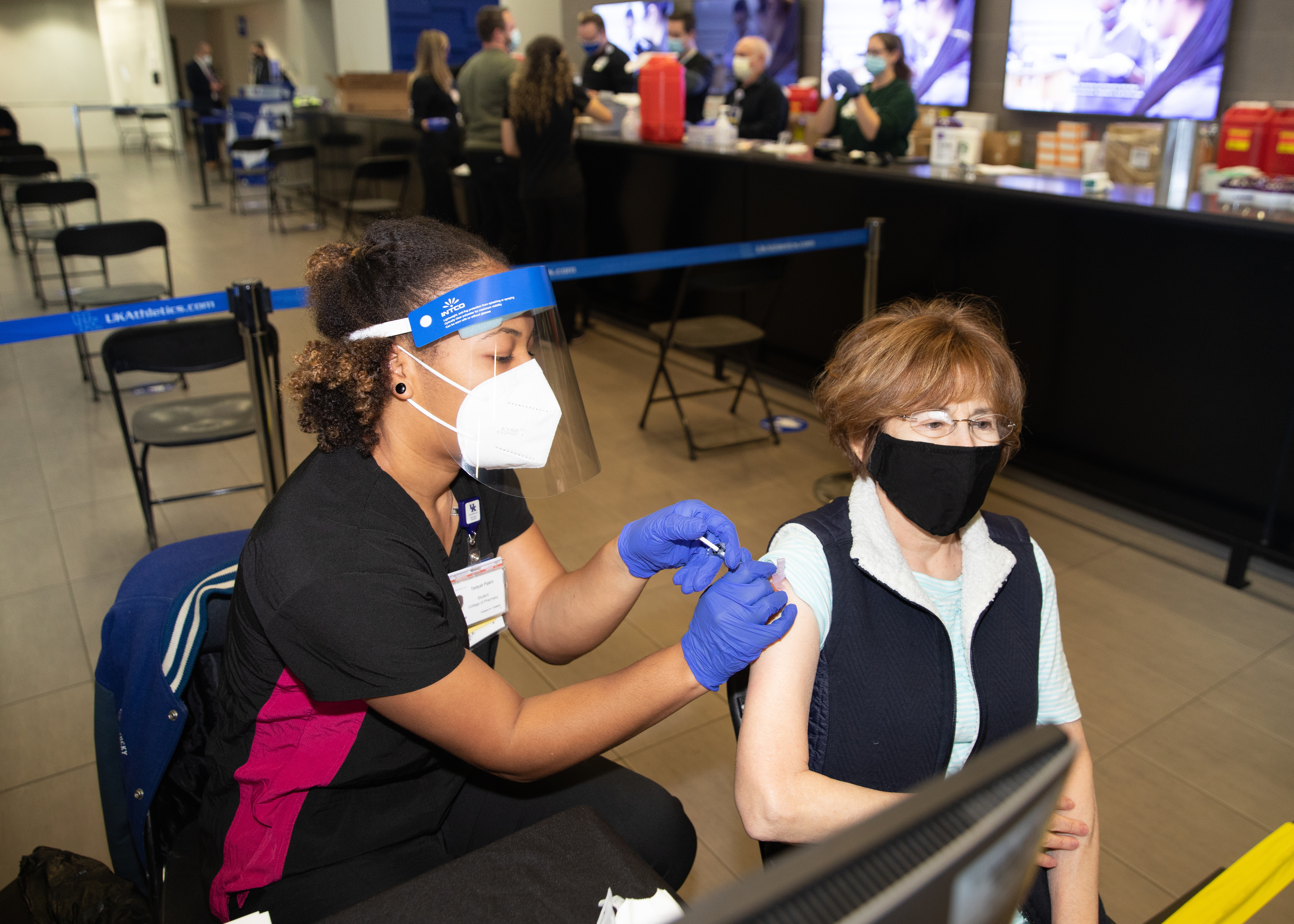 A Duty to our Community: How Can Pharmacy Students Help?
The University of Kentucky is one of many vaccination centers that have begun administering COVID-19 vaccines to the public--but, with the added bonus of incorporating future healthcare leaders. UK College of Pharmacy (UKCOP) students have been given the opportunity to administer vaccines alongside other medical professionals at the clinic since its opening in January.
The volunteers at the vaccine clinic, located at UK's Kroger Field stadium, are wasting no time vaccinating thousands of Kentuckians each week. The Kroger Field Vaccination Clinic operates Tuesday – Friday, 9 a.m.-7 p.m. and Saturday 9 a.m.-6 p.m. Vaccine registration is also available online.
"The vaccination rate at these clinics is about 90-100 vaccines every 20 minutes," said Brooke Hudspeth, associate dean of UKCOP. At a recent Kentucky Health Department event, Hudspeth and other volunteers from the college administered roughly 1700 vaccines. "Next week we anticipate vaccinating about 2000 people, and at an upcoming College of Pharmacy event, we are planning to vaccinate 1200-1300 individuals in an afternoon," said Hudspeth.
With its well-organized steps and procedures to ensure the safety of everyone involved, the UK's Vaccine Clinic is making a difference within the community. It comes as no surprise that pharmacy students jumped at the opportunity to volunteer and administer the vaccines.
"Our students have been very excited about volunteering for these efforts," Hudspeth said. "With over 150 UKCOP community members participating in COVID-19 vaccine efforts, ranging from administrative duties to dose preparation, to administering the vaccine. Their efforts average 1500 hours per week. We've also had over 350 individuals join our college's Vaccine Reserve Corps."
Students like Tamyah Pipkin, a third-year pharmacy student, believe it is important to be a part of the COVID-19 immunization clinics for many reasons.
"We as future pharmacists have a duty to serve others through our profession and part of serving means being on the frontline of the nation's efforts to efficiently vaccinate our community," Pipkin said. 
Furthermore, Pipkin, who identifies as a Black woman, said that aside from it being a duty, participating in the vaccine efforts allows her to disseminate credible information, especially to our Black communities. 
"I am familiar with the disturbing history between Black Americans and American medicine, and I understand the hesitancy coming from these historically disenfranchised communities," Pipkin said. "I take great pride in my role as a 'familiar face' in healthcare."
Another fellow pharmacy student, Sara Santangelo, said this opportunity allowed her to get lots of hands-on experience and helped her feel more comfortable with her work as a pharmacist intern.
"Having the support of a pharmacist through this experience has helped me tremendously," Santangelo said. "I've been able to give my advice or answer patients' questions and have the pharmacist right there with me telling me I'm doing a good job. It really makes me feel more comfortable as a student pharmacist."
In addition to the personal and professional growth and experience Santangelo will carry with her after this experience, she said her main takeaway is that she was part of the efforts to end the pandemic.
"Being a part of the beginning to the end of the pandemic has just been very rewarding," Santangelo said. "I think that years down the road I'll be able to look back and see that I made an impact."
Pharmacists play a huge role in addressing this pandemic, which is why it is so important to these pharmacy students to get the opportunity to be a part of it. From providing pharmacologic management to administering vaccines, these students will carry this experience with them into their future careers.
Image: 71-year-old Gale Bhattacharyya receives the Covid-19 vaccine from pharmacy student Tamyah Pipkin, left, at Kroger Field on the University of Kentucky campus.