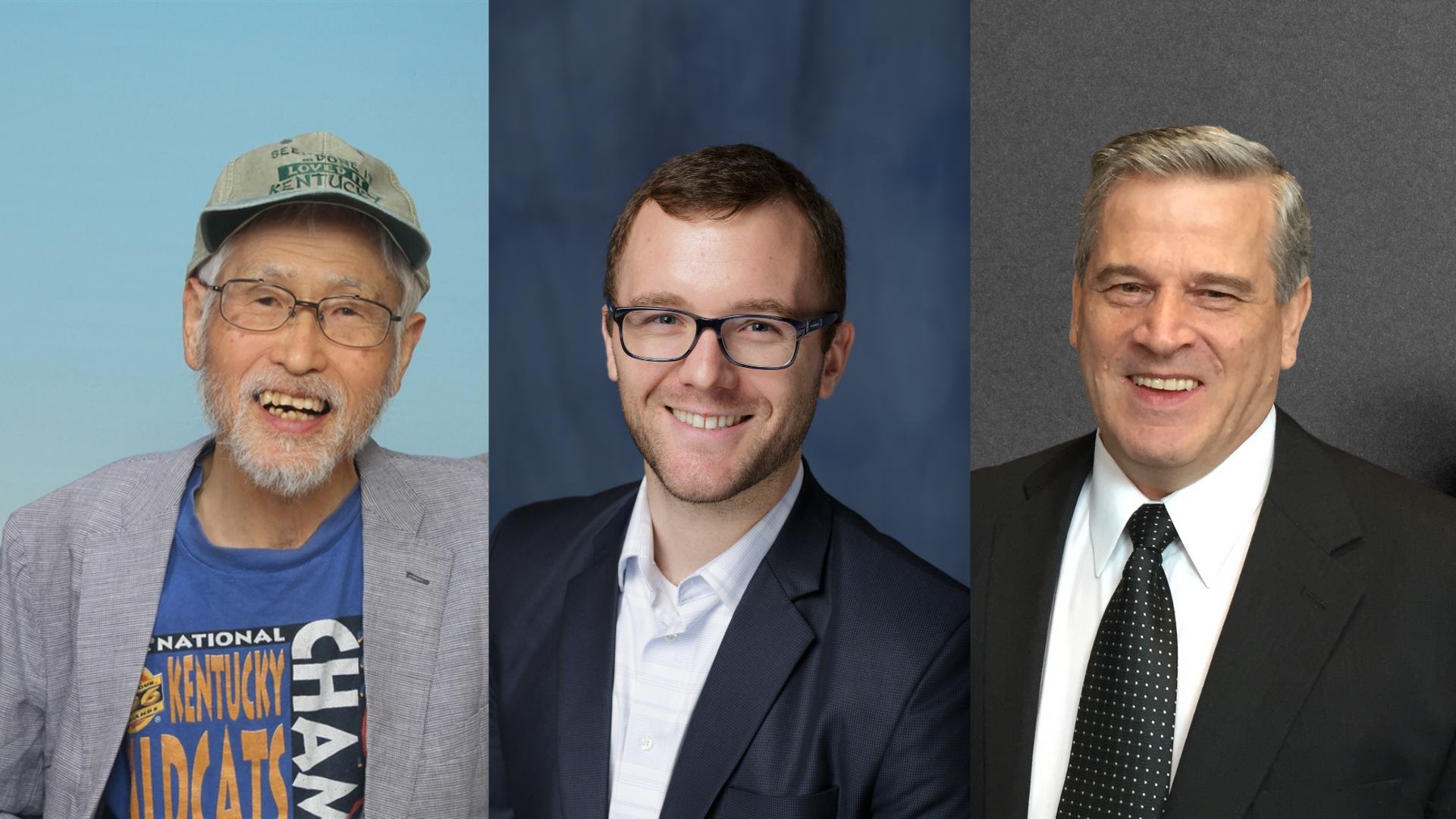 Distinguished College of Pharmacy Alumni Recognized for Innovation
Three accomplished University of Kentucky College of Pharmacy (UKCOP) alumni will become the latest inductees to the College's Hall of Distinguished Alumni. The College will recognize their professional achievements at the Hall of Distinguished Alumni and Preceptors Awards Ceremony Friday, April 29, 2022, at 6:00 p.m. EDT. The College will also stream the celebration on its YouTube channel. 
The 2021 inductees include Young Alumni Award winner Dr. Joshua Brown (' 16) and Lifetime Achievement Award winners Dr. Eiichi Akaho ('79) and Dr. Stephen W. Schondelmeyer (' 77). Their peers selected these three new inductees for their exceptional contributions to their respective fields and their embodiment of UKCOP values.
"For more than 150 years, the University of Kentucky College of Pharmacy has produced outstanding pharmacy practitioners and researchers who have changed how we think about patient health and scientific progress," said Dean R. Kip Guy. "We are proud to celebrate the achievements of three bold innovators who have dedicated their lives to improving the way we teach and practice pharmacy and pharmaceutical sciences."
Nominations are collected year-round and selected once per academic year.
YOUNG ALUMNI AWARD
Joshua Brown, PharmD, Ph.D., MS
Dr. Joshua Brown, PharmD, Ph.D., graduated from the UKCOP doctoral program in December 2016 and accepted a tenure-track faculty position at the University of Florida College of Pharmacy. Focused on real-world evidence for medication safety and effectiveness, Brown's research program is funded by the Food and Drug Administration, the National Institute on Aging, the Bill and Melinda Gates Foundation, and the state of Florida. As a PI, his total funding includes $3 million in the last five years, and he has contributed to projects with over $12 million in total funding. His publication record includes over 130 published works, with 91 being first or senior/lead author and 23 trainees featured as first authors.
Brown is a dedicated mentor and advisor. He has graduated 5 MS students and 3 Ph.D. students as thesis chair and nine other Ph.D. graduates as a committee member. He has engaged pharmacy students in team-based research and has mentored over 40 PharmD students in research projects. He serves as the Associate Director of the Department of Pharmaceutical Outcomes & Policy graduate program, leading initiatives for graduate student awards and recruitment of underrepresented and first-generation student populations. He is the faculty advisor of a 200-student strong Academy of Managed Care Pharmacy (AMCP) student chapter. He gives annual talks to student organizations focused on first-generation students and non-traditional pharmacy careers. In 2021, Brown was awarded a Teacher Service Award by the UFCOP for his teaching excellence, teaching innovations, and service to the College and profession and was the AMCP Foundation's New Practitioner of the Year in 2019. 
LIFETIME ACHIEVEMENT AWARD
Eiichi Akaho, Ph.D
Dr. Eiichi Akaho completed Pre-Medicine coursework at the University of California at Santa Barbara and graduated with a B.S. in Pharmacy from the University of Wisconsin-Madison (1975). He obtained a Ph.D. in Pharmaceutical Sciences under the supervision of Dr. Anwar Hussain at the University of Kentucky College of Pharmacy (1979), where he also served as a Teaching Assistant. Akaho's dissertation Dosage form design for the continuous release of 4-hexylresorcinol was the first dissertation overseen by Hussain. After completing his Ph.D., Akaho began a distinguished academic career at Kobe Gakuin University in Japan, where he rose through the ranks to his current status as Professor Emeritus.
Akaho has delivered numerous invited talks at national and international scientific meetings, including the Japan Medical Association Conference and the International Pharmaceutical Federation (FIP), the global body representing over four million pharmacists and pharmaceutical scientists. Throughout his career, Akaho received generous funding from the International Corporation Research Grant in Japan (¥3.9 million), the Canadian Ambassador Research Grant ($15 million Canadian), Fundamental Research Grant C from the Ministry of Education, Culture, Sports, Science and Technology in Japan (¥3.1 million), Private University Advancement Grant from Ministry of Education, Culture, Sports, Science and Technology in Japan (¥2.6 million), and the Kobe Gakuin University Corporation Grant (¥2 million), to name a few.                                                        
Akaho has been selected as a nominator for the Japan International Prize, commonly referred to as the Japanese International Nobel Prize. The Japan International Prize is awarded annually to scientists and engineers from around the world who have made significant contributions to the advancement of science and technology, thereby furthering the cause of peace and prosperity for humanity. Nominators are strictly comprised of prominent scientists and researchers invited by the Japan Prize Foundation. Akaho has published 70 articles in international journals, 41 articles in scientific journals, and 12 books.
Stephen W. Schondelmeyer, PharmD, Ph.D
­Dr. Schondelmeyer is a professor at the University of Minnesota's College of Pharmacy, where he holds the Century Mortar Club Endowed Chair in Pharmaceutical Management & Economics. He founded and serves as director of the PRIME Institute, which focuses on economic and public policy related to making pharmacists and medicines affordable and accessible to all. Schondelmeyer serves as the co-principal investigator of the Resilient Drug Supply Project. Following a B.S. in Pharmacy (1974) at the University of Missouri and a Doctor of Pharmacy (1977) and clinical residency (1974-1977) at the University of Kentucky, Schondelmeyer completed a Master in Public Administration (1979) and a Ph.D. in Administrative & Social Sciences in Pharmacy (1984) at the Ohio State University. He has served as a professor at the University of Arizona and Purdue University before his more than 30 years at the University of Minnesota.
For over 45 years, Schondelmeyer has conducted economic and policy analyses related to pharmacists, pharmaceuticals, and society. His insightful and credible research has influenced and shaped public policy, including passage of generic substitution laws and the development of drug formularies in the 1970s & 1980s, the emergence of managed care and PBMs in the 1980s, development of the Medicaid Drug Rebate program in the 1990s, the passage of the Medicare Part D program in the 2000s, the role of drug prices in affordability and accessibility of pharmaceuticals in the 2010s, and most recently the need to end drug shortages and to assure a resilient U.S. drug supply. He has testified before state, national, and international governmental bodies more than 150 times over the past few decades, including testimony more than 25 times before the U.S. Congress. He was appointed to serve Congress as a member of the Medicare Prescription Payment Review Commission (1988) and to serve as an advisor to several state Attorneys General.
Schondelmeyer has conducted more than 160 funded research studies, including projects with NIH, NSF, FDA, AHRQ, AHCPR, CMS, OTA, GAO, OIG, and ASPE. He has also received generous funding from major pharmacy professional associations and private foundations. He has published more than 400 research articles and reports on pharmacy practice, pharmaceutical economics, and public policy. His research has been published in pharmacy and public policy journals such as Health Affairs, Medical Care, Archives of Internal Medicine, New England Journal of Medicine, Health Services Research, American Journal of Public Health, Journal of Managed Care Pharmacy, and others. Schondelmeyer has given more than 900 invited presentations over the past 45 years and is recognized for insightful content and engaging delivery.
He has been a leader his whole career—from 1973-to 74 when he was the national President of the Student American Pharmaceutical Association, as a founding member of the International Society for Pharmaceutical Outcomes & Research (ISPOR), and while serving as Head of the University of Minnesota's Department of Pharmaceutical Care & Health Systems for more than 20 years. Among his numerous awards are the Impact Award (1977) from his Pharm.D. peers at the University of Kentucky, the prestigious Paul F. Parker Lecture Award (2000), the APRS Research Achievement Award (2006), the Humphrey Award from APhA (2012) for public policy impact and service, the Tyler Prize for Stimulation of Research from APhA (2014), and the Leadership in Action Award (2016) from the Minnesota Health Action Coalition.
Schondelmeyer was born and raised in Sedalia, Missouri, is an Eagle Scout, and is a gentleman farmer of the 520 acres of land that have been in his family for more than 150 years. He was one of four children, is father of two, and now has five grandchildren.