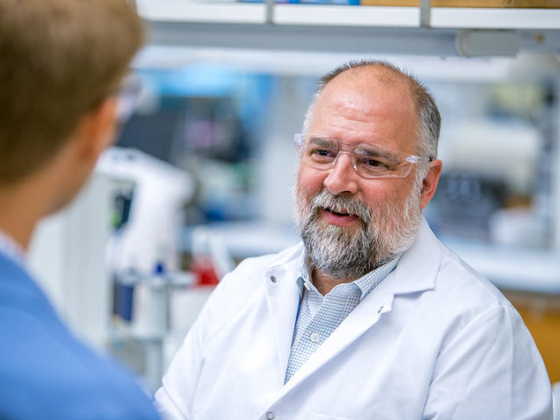 pushing for greatness
Meet the Dean
"As long as I could remember, I was always the kid out there poking the bug with a stick, or playing with the pond, trying to understand what was happening and why."
He's well-known now for his scientific discoveries in the lab, but Dean Kip Guy says he's actually been performing experiments his entire life.
As a professional chemist, Guy's work focuses on drug discovery and development for neglected diseases, particularly those that affect pediatric patients. Coming to UK from St. Jude Children's Research Hospital, much of his work has focused on fighting malaria, a major killer of children, as well as pediatric cancers including ependymoma, leukemias, medulloblastoma.
Though it was initially the "neat solutions" that attracted him to the field, he quickly learned that not even science provided easy black-and-white answers, and that the work is never as simple as one might expect it to be. While researchers may have expectations of how an experiment may play out, they often learn more from the failures than if it had unfolded as planned.
"You've put in all this time and effort because your model told you 'X' was going to happen, and then you run the experiment and what you wind up with is something completely different," he said. "These are the moments in science that are the most fun… It's when you break your own model and learn something fundamentally new."
As his research projects grew larger and more intensive over the years, Guy says he was looking specifically for a place where he could take a larger administrative role and begin mentoring the next generation in scientific discovery.
"I realized that one of the really big impacts we have is teaching," he said. "So I wanted to be in a place where I could help combine the way we think about research – that interdisciplinary, interprofessional approach – with the way we teach not only research, but also clinical practice."
As a scientist who focuses on drug development, the area of pharmacy seemed the most natural fit for Guy, who began searching for a dean position at a school that supported research collaboration, with a focus on bringing new treatments to the community. He says he found "a perfect storm" in the University of Kentucky – a place known nationwide for its research excellence, top-ranked College of Pharmacy, and local population in need of therapeutic intervention for a variety of serious health disparities.
"The first thing I'd say is, 'Why wouldn't you come here?'" Guy said. "It's an incredible place, with amazing faculty and a long, rich and successful history of positively affecting clinical practice and the research world… it's about being in a place where I can work the way I want to work, with the kind of people who are here, and focusing on problems that are really serving unmet needs."
Guy has three major goals for the UK College of Pharmacy as he leads it into a new era – continue its tradition of innovation in both teaching pharmacy practice and pharmaceutical science and research; engage in even more interdisciplinary research across many different viewpoints; and emphasize the importance of a broadly inclusive and service-oriented culture at UK.
"We're not just about working in the lab or the clinic," Guy said. "We're also about living in this community and doing well by it."